Why Liverpool's owners don't get enough credit
By Matt Ladson published
The Reds are tantalisingly close to winning a first title for 29 years, but it's been a long journey to get here. This Is Anfield's Matt Ladson on the unsung heroes doing fine work in the background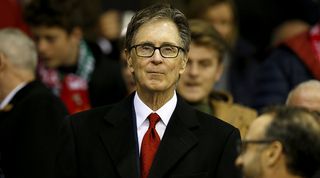 During the recent #10yearchallenge social media trend, users posted current pictures of themselves compared to a decade ago (not much of a challenge really, was it? – Ed.). Plenty of footballers shared some interesting throwback images to remind us that James Milner doesn't appear to have aged – there must be something in that Yorkshire tea.
For Liverpool FC, the last 10 years really have been a challenge, though. During that time there has been substantial change, with more instability than at any other time during the club's post-war existence.
That was, until Jurgen Klopp's appointment in 2015. A decade ago in 2008/09, Liverpool finished second under Rafael Benitez with their best-ever Premier League points total of 86 – a haul that looks set to be smashed by Klopp's side this campaign (current projections are 96).
The storm
But optimism at the end of that campaign on Merseyside was masked by the dark clouds forming above, as the damaging reign of Tom Hicks and George Gillett hit civil war territory. The two Americans refused to speak to one another, sat apart on the (very) rare occasions they attended Anfield, undermined Benitez, cut off funding for the squad and eventually put Liverpool closer to administration than many realise.
When Hicks and Gillett were finally forced out of Anfield in October 2010, Liverpool were purchased by New England Sports Ventures (now known as Fenway Sports Group). Principal owner John W. Henry and new chairman Thomas Werner may have shared the same nationality as the club's former custodians, but beyond that the differences could barely be greater.
FSG brought with them a track record of success in sport, most notably after ending the Boston Red Sox's 86-year wait for a World Series. They also had experience in developing stadiums, which seemed ideal having inherited a then-44,000 capacity Anfield.
Indeed, Liverpool's new Main Stand is one of FSG's best achievements thus far, solving an issue that had plagued the club since the mid-90s. There is frustration from some quarters that they haven't yet pressed ahead with the proposed phase two of Anfield's redevelopment, which would push the overall capacity to just north of 60,000, but the club insist that the issue will return to the table once the Reds' new state-of-the-art training facility in Kirkby is complete next summer.
That in itself is another huge improvement to the club's infrastructure that FSG have overseen. Liverpool's current Melwood training ground is much like the stadium: traditional, historic, but long due an upgrade having fallen behind the standards of rivals.
So when the new training facility opens in summer 2020, bringing the club's first-team and academy squads together on the same site for the first time, it will fittingly mark almost a decade since FSG purchased the club.
Flash Gordon
FSG have made mistakes – hello, Andy Carroll for £35m – but they happened mainly in their early years and have been learned from. Mohamed Salah for £36.9m epitomises new-era Liverpool.
One person who has been crucial to this is FSG director Michael Gordon, the man who now oversees day-to-day running of the club and who Klopp calls "my person". "In FSG, he's LFC's man," he beamed of the Boston native.
Gordon's influence has been the driving force behind Liverpool's overall improvements off the pitch. The American is rarely seen in public but has grown in prominence and been key to decisions such as sacking Brendan Rodgers, appointing Klopp, and promoting Michael Edwards to sporting director.
When FSG first purchased Liverpool, there were strong suggestions that they wanted to implement a more European style of hierarchy at the club, bringing in Damien Comolli to add football experience, but eventually shelving such plans at Rodgers' insistence.
With the Northern Irishman gone, FSG went full circle, effectively implementing what they had wanted to do four years earlier and appointing a top-class, leading manager, plus a sporting director who could handle transfers. In Klopp and Edwards, they got the ideal duo.
There were teething problems with Comolli, Rodgers and the so-called transfer committee, but the owners learned and eventually rediscovered belief in their original methods from research they'd conducted upon purchasing the club. The mistake, it seems, was listening to others who claimed to know better.
FSG 2.0
With Gordon more involved and John Henry seemingly taking a step back, Liverpool have streamlined their operations and become an effective, aligned club. Never in the modern era has the club been this harmonious off the pitch.
Peter Moore's appointment as chief executive in 2017 added a final layer to the club's hierarchy. Moore, Gordon, Edwards and Klopp – plus academy head Alex Inglethorpe – are all singing from the same hymn sheet, which is a rarity at top-level football clubs.
Where Manchester United were the model of success during the nineties and noughties as they overtook their rivals from down the East Lancs Road, Liverpool are now the model they need to follow.
A recent article from Henry Winter in The Times (opens in new tab) headlined that "every supporter should celebrate if Liverpool triumph" predictably received a deluge of abuse and mockery online – but his overall point was sound.
Liverpool, under FSG, have built correctly. They initially found some gems, polished them, then sold on for profit – Philippe Coutinho from £8.5 million to £142 million being the prime example – but have also stabilised the club through such management, sensibly loosened the purse strings and built upon those early years of struggle.
The losses of Coutinho and Luis Suarez were painful, of course, but FSG also lost seemingly irreplaceable club stalwarts such as Steven Gerrard and Jamie Carragher. They inherited an ageing stadium and training ground, a team managed by Roy Hodgson with a massively inflated wage bill, and a tired squad featuring players like Milan Jovanovic, Paul Konchesky and Christian Poulsen. Liverpool in 2010 was far from an attractive proposition for anyone.
READ THIS Liverpool's last title win: How Kenny Dalglish led a grief-stricken club to glory in 1989/90 (opens in new tab)
Smart money
Now, with Klopp in charge, one of the strongest and youngest squads in Europe and a stable financial outlook, FSG have delivered on their promise of making the club self-sustaining. Recent reports suggest that the club will become the first ever to record a €100m net profit, which is why they've been able to spend big on the likes of Virgil van Dijk and Alisson.
Liverpool recently rose two places in the Deloitte Football Money League, and while that is not a barometer of success at a club, it does highlight the progress that FSG are delivering. A net transfer spend less than that of Bournemouth since Klopp has been in charge further highlights the financial sensibility.
While trophies are what ultimately denotes success for a football club, it isn't John Henry, Mike Gordon or Thomas Werner who are lining up on the pitch. Liverpool have only lifted the League Cup (2012) under their ownership, but a near-miss for the title in 2014, a Europa League final defeat in 2016 and appearance in the 2018 Champions League Final have represented genuine progress.
FSG have given Liverpool the platform they need to become one of Europe's top clubs again. Now it's time for others to deliver success on the pitch.
Thank you for reading 5 articles this month* Join now for unlimited access
Enjoy your first month for just £1 / $1 / €1
*Read 5 free articles per month without a subscription
Join now for unlimited access
Try first month for just £1 / $1 / €1
Matt Ladson is the co-founder and editor of This Is Anfield, the independent Liverpool news and comment website, and covers all areas of the Reds for FourFourTwo – including transfer analysis, interviews, title wins and European trophies. As well as writing about Liverpool for FourFourTwo he also contributes to other titles including Yahoo and Bleacher Report. He is a lifelong fan of the Reds.
Quizzes, features and footballing fun
Get the best features, fun and footballing frolics straight to your inbox every week.
Thank you for signing up to Four Four Two. You will receive a verification email shortly.
There was a problem. Please refresh the page and try again.