Manchester City looking to overcome their Liverpool hoodoo in League Cup final
By Simon Curtis
When City face the Reds at Wembley this weekend they will be attempting to overcome a curse that has lasted for decades, explains Simon Curtis...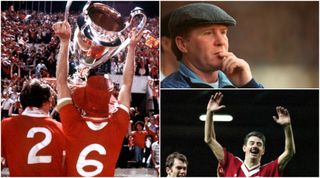 "An own goal three minutes from time dramatically robbed Manchester City of a place at the top of the table alongside Liverpool last night." So wrote the Daily Mirror's Derek Wallis on December 29, 1976 after an ice-bound Maine Road had witnessed City's stalwart England international defender Dave Watson heading past Joe Corrigan for Liverpool's fortunate equaliser.
City, it could be argued, have been struggling with the psychological burden of what followed for the last 40 years or so and, as they head into the League Cup final, there is little evidence that the grief is over.
Reds domination
In those carefree days, festooned with the simple pleasures of Curly Wurlys, lava lamps and Umbro diamond trim on your football kit, there was also Kevin Keegan, John Toshack, Emlyn Hughes and his mates. These were the weekly staples, the red-woven fabric of life, the very pillars of growing up in England in the 1970s. Liverpool won the league that year, as they seemed to practically every year for two decades. They won it in the end by a single point, the very point they had gained in extremis at Maine Road in the ice on that December evening, as the freezing night closed in on 50,020 braying Mancunians.
It seems a little trite to blame one result, a draw at that, on a lifetime's worth of deep psychosis, but since then City had beaten Liverpool a grand total of seven times in the 35 or so years that followed, up to the arrival of Sheikh Mansour's fortunes in 2008. That's not a great deal by anyone's calculation.
It is in fact such a small deal that Manchester City and its support have become a kind of shivering wreck every time the Reds hover into view. This terrible psychological damage appears to have leached through the generations too, affecting people like David Silva and Sergio Aguero, who have more than likely never heard of David Fairclough and Steve Heighway. In a way, they don't know how lucky they are.
But still they seem deadened by the mere sight of those red shirts, red shorts and red socks. The sense of foreboding cascading down from the stands must be so palpable that it even transfixes modern day players, cocooned from everyday fears by their six-gear metallic Hummers and routinely-coiffed girlfriends.
Horrible history
For City's fans, it is much worse of course. Those who hark back to the sepia-tinted days of Graeme Souness and Jimmy Case, Phil Neal and Kenny Dalglish shudder at the very thought of it all. A caning always awaited us at Anfield and the same thrashing was more often than not delivered at Maine Road, too.
Alan Ball, the most ill-fitting manager in an era chock-full of such beasts at Maine Road, masterminded the club's 1995/96 relegation season, a pastiche of 'fumbling while Moss Side burnt' that still brings a sharp tear to the eye today. Absolutely nothing comes close to what he served up against Liverpool that year, however.
The falsetto "I enjoyed watching that" from Ball, as they thrashed City 6-0 and 4-0 within three totally inglorious days, still rings inside our heads like someone scratching a fork across enamel.
In the Maine Road return, on the last day of that dreadful, calamitous season, Liverpool shipped up with nothing at all to play for. City, as usual in those days, had everything hanging on the outcome of the match.
Fail to win and ignominious relegation would be sealed. What happened next beggars belief even given the 20 years that have eroded some of the most painful elements of a sunny May afternoon, when Liverpool did their level best to lose the match but City just wouldn't let them.
It was, of course, the infamous 'Steve Lomas at the corner flag game', when World Cup-winner Ball told the Irishman to hold the ball up to waste time. It would, of course, have been an excellent ploy had City not needed to score another goal to save themselves.
Not in a Rush
Even when City thought they had unearthed a useful prospect at nearby Chester in the early '80s, the target of their attention ended up at the wrong end of the East Lancs Road.
Ian Rush had been supposed to be coming to City but Malcolm Allison stopped for a cigar and a sausage roll at Warrington services and Liverpool's John Smith eased his Rover in ahead of him.
They couldn't even beat them to a transfer. Rush, naturally enough, went on to become an even bigger thorn in City's side than Keegan, Dalglish or Souness had been in tandem.
Instead they watched Wayne Biggins, Tony Cunningham and Trevor Christie reinvent the striker's role in cold dark second division days, while Rush donned red and carried all before him.
When City did pull out all the stops and beat Liverpool, there was always a sting in the tale. In 1980/81, with Liverpool struggling towards a Christmas low of 10th, City's visit coincided happily with one of Bruce Grobbelaar's showboating days.
The Kop celebrated City's 3-1 win by flinging a wine bottle that hit big Joe Corrigan on the head, an unusual lack of sportsmanship from that famous end. By April, however, the two sides had swapped places. City in their mid-table comfort, marooned and hopeless as usual, Liverpool lording it back at the top of the table.
The Reds arrived at Maine Road for a sunny Easter fixture. A 5-0 win to the visitors ensued, which included the unedifying sight of Sammy Lee, wearing his shorts like a super size nappy, belting one in from 30 yards.
Turning of the tide
And so to modern times and the blockage continues. Things may have balanced out a touch, four City wins since the Sheikh arrived, but Liverpool's record remains buoyant. City can point to the 3-2 loss at Anfield in 2014, which it seemed had put Liverpool on the brink of winning the title for the first time since the aforementioned Glory Years. The atmosphere that day was raucous, celebratory and... slightly premature.
City fans estimated their own side's chance had gone. Once more they had been beaten at Anfield, on this occasion after a stirring fightback that had led to such a reversal of the game's original flow, it seemed there could be only one winner. In a way, there could and they should have known who that one winner was and, seemingly, will always be.
Fortune smiled that year and City thundered back for a second title win in three seasons. Now the clubs meet for the first time ever at Wembley. It represents a chance for City to open a new page in their historical and hitherto tilted rivalry with Liverpool.
A win would be a most apt going-away present for Manuel Pellegrini to bestow on those supporters, transfixed by one of the longest running hoodoos in top-flight English football.
Quizzes, features and footballing fun
Get the best features, fun and footballing frolics straight to your inbox every week.
Thank you for signing up to Four Four Two. You will receive a verification email shortly.
There was a problem. Please refresh the page and try again.