Revealed: The referees your Premier League club should love and loathe
Mike Holden's crunched the numbers to identify the match officials who have the biggest impact on each top-flight side – for better or worse...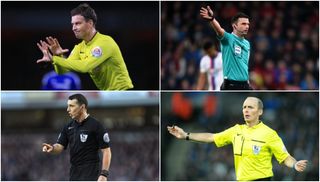 Ever wondered which referee 'hate' your club most? Or curious to learn the identity of that one official – just the one – who secretly cuts you a fair deal, but manages to keep himself conspicuous in the process? Of course you have. We all have.
Well, thanks to the beauty of analytics, FourFourTwo has developed a suitable metric that enables us to get the answers to these questions and more. We've taken every club's actual points return under each official since the start of the 2008/09 season and measured it against the expected points (according to pre-match betting odds) to give us a ranking order of each official for all 20 Premier League teams.
Here's the best and worst for every club, based on the average points-per-game cost or benefit…
Arsenal
Hero: Neil Swarbrick (6 games, +0.691)
Swarbrick has yet to take charge of an Arsenal fixture this season but generally converges from his Lancashire base to oversee one away victory per season. Previous triumphs at West Ham and Sunderland could yet be replicated in the title run-in, with both encounters scheduled for April.
Villain: Michael Oliver (12 games, -0.822)
The Gunners suffered home defeats to West Brom and Aston Villa in Oliver's maiden season as the Select Group's baby-faced assassin. Things haven't improved much since, a 5-1 defeat at Anfield in 2014 the nadir of a 12-match sequence that includes only two wins.
Aston Villa
Hero: Lee Probert (16 games, +0.367)
It just about sums up Villa's campaign that a persistent back injury has prevented Probert from building on a six-match unbeaten run with the second-city club. You have to go back to the start of 2011/12 for the last time Villa posted a run that good of their own accord.
Villain: Robert Madley (6 games, -0.716)
Madley was promoted to the Select Group in 2013, roughly about the same time the Villans started their rapid decline. Despite taking charge of crucial six-pointers against Crystal Palace, Sunderland and West Brom over the past 18 months, he has yet to preside over a Villa win.
Bournemouth
Hero: Jonathan Moss (5 games, +0.990)
Bournemouth's first top-flight win came under Moss at Upton Park, a 4-3 thriller that was crystalised by a red card and penalty decision just when the Cherries were beginning to tire at 3-2 up. A 4-0 away win together at Morecambe back in May 2009 shows just how far they've both come.
Moss gives Bournemouth a penalty
Villain: Roger East (7 games, -0.298)
In the past five years, Bournemouth have exited three different cup competitions at the hands of East, with a crushing 5-1 defeat at home to Tottenham the lowest point of three games this season. Overall, their league record under the Wiltshire official stands at just two wins in seven matches.
Chelsea
Hero: Mike Dean (33 games, +0.121)
Even in the midst of a dire season, Chelsea were able to overcome title favourites Arsenal with the help of two red cards. Last season, Pablo Zabaleta was sent off in a six-pointer at the Etihad. Such is Dean's commitment to skewing probabilities in their favour, he even sent off Fernando Torres twice.
Villain: Anthony Taylor (9 games, -0.297)
Taylor was the man who sent Jose Mourinho over the edge last term, with talk of a "campaign" following a Cesc Fabregas yellow card for diving at Southampton. Their next Premier League encounter would be a phantom one, Mourinho serving a stadium ban as Chelsea went down 1-0 at Stoke.
Fabregas' 'dive' against Southampton
Crystal Palace
Hero: Craig Pawson (6 games, +0.849)
Four points from trips to Stamford Bridge and Goodison Park this season is an excellent return. Pawson also played his part in shepherding Palace into the play-offs on a dramatic final day of the 2012/13 Championship season, relegating Peterborough in the process.
Villain: Mark Clattenburg (10 games, -0.639)
Criticised by Alan Pardew in October for being "too eager" to issue Dwight Gayle with a second yellow in the 3-1 home defeat to West Ham, Clattenburg was previously scorched by Neil Warnock for allowing a Craig Dawson "assault" on keeper Julian Speroni to count on the scoresheet in a 2-2 draw at West Brom.
Everton
Hero: Neil Swarbrick (6 games, +0.426)
Swarbrick doesn't get the Goodison gig too often, but things are usually straightforward for the hosts when he does. A thumping 5-1 cup win over Huddersfield is the highlight of three routine home wins, while he's also kept the Toffees out of harm's way on trips to Arsenal, Swansea, Fulham and Southampton.
Villain: Jonathan Moss (13 games, -0.453)
Everton are rarely fancied when Moss gets the whistle, largely because they're usually facing better teams. But presented with the opportunity to be a Gladwys Street hero, Moss never takes it. The upshot: six defeats in the past seven meetings, with 18 goals conceded in the process.
Leicester
Hero: Anthony Taylor (10 games, +0.887)
The Foxes haven't lost any of their last 10 league matches with Taylor on the whistle, a sequence stretching all the way back to a 4-1 win over Watford in August 2007. His part in easing Leicester out of this season's FA Cup against Tottenham might yet prove to be his most helpful contribution.
Villain: Craig Pawson (8 games, -0.893)
The King Power Stadium was rocking when Pawson was given the responsibility of maintaining order for their promotion party in April 2014. Contrary to the script, though, he failed to intervene as Brighton gatecrashed with a 4-1 win. The Foxes are now winless in seven under the Yorkshireman.
Liverpool
Hero: Lee Probert (13 games, +0.430)
'Liverpool 3' seems to be the theme whenever Probert crosses paths with the Merseysiders. The Wiltshire ref has presided over routine three-goal triumphs over West Ham (twice), Bolton, Newcastle, Cardiff and Southampton. Sadly, he hasn't been seen at Anfield since December 2013.
Villain: Neil Swarbrick (8 games, -1.135)
Everton-hero Swarbrick knows which side his Mersey bread is buttered. The Preston-based official has taken charge at Anfield four times, a roll call of failure that has seen such illustrious names as Aston Villa (1-3), Hull (0-0), Sunderland (0-0) and Crystal Palace (1-2) escape with positive results.
Manchester City
Hero: Michael Oliver (10 games, +0.655)
A red card for Chris Smalling in last season's Etihad derby is probably the highlight of a blistering partnership that initially brought nine straight Premier League wins for Manchester City, defeat at Selhurst Park last April being the only blot on the copybook. The 31-year-old takes charge of Sunday's Capital One Cup final against Liverpool.
Oliver shows Smalling the red
Villain: Kevin Friend (8 games, -0.765)
City were on a run of nine straight wins and 2-0 up against Burnley last Christmas when Friend allowed the struggling Clarets to fight back and level up. Likewise, two years earlier, a shock Boxing Day defeat at Sunderland was pivotal in derailing City's title bid.
Manchester United
Hero: Jonathan Moss (10 games, +0.730)
There's not as many contenders around as there used to be in the Ferguson years, but Moss is doing a decent job of trying to stem United's decline. In five years, he's taken charge of 11 victories and a draw, with 23 goals scored and just three against.
Villain: Anthony Taylor (10 games, -0.251)
You'd expect better than defeats to the likes of Norwich and Bournemouth from an official with a Manchester address, but the 37-year-old from Wythenshawe claims to support Altrincham. Or maybe he's just building up to something, hoping for a cup final before he can blow his cover? Honestly, these refs.
Josh King gets the winner for Bournemouth
Newcastle
Hero: Kevin Friend (12 games, +0.708)
Worryingly, something appears to have gone awry in Newcastle's relationship with Kevin Friend. Not since a 4-1 victory at Hull in March 2014 have the Geordies had a positive result under the Bristol-born official. Before that, they enjoyed nine straight wins.
Villain: Mike Jones (18 games, -0.585)
Jones was dropped from Premier League duty after a 2-0 home defeat to Manchester City in January 2014, a stormy clash notable for Cheick Tiote's disallowed goal. Since then, the Geordies have endured five defeats and a frustrating 3-3 draw at home to Crystal Palace.
Norwich
Hero: Lee Probert (9 games, +0.741)
Winless after seven matches of the 2012/13 season, Norwich were nearly 7/1 to beat Arsenal at home in late October. But they did just that, with an early Grant Holt goal enough to kickstart a 10-match unbeaten league run, a burst that yielded 22 of their final total of 44 points that season.
Holt grabs the winner
Villain: Kevin Friend (12 games, -0.703)
While Norwich have been proud of their home record in recent years, Carrow Road regulars have been starved of any joy for eight successive matches with the Leicester-based official holding the whistle. West Brom and Tottenham have both returned from Norfolk victorious with Friend in charge this season.
Southampton
Hero: Martin Atkinson (9 games, +0.841)
Since their return to the Premier League in 2012, Southampton have won seven out of eight matches with Atkinson making the calls. Home wins over Newcastle and Manchester City in their first season back in the top flight were probably the most precious of the lot.
Villain: Mark Clattenburg (15 games, -0.643)
Southampton wrote a letter to the Professional Game Match Officials Board two years ago requesting that Clattenburg no longer referees their games, the crux being that, in seven winless matches, they were on the wrong end of too many decisions. Since then, the County Durham official has reffed them another eight times. Saints have lost six.
Stoke
Hero: Lee Mason (24 games, +0.646)
Winning on the road has never been much of a party trick for Stoke – on average, they record only 3.5 away wins per season – but it's happened five times with Mason on the scene. The pick of the bunch is the 1-0 success at the Etihad 18 months ago. Parks Ewood and Goodison (twice), as well as St Mary's, have also been conquered.
Villain: Andre Marriner (25 games, -0.310)
A home game against Tottenham in April 2014 left Mark Hughes particularly perplexed, as Marriner sent off Ryan Shawcross while Emmanuel Adebayor escaped punishment for an elbow. In total, the Potters have taken just 18 points from 24 matches officiated by the Birmingham arbiter.
Sunderland
Hero: Mike Dean (22 games, +0.491)
In 2013/14, Dean kick-started Sunderland's survival bid no fewer than three times with a home win over Manchester City in November, a 4-1 away win over Fulham in January and a sensational 2-1 away win at Chelsea in April. Each time, Sunderland had started the day bottom of the table, but went on to finish the season in 14th.
Villain: Mike Jones (18 games, -0.500)
Jones was in charge at the Stadium Of Light for the infamous beach ball game, and is evidently on a mission to take his embarrassment out on the Black Cats. Since allowing Darren Bent's comedy winner against Liverpool to stand, Sunderland have won just one of nine home games with Jones calling the shots.
Swansea
Hero: Mike Jones (10 games, +0.589)
A referee called Jones favouring the Premier League's only Welsh club. Imagine that. In truth, Swansea's record with the Chester official is nothing spectacular because meetings have been few and far between, but 14 points from eight games in five seasons is a pretty solid return.
Villain: Robert Madley (8 games, -0.426)
The 1-0 home defeat to Stoke was the most contentious of three Madley-controlled setbacks this season, Jack Butland escaping punishment at 0-0 for a studs-up challenge outside the box. The incident sparked fury inside the Liberty Stadium after it was replayed on the big screens three times.
Tottenham
Hero: Mark Clattenburg (20 games, +0.535)
Few should need convincing of Clattenburg's warmth towards Tottenham after the penalty he awarded in their last outing at the Etihad. The only other Spurs fixture he has taken charge of this season was also against City, a come-from-behind 4-1 win last September, which included two offside goals. (However, for the timeframe of this data he's getting away with that Pedro Mendes non-goal.)
Harry Kane scores from an offside position
Villain: Lee Probert (13 games, -0.614)
There's a surprising lack of villains where Tottenham are concerned, with Probert the only existing referee with anything more than a 0.1 points-per-game negative influence. His last visit to White Hart Lane was the 1-0 home defeat to Tim Sherwood's Aston Villa last term.
Watford
Hero: Graham Scott (7 games, +0.502)
The Premier League's newest official is familiar with Watford more than most, having encountered them six times before the current campaign. In one particular game against Wolves – a 2-1 win three seasons ago – he dished out an early red card to Christophe Berra, which was later rescinded.
Villain: Roger East (9 games, -0.467)
Another relationship forged in the Football League that has yet to play out in any real depth at Premier League level. The Hornets have failed to win four out of five matches with East in charge at Vicarage Road, a 2-0 defeat to Scunthorpe in October 2010 being the lowest point.
West Brom
Hero: Phil Dowd (14 games, +0.425)
Sadly for the Baggies, Dowd hasn't been seen for a year since failing to come out for the second half of last February's 1-0 win over Southampton at The Hawthorns. In October 2011, a red card issued to Chris Herd (later rescinded) enabled West Brom to come from a goal down and win 2-1 at Villa Park.
Villain: Mike Dean (25 games, -0.427)
Three defeats, three red cards and a wrongly awarded penalty is the current total of damage caused by Dean this season. The spot-kick that helped Bournemouth take maximum points from The Hawthorns in December was given for an offence that happened outside the box.
West Ham
Hero: Martin Atkinson (20 games, +0.358)
West Ham are unbeaten in four with Atkinson on duty, a stretch that includes the opening-day win at Arsenal and the recent FA Cup stalemate at Liverpool. A 3-1 victory over Chelsea in December 2012 was particularly sweet, though: the Blues were European champions at the time, the Hammers recently promoted.
Villain: Andre Marriner (21 games, -0.388)
Three defeats and three 0-0 draws tell the story of the past three seasons. Since his promotion to the Select Group in 2005, the Hammers have taken just 16 points from 21 league matches under Marriner, 13 of which were against opposition who went on to finish in the bottom half.
Thank you for reading 5 articles this month* Join now for unlimited access
Enjoy your first month for just £1 / $1 / €1
*Read 5 free articles per month without a subscription
Join now for unlimited access
Try first month for just £1 / $1 / €1
Get FourFourTwo Newsletter
The best features, fun and footballing quizzes, straight to your inbox every week.