Manchester City sell the remaining 13% of club's soul
Manchester City are in danger of selling out, Back of the Net can reveal...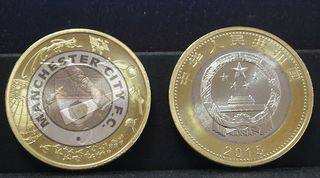 Manchester City officials spent some time locating the remaining fragments of the club's soul, which they then presented to a group of Chinese investors acting on behalf of another group of investors, none of whom had ever watched the club play or entertain any desire of doing so in the short-term, medium-term or long-term future.
Despite fears that the deal may jeopardise Man City's image as a club rooted in its community, the deal proceeded as soon as City representatives were able to locate the remainder of the club's soul.
"We thought long and hard about this offer, but as were thinking they unloaded a dump truck full of crisp £50 notes outside the stadium," Manchester City CEO Ferran Soriano explained to FFT. "You can't put a price on a club's identity but if you could I guess it'd be around £2 billion. Yep, that'd pretty much add up.
"The fans are the lifeblood of the club and we take their views very seriously. That said though, we can always just buy new, more attractive fans with our mountains of money. Maybe we could get some sexy Spanish ones in."
The Chinese group are reportedly keen to increase Man City's popularity in China and are expected to propose measures such as playing evening games at 3am to better suit the timezone in Beijing and only spelling the team's name in Hanzi characters, a change that is likely to cause chaos with traditional league tables.
"This is a good, old fashioned Qatari/UAE club, this kind of foreign investment has no place here," Manchester City fan Ian McAllister told FFT. "I bought my £900 season ticket at the Etihad Stadium in good faith. Nobody wants to see Man City become a faceless, corporate superpower."