Marcus Hahnemann: My Secret Vice
"The Reading boys give me stick for my car. They can hear me coming to training from a mile away"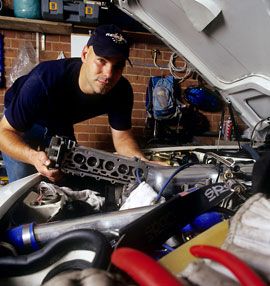 "Almost all footballers like nice, expensive cars, but most of them tend to buy the model they want. Me, I'd rather just build my own! I absolutely love working on cars. Some of my best memories are of hanging out in my buddy's garage back in Seattle. We'd crack open a case of beer, crank up the local rock station, KISW, and work away on a car. Anyone can buy a standard vehicle, but if you can build your own it becomes totally unique.
My interest started when I was 15. My dad bought me a VW station wagon and I had eight months to get it on the road before I could get my licence, so I started tinkering with it, just little tweaks here and there. After that I graduated to a Volkswagen Thing, which is based on an old army jeep. I started to get a bit more adventurous with that one - built a faster motor, lifted it so it was awesome off road. You could take anything at speed in The Thing, man!
Back in the US I've also got a 94 Cherokee. It's an absolute monster. Every summer when I go back, my buddy and me lift its suspension a bit more.
The summer just gone we lifted it up from six to eight inches, which is awesome! We've put a long-arm suspension kit on it, upgraded the tires from 33" to 35" mudders and added some big cut out flares. It's black with tinted windows and it's got a four-litre engine – which is just about enough! My buddy's car mad too – he's even got a drag racer, which runs a quarter mile in 10 seconds!
Porsches are more my thing. When I was 15 my neighbour had a '74 911 which he let me drive. From that day on the 911 became my ultimate car. So when I came to England and signed for Fulham in 1999, I bought myself a 911 RS.
Now this is not the kind of Porsche you go posing in - this baby's basically a race car. They only made about 75 of 'em and half of those ended up on the track. It was quite literally the greatest car ever made. No carpets or trimmings, just race seats, harnesses and pure power. The problem was, it was so awesome that I didn't want to touch it, and if I had, it would have lost its value.
The summer I signed for Reading, 2002, the ITV Digital deal collapsed, and the amount of money kicking around the game just dropped. I moved into this house outside Reading and the down payment and stamp duty was taken care of just by selling the 911 - as much as I loved that car, I wanted to get my hands dirty, so selling it made sense.
Now unlike my place in London, the new house had a garage, which is pretty important if you're a petrol head! So I picked up this Posche 944 turbo and started working on it, tweaking it in all the right places. I'd got it just about right, too, but then I had a few problems with a lamp post. Which brings me on to my current car, a 1990 Porsche 944 S2.
It only cost me four grand, but I've spent a few on it since. I get all my stuff from a company called Lindsey Racing in the US. Through them I started piecing together my engine package. I put in a new three-litre motor, low compression pistons, added a complete turbo head. I basically custom-built the engine to so it was exactly how I wanted it.
I run it all with this special control unit which synchs up with the on-board computer, and with the software I can control the fuel mix going into the engine. I've put in racing seats and harnesses. The wheels are 18" TechArts – two inches bigger than the standard, and I've added GT3 front brakes which are huge. I had a roll cage put in too. I got a friend to do that though – he's a really good welder and I figured that had to be safe bearing in mind I need the use of my arms and legs in my job!
Now for the uninitiated, three litres with turbo gives you pure power. With the standard 2.5 litre, there isn't that much power low down - you only get it once the turbo kicks in. With three litres, there's just power all the time! I've only got about 120mph out of it so far, but the acceleration is just ridiculous, frightening. A standard 944 turbo is about 250 horsepower – this thing is up at 400!
It's all legal though – fully MOT'd. I often take it down to track days at places like Donnington Park so it has to be perfect or I'd be in trouble. Imagine coming into a chicane at 120mph, dropping to second and breaking down to 40mph in a couple of seconds... you're not even trying to steer anymore, you just try to hold on, so it has to be safe.
Reading don't have a problem with my love of cars, after all, it's not like I actually race them. When you go to a track day you just take the car around the track yourself – you're not up against other people. And it's actually safer than being out on the road anyway.
The cars at Donnington are unbelievable. There are Ferrari Enzos up there worth £600,000, tonnes of Porsches - 911s, GT3s. I can keep up with the GT3s on the straights but they run slicks so when you get to the corners they're gone and I can't come close. But my car is being built up in stages so I'm toying with getting some street legal slicks (that's racing tyres to you, Petrol Ed)
I still see my old 911 RS kickin' around on track days. I came a bit too close to crashing it at Donnington a few years back, which was another reason it had to go. It was raining and I ended up going sideways down Craner Curve, which is a downhill turn you take at over 100mph. I finally got traction about 100 yards from the wall! I took it a bit easier after that…
These days, if I'm not with the club and not at home, the chances are that I'm hangin' out at Northways Porsche Garage near where I live. The guys down there are my buddies. I get to stick the car on the lift, and before I know it, I've got mechanics helping me do stuff!
The best part though, is driving around rural Berkshire and scaring all the villagers. It's a pretty throaty beast, and I'm there with my shaved head and goatee, a mouth full of chewing tobacco, some Slipknot blasting out of the stereo. Yeah, I get some strange looks!
As you'd expect, the Reading boys give me a lotta stick for my car. They can all hear me coming to the training ground from a mile away. For some reason, none of them ever want to get in it with me. In fact, they all claim I'm driving around in a Ford Capri! But it's not really about aesthetics for me – it's all about performance. And my car has probably cost me less than they lose on all their fancy cars in a year. So tell me, who's the dumb one?!
My Other Secret Vice
"As well as cars, my other favourite pastime is guns and shooting and I've got a healthy collection of guns back home. When I was 18 I wanted to go into the Marines to fly helicopters, but I ended up going to University first, and then someone decided they wanted to pay me to play football for a living. So now I just have to make do with shooting stuff in my spare time. I have 13 guns back in the US, but my favourite is my M16 M4 Carbine. It's awesome! But if I had to choose between the two, the cars would come first – it's more socially acceptable!"
Thank you for reading 5 articles this month* Join now for unlimited access
Enjoy your first month for just £1 / $1 / €1
*Read 5 free articles per month without a subscription
Join now for unlimited access
Try first month for just £1 / $1 / €1
Get FourFourTwo Newsletter
The best features, fun and footballing quizzes, straight to your inbox every week.
Nick Moore is a freelance journalist based on the Isle of Skye, Scotland. He wrote his first FourFourTwo feature in 2001 about Gerard Houllier's cup-treble-winning Liverpool side, and has continued to ink his witty words for the mag ever since. Nick has produced FFT's 'Ask A Silly Question' interview for 16 years, once getting Peter Crouch to confess that he dreams about being a dwarf.