Mascherano vs Busquets: ex-Red set for big week to pinch Barca's pivot role for good
With Sergio Busquets sitting bruised on the sidelines, big games against Manchester City and Real Madrid make for a vital week where Javier Mascherano is concerned. Lee Roden weighs up each man's long-term chances...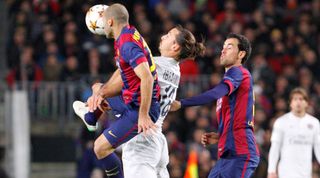 MASCHERANO's 2014/15
La Liga 20 games
Champions League 6 games
Passes 1842
Tackles 80/100
Interceptions 52
Clearances 31
Fouls 24
Since he usurped Yaya Touré some six years ago, Sergio Busquets has been as much of an undisputed presence in a Barcelona starting XI as Lionel Messi.
The academy star was incredibly consistent at the height of the side's intricacy under Pep Guardiola, and key to linking defence and attack as smoothly as possible, providing the platform upon which more attack-minded players built their brilliance.
But change is in the Catalonian air. When Barcelona focused on sharp, short passing they played to Busquets' biggest strengths – his ability to receive possession and then move it on swiftly a natural fit when making the ball run faster than the man was the team's norm.
Luis Enrique's shift away from the positional play that Guardiola championed means Barça are starting to expose their No.5's weaknesses, however. Games are stretched, counter-attacking is more common, and players aren't close enough for the half-touch passing Busquets loves. Mobility and directness are the new hallmarks of 2015 Barça.
And that's where Javier Mascherano – who many feel fits that direct, mobile mould – comes in. It has taken five seasons, but this month he is finally starting to play regularly in midfield thanks to an injury picked up by Busquets. The timing couldn't be more dramatic: Manchester City visit the Camp Nou on Wednesday, while Real Madrid follow on Sunday. Both games offer the ex-Liverpool man a chance to prove or disprove the theory that his interpretation of the deep midfield role is a better fit for Enrique's Barça than Busquets'.
Passing disparity
The most obvious difference is the two midfielders' attitudes to passing. For someone who spent a large part of his formative years working under Guardiola, risky balls don't come naturally to Busquets, whose longest passes tend to be horizontal in an attempt to create numerical superiority on one side.
Mascherano loves to rake the ball behind a defence from deep, something that fits Enrique's more direct mentality, and in theory plays to the pace Barca have in their attack these days. Inevitably, those passes have a mixed success rate (odds Busquets doesn't like), but they can be damaging when they come off.
When it comes to short passing there is something of a role reversal, however: Mascherano suddenly becomes conservative, and Busquets the adventurous one. The former tends to take two, or even three touches to set himself on the ball, giving opponents a chance to reposition, which in turn limits his influence over a short distance against sides who press high. Most probably because he is aware of his limitations in this capacity, he will often opt for simple balls to the full-backs, in comparison to Busquets who is confident enough to try to break opposition lines with a sharp pass forward after receiving possession.
The two players evidently utilise quite different ranges of passing, so the key question is: which kind does Enrique value more? That which bypasses the midfield in an attempt to find the forwards, or passing that tries to move the midfield forward as a unit? Indications so far suggest the former, with the Asturian's version of Barcelona placing a huge amount of focus on the creativity of the front three.
Positional power
The two players are also distinct in their positioning when playing the same role, a natural consequence of their varying skill sets. Busquets is far more adventurous, happy to receive the ball in the thick of the action further forward and trusting his touch to do the work, while Mascherano is more cautious and likes to receive in areas where more space will be afforded (generally that means deeper).
In the past when Barcelona used to advance as a unit, that reluctance to move forward from deep may have been a problem, but these days it is probably less so. Mascherano's habit of hanging back could even be considered a strength in the current Barça side.
With Enrique asking both full-backs to play attacking roles, having a deep midfielder who can quickly and comfortably drop in to form an auxiliary back three behind the wing-backs is a useful asset.
Busquets has done that sporadically under Enrique, but Mascherano should naturally have a better understanding of the job given that he has spent years playing as a central defender.
Catalan writer Natalia Arroyo's description of him as a "migcentre mig central", or "half centre-back, half defensive midfielder" feels apt.
Advantage Javier
The way Barcelona defend has changed under Enrique. Previously, the mentality was to defend around the ball, with fine-tuned movements ensuring players were in good positions to recover possession quickly.
Now Barcelona are learning to defend without the ball; Enrique's focus on more direct, risky play means end-to-end football is a frequent characteristic of the Catalan side's outings.
In the latter scenario, where a degree of structural stability is always going to be lost, Mascherano's pace can be a great counter-balance to call upon, and Busquets' lack of it a potential problem

Key: crosses = tackles; triangles = aerial duels; circles = clearances; diamonds = interceptions
Most obviously in this regard, the Argentine is better equipped to cover the space behind Dani Alves on the right. Enrique has been obsessed with balancing out that side of the pitch this season, at one stage relegating Ivan Rakitic to little more than a grafter in an attempt to do so. Mascherano in midfield could offer a solution that liberates the Croatian, allowing him to focus on his blossoming understanding with Messi and Alves further up the pitch, aware that the space behind is covered.
Head to head
Barcelona evidently still rate Busquets highly: they have just extended his contract until 2019, and handed him 95% of the minutes played by a midfield pivot until his injury. But looking at the details of his performances, this season has clearly brought a degree of discomfort for the midfielder.
In particular, a new habit of losing the ball on the edge of his own area sums up the overall change in the team he plays in – the passing options he would have previously used in that scenario are no longer available, and mistakes are subsequently following.
Mascherano thrives on end-to-end games, and Barcelona's change in approach suits him well. His raking long balls, flexibility as an auxiliary centre-back and never-say-die attitude tick a number of boxes for Enrique. While it was once unfathomable that he could displace Busquets as a Barça pivot, the goal posts have moved in his favour. It's up to him to apply the finish.
Just how comfortable he really is we will discover soon, starting with Manchester City, and then again in the Clásico. If he passes both tests with flying colours, the Argentine will give his coach a real dilemma, and Busquets a potential problem.
Barcelona vs Man City LIVE ANALYSIS with Stats Zone DOWNLOAD NOW iOS • Android
Quizzes, features and footballing fun
Get the best features, fun and footballing frolics straight to your inbox every week.
Thank you for signing up to Four Four Two. You will receive a verification email shortly.
There was a problem. Please refresh the page and try again.