Meet the boss who's riled Real and should manage Barca one day (but probably won't)
Lee Roden introduces Rayo Vallecano's Paco Jemez, who continues his personal battle with Real Madrid at the Bernabeu on Saturday...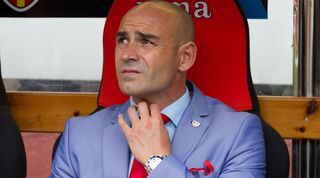 You may know of Paco Jemez already, but if you don't there's one principal reason why: money. The Rayo Vallecano boss has talent in abundance, yet very little of the commercial exposure required to elevate his name to the top.
Despite producing fine results and eye-wateringly attacking football in unfavourable conditions on a yearly basis, his Rayo side remain a cult team at best.
Those who know the secret are grateful they do. Those who don't have no idea what they're missing.
Over the last month, a few of Jemez's comments have raised his profile somewhat. Along with being a gifted coach and communicator, the Spaniard is also particularly frank. Like Rayo as a club, there are no airs and graces about him.
No less than Zinedine Zidane and Carlo Ancelotti discovered that recently. Speaking to Spanish radio show El Partido de las 12 last month, Jemez admitted he finds it "embarrassing" that Zidane has been coaching Real Madrid Castilla without all of his necessary badges, adding that he would not consider the Frenchman "a colleague" until he has his full licence.
Rayo may be small fry and Los Blancos the big dogs in Spain's capital, but Jemez managed to ruffle their feathers. In response, Ancelotti warned his rival that he "talks too much", yet rather than back down, the Gran Canaria native talked some more.
When a French journalist pointed out that Zidane only lacked "a few details" before obtaining his licence, Jemez retorted: "If he lacks a few details that means he can't coach", before finishing: "Now go and tell that to Ancelotti, run along now."
Pep talk
It goes without saying that Jemez sticking one to Madrid will have gone down particularly well among Barcelona supporters, though fans of the Catalan giants already have plenty of reasons to like him. Every time Rayo meet the Blaugrana they remain faithful to their attacking style when others would look to scrape a draw. Every time they put up an admirable fight before ultimately being undone.
That may sound like little to celebrate, but Jemez's refusal to compromise his team's approach – no matter how formidable the opponent – is something Barcelona can identify with. Last season that respect was only augmented further when his Rayo became the first team in five years of official matches to stop Barça from dominating possession, claiming 51% to Barcelona's 49%.
Even Pep Guardiola is an admirer. In Pep Confidential, he told Marti Perarnau that Barcelona, Bayern and Jemez's Rayo are the only three teams in the world who attempt the bold 'positional play' that the Catalan coach is so dedicated to. It throws up an obvious question: could Jemez take charge of Barça one day?
In many ways the cap fits. Like Barça, Jemez favours an attacking 4-3-3, with his main alternative a 3-4-3. He's also an advocate of defending from the front, once noting that he wants "the striker to be the first defender and the keeper to be the first attacker". Jemez is probably even more faithful to the most puritanical version of the Barça model than Barcelona's current coach Luis Enrique, detesting the use of long balls and always asking his goalkeepers and centre-backs to build from the back.
Sticking to the plan
Jemez has something of a chip on his shoulder in that regard. In his playing days he was a central defender, capped by Spain 21 times, but always wanted to be a midfielder. He once admitted that "when a coach asked me to kick the ball long I f***ing hated it, because what I liked was playing football". That disdain for the long ball ensures his Rayo regularly chart high in the possession stakes, and with an average of 59.5% in La Liga they finished only second in that regard behind Barcelona last season.
It is tempting to call Jemez dogmatic, but the word dogma implies ideology beyond reason, and considering he achieves incontestable results come the end of the season, there is clearly plenty of method to his perceived madness.
Rayo are no vanity project – Jemez has twice kept them safe from relegation in two full seasons in charge of the club, even taking them to what would have been a Europa League place in his first year had finances not prevented them from entering. His mantra that "playing good football is always the shortest road to victory" has been proven true in Vallecas, despite hordes of players departing the club every transfer window.
Imagine, then, what Jemez could do with a stable squad at Barcelona, and a better class of player capable of assimilating his ideas more quickly and effectively. He has never been afraid to admit that he sees the Camp Nou as the peak destination for a coach of his philosophy and concepts of play. It could be a match made in heaven. It could also be a disaster.
Risky business
It is true that Jemez has kept Rayo above water in difficult circumstances, but it is equally true that his teams tend to start slowly. In both his first and second seasons in Vallecas, Rayo took just 10 points from the first nine games, only later hitting their stride and chalking up the wins needed to avoid the drop. This season they have 11 points on the table after 10 weeks.
A similarly lethargic start at Barça would be perceived as a catastrophe given the club's ruthless battle with Real Madrid in the hunt for trophies. Perhaps with better players that slow start wouldn't happen. But what if it isn't a consequence of the tools at his disposal, but rather, a consequence of his methods? Without first seeing Jemez in charge of a bigger club with a stronger squad, it is impossible to know for sure.
Then there is Jemez as a character. A man who refuses to toe the party line or suppress what he perceives to be right, could easily become a nightmare for the current Barcelona board. His habit of ruthlessly hauling players off in the first half when they don't perform to his high standards could also rub the delicate ego of an elite level footballer the wrong way.
If hiring Luis Enrique was seen as something of a risk for Barcelona, the prospect of hiring Jemez has to be viewed in a similar light. The Asturian at least has a first-hand grasp of Barça's workings and high-pressure environment from his days there as both a player and successful B team manager. Jemez may need an intermediary step before getting to the Camp Nou, where he can prove that with greater tools at his disposal, his ideas can be carried out more consistently and effectively.
There may be one other path to Barcelona for him, though. Should Joan Laporta run for the Barça presidency in 2016, he will likely want a coach of his own.
Instead of going for a big name, would he dare take a calculated risk on a talent who hasn't yet been given the chance to shine at the highest level? It worked well for him in the past...
Thank you for reading 5 articles this month* Join now for unlimited access
Enjoy your first month for just £1 / $1 / €1
*Read 5 free articles per month without a subscription
Join now for unlimited access
Try first month for just £1 / $1 / €1
Get FourFourTwo Newsletter
The best features, fun and footballing quizzes, straight to your inbox every week.