Meet Juan Foyth: Tottenham's new stopper, as told by the coaches who helped him get here
As the elegant Argentina U20 defender awaits his English football debut, Peter Coates speaks to those close to him – and explains how a position switch led to a remarkable rise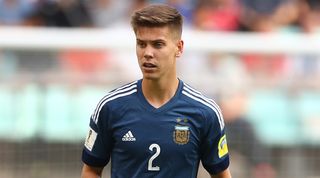 After publicly questioning Tottenham's transfer policy, Danny Rose may well have needed to Google at least one of the club's latest recruits. But while many will question whether 19-year-old Juan Foyth is ready to be plunged into action, those who know him best are in no doubt.
Despite his lack of senior experience, the coaches who have overseen his development at boyhood club Estudiantes and within the Argentine youth ranks are confident that Foyth is not only one of the country's best defensive prospects for the future, but talented enough to provide Mauricio Pochettino with an immediate option.
Spurs identified Foyth months ago, but that didn't prevent a transfer saga that dragged on until late in the window. Estudiantes president, the former Argentina international and ex-Pochettino team-mate Juan Sebastian Veron, travelled to London to discuss the move. But when PSG rivalled Tottenham and the price was hiked up, it appeared as though the youngster would slip Spurs' net.
The persistence of compatriot Pochettino proved instrumental in securing Foyth's signature, though, and Tottenham eventually tied the youngster down to a five-year deal for a fee of around £8m.
Selling Spurs
After several telephone calls between Pochettino and the player, Foyth explained his decision: "It's a club [Tottenham] that bets on the young and I think I'm going to have a chance to play.
"I also spoke with Mauricio Pochettino and I liked what he said. It's what helped me decide that Tottenham was the right place to continue my career. He told me to go train and, if I deserved it, that I would play. He also told me what the club was like and what his work ethic was."
Hermes Desio, Argentina's new youth coordinator after excelling in the same role with Estudiantes, expects Foyth to genuinely challenge for a first-team spot – and not be afraid about the prospect either. 
"Juan has the ability to arrive there [Tottenham] and play," Desio tells FFT. "He is a player who will ask for that; he will want to play and the responsibility will not weigh on him at all. This is perhaps one of his strongest characteristics.
"His mentality will be to go there with the firm idea of playing – the pressure of the stadium, the people or the supporters won't enter his thoughts. Nothing will stop him, and his desire to play so much will mean he will feel at ease."
Desire to learn
Amid his impressive displays for Estudiantes and Argentina U20s, those most familiar with Foyth's strengths make similar statements about the youngster's mentality and temperament.
Martin Gaimaro, the head coach of Estudiantes' U16s and the man credited with transforming Foyth into a central defender only a few years ago, is in complete agreement with Desio.
"When we began working on coaching him in that position [central defence], we obviously concentrated on the aspects of the game that it requires. But above everything we taught Juan, I always emphasise his will, and his desire to learn and perfect himself."
These mental qualities are evident in Foyth's calm approach to defending; his outstanding technical ability and comfort with the ball at his feet enable the youngster to dribble out from the back and really impress.
With a wonderful range of passing and the ability to turn out of tight spaces, beat a man and drive forward, Foyth exhibits many of the skills associated with players that feature much further upfield. It's not too surprising, however, when you consider that Foyth played as an attacking midfielder until Gaimaro spotted his potential and converted him to central defence shortly before the player turned 16.
"I saw that he had many qualities to play in central defence, and he also had the physical qualities – tall, skinny and fast," Gaimaro explains. "He is very good technically, to be able to play that first pass and provide a good option out of defence, but also has a personality that is unique.
"Juan is calm, with the maturity of an older player – and that calmness is great on the pitch when things are chaotic. It allows a player to make very good decisions, but Juan also has a love for the game and a desire to win.
"These characteristics are not taught in football – they are his own, and it was these that we were watching and thinking his future was as a central defender."
From attack to defence
Such a significant change in roles at an advanced stage of development is not too common, but Desio – who oversaw the transition in his role as youth coordinator in La Plata – believes there are advantages from once being at the other end of the pitch.
"I think having played as an attacking midfielder helped Juan a great deal," he attests, "because he had seen the situation from a different perspective. Juan was able to interpret where the problem was and how to resolve it."
Gaimaro's vision has proved hugely beneficial to Estudiantes, Argentina and Foyth – and the process was far quicker than expected too. Those at the club say Foyth's promise was clear almost immediately.
One of the last of those youth coaches to have managed the fledgling centre-back before his first-team promotion was Gustavo Salinas.
"Ever since moving into central defence, Juan stood out for his elegance on the ball and being very strong when defending in one-on-one situations," Salinas recalls. "He is quick, skilled and very intelligent."
This combination of technical excellence, mental strength and maturity fast-tracked Foyth through the system at both club and international level.
In the space of a year, Foyth went from Estudiantes's U18s to the reserves, to training with the first team and into Nelson Vivas's starting XI.
With Argentina, the teenager was used for training against the Olympic squad before impressing for the U20s at the South American Championship in January 2017.
Despite Foyth impressing with his own displays, the Albiceleste's U20s ultimately failed – but in the Estudiantes first team, collective results were more impressive. Foyth's seven Primera appearances yielded five clean sheets, and only one teenager in Argentina's top flight averaged more tackles per game.
Foyth didn't feature in El Pincha's Copa Libertadores campaign, in which Vivas's side went out in the group stage, but he subsequently proved that may have been a mistake with his performances in the Copa Sudamericana. The teenager's imperious displays against Nacional de Potosi helped sealed a 3-0 win over two legs as Estudiantes advanced to the last 16.
Surprise switch
As accomplished as the 19-year-old has been at every step of his career to date, an £8m move to Europe may appear premature given his lack of experience.
Hermes Desio, however, thinks otherwise. "I'm honestly not surprised to see where he is now, making such a big leap, because he is such a capable lad," Desio says.
"He is very clear and has always been prepared for this moment. He knew what he wanted to be, and the fact that he has achieved this is fantastic."
This is not to suggest that Foyth is the finished product, but Spurs could be the ideal place for his continued development.
"I have no doubt that his arrival at Tottenham will be a very important next step for him, to continue to grow working under a great coach [Pochettino]," says former coach Gustavo Salinas.
Desio agrees. "Absolutely," he affirms. "I think with the experience that Mauricio has; that he is a coach who enhances players and even more so having a personal knowledge of the position that Juan plays... there is nothing to prevent his continued growth."
Though yet to make his Tottenham debut, the future is bright for Foyth and potentially exciting for Spurs.
"Juan is a player with a great future," Salinas predicts with certainty. "I have no doubts that, due to his ability, perseverance, intelligence and technical qualities, Juan is destined for the Argentina team."
Recommended
Where are they now? Tottenham's 1999 Worthington Cup winners
10 huge players who are currently going on free transfers in summer 2018
Why do so many footballers end up broke? FourFourTwo investigates...
Foyth, in turn, has always appreciated the support of those around him: after making his senior Estudiantes bow, the young stopper went back to visit the coach to whom he feels particularly indebted. Foyth called in on Martin Gaimaro at his youth team office to present him with the shirt he'd worn in that first game – and the man who set this remarkable rise in motion couldn't speak highly enough of his protege.
"He has always had the humility to name me as the one who put him in the position that he plays today and that speaks volumes about him as a person," said Gaimaro. "Above everything else and everything that is happening today, he is still very down to earth."
Mauricio Pochettino has already spoken of Foyth's "massive potential", and while there will be no rush, Hermes Desio feels Spurs have a rare talent on their hands.
"Juan is one of those defenders that isn't seen very often in any part of the world," he concludes. 
This could be £8m very well spent for Tottenham. 
Quizzes, features and footballing fun
Get the best features, fun and footballing frolics straight to your inbox every week.
Thank you for signing up to Four Four Two. You will receive a verification email shortly.
There was a problem. Please refresh the page and try again.