Mertesacker vs Gabriel: who gets the nod for Arsenal?
The Gunners' new kid on the block could be about to wrench away his new team-mate's place, writes John Robertson – and possibly more...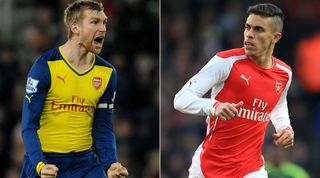 You can accuse Arsene Wenger of many things, but sentimentality isn't one of them. Over the years the Frenchman has shown a ruthless dedication to moving on players who he considers past their best. Generally, he's done a good job with such decisions: Thierry Henry didn't shine quite so brightly at Barcelona, while Patrick Vieira's form dipped on his return to Italy. Thomas Vermaelen hasn't kicked a ball since leaving the Emirates.
Wenger has made a habit of buying players when their stock is rising, and selling them before anyone else realises they're on the decline. Perhaps the Arsenal boss has another potential decision on his hands.
Per Mertesacker has been struggling enormously this season, being frequently caught out of position and failing to conduct a defensive line of which he is the senior figure. It's no secret that the World Cup winner's influence and ability is waning.
Given that Arsenal have essentially taken to fielding five attacking players in unison – any combination of Olivier Giroud, Mesut Ozil, Santi Cazorla, Danny Welbeck, Alexis Sanchez, Aaron Ramsey and Jack Wilshere – it has become more important for the defence and midfield to link well.
Without a watertight connection, Arsenal can find themselves exposed when it comes to transitioning between attack and defence, and vice-versa. Simply, management of this transition is too much for defensive midfielder Francis Coquelin to oversee by himself – he needs help from his defenders if Arsenal are to maximise the potential of their forward players in central areas.
One direction
Times have changed in football. Rarely is there a place in a top-class outfit's starting XI for a player who performs a single task. Unless Mertesacker can prove that he is capable of both assisting attacks and muting an opposition's spring from defence to offence, his time under Wenger could soon be over.

Attack is the best form of defence, but that cliché no longer simply translates to giving your attackers the ball; it means your entire team should be working to undermine the opponent's ability to attack.
Central defenders can accomplish this in a few ways: push higher up the pitch in a bid to squeeze the opposition into their own half; play positive passes that spark momentum and movement, rather than rely on conservative side-to-side and back-to-the-keeper distribution; and position themselves intelligently to avoid the lottery of a last-ditch tackle.
Unfortunately, Mertesacker's lack of pace makes it dangerous for him to both push higher up and attempt too many interceptions. As we saw last week in the Champions League match against Monaco, the German struggles to recover if balls are played around/over him. His passing also leaves much to be desired.
The new Gunner
Fortunately for Wenger, new addition from Villarreal, Gabriel Paulista, suffers few of these problems. His pace allows him to cover more of the pitch and, as we saw against Everton at the weekend, his passing mirrors the fluidity favoured by the rest of the Arsenal team.
A look at their most recent league games shows the stark difference in class between the two players' passing ability. In each of quantity, accuracy and diversity, the Brazilian comes out on top.
Gabriel was more expansive in his passing, though it should be noted that these were two very different games. Against Palace, Arsenal were forced to play on the counter; against Everton they were more comfortable, and saw more of the ball. But Mertesacker's discomfort when being pressed is telling.
Against Southampton's intensity, the 6ft 6in German relied enormously on backpasses, while his forward distribution suffered as he was rushed into action.
Skipping the danger
A defender's ability to tackle is overrated. As soon as you put yourself into a position whereby you need to tackle, you're giving the attacker a chance to beat you. Cutting out the danger before such an incident is the better option. By way of reference, the great Paolo Maldini averaged just one tackle every two games.
Interceptions, then, have become increasingly more important as teams continue to pack their squads with faster players who can weave between tackles.
By making more interceptions higher up the pitch in central areas, Gabriel gives his team more options to attack from the front. While Mertesacker managed one interception of this kind against Palace, his lack of speed makes such attempts extremely risky.
At Villarreal, Gabriel consistently showed great ability to make interceptions in dangerous areas.
The Brazilian's greater mobility is further highlighted by the areas of the pitch in which he manages to recover loose balls.
Leave it to Laurent
While it's natural for centre-backs to complete a large number of passes to each other, the degree to which Mertesacker relies on this is detrimental to Arsenal's attacking potential.
There's no one on the pitch the German likes to pass to more than Laurent Koscielny. By passing sideways so often, the German gives the opposition time to regroup and regain defensive composure.
Conversely, Gabriel passed most frequently to Hector Bellerin, giving the full-back plenty of opportunities to use his speed to create problems for Everton's midfield and defence.
Bellerin was equally obliging in passes back to his team-mate, who pulled wide to provide the young Spaniard with an easy option whenever forward runs met resistance.
Despite having played just two full games for Arsenal, Gabriel has made a strong bid for a place in Arsenal's starting XI. A greater passing ability, superior mobility and a better awareness of how to attack from the back suggests that he is a more natural companion for the other players in the Gunners' squad.
Mertesacker has been a solid servant for Wenger so far, but like the masters who have gone before him, his time as a Gunner is under scrutiny.
QPR vs Arsenal LIVE ANALYSIS with Stats Zone DOWNLOAD NOW iOS • Android
Quizzes, features and footballing fun
Get the best features, fun and footballing frolics straight to your inbox every week.
Thank you for signing up to Four Four Two. You will receive a verification email shortly.
There was a problem. Please refresh the page and try again.