'Mourinho Out' chants seem to be coming from Jose Mourinho
The Portuguese tactician believes it's time to get shot of the Portuguese tactician, Back of the Net reports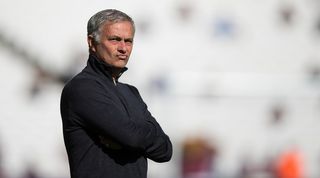 Video analysis of Manchester United's defeat by West Ham has revealed that many of the 'Mourinho Out' chants were started by Jose Mourinho himself.
With United languishing in 10th place and discord spreading in the dressing room, pressure is mounting on the United board to relieve Mourinho of his duties.
However, the powers that be at Old Trafford have resolved to give the Special One more time to turn things around, much to the chagrin of a large swathe of supporters, key players and Mourinho himself.
New methods
"When we isolated the sound from the West Ham game and employed a lip reader, we could see that Jose spent much of the game bellowing 'Mourinho Out'," a source told FourFourTwo.
"He's even made 20 or 30 'Mourinho Out' placards that he brings along to games and surreptitiously places on seats in the stands. A significant amount of the booing directed at Mourinho when he walks off the pitch is coming from Mourinho himself."
Sources close to the Portuguese have revealed that the manager - who's stunned he hasn't been given the push yet - is running out of ideas to force the United board's hand so that he can receive a sizeable pay-off and begin his next three-year cycle elsewhere.
Scheduling nightmare
"He's delivered the club's worst Premier League start, he's irrevocably split the dressing room and he's publicly fallen out with Ed Woodward, but he's still having to turn up to games every week and pretend he cares whether United win or lose," a friend of Mourinho's told FourFourTwo.
"It's his third season, so he's got a lot of holidays booked in December and he's starting to worry that he'll have to reschedule. He's beginning to wonder what he has to do, short of head-butting Ed Woodward or pointing out to him that his name sounds like a fart in the bath."
MORE BACK OF THE NET
There are unconfirmed reports that Woodward has readied Mourinho's P45 and intends to pounce as soon as United begin winning games again, purely to spite the 55-year-old.
"He's waiting until a resurgent Jose regains his swagger and starts enjoying life at United," our source told FourFourTwo.
"Then, out of the blue, Mourinho will return home one day and find Zinedine Zidane eating at his dining table. That's the Woodward way."
Please note: This story is satirical. But you knew that, didn't you?
Back of the Net • New features you'd love on FourFourTwo.com
Quizzes, features and footballing fun
Get the best features, fun and footballing frolics straight to your inbox every week.