New York v New York: The first glimpse of MLS's niggly new rivalry
Kristan Heneage chats to men from either side of the divide as US soccer prepares to inaugurate its latest grudge match...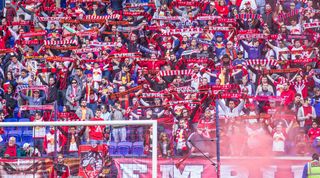 In the city of New York, a soccer rivalry is brewing. Dubbed the Hudson River Derby, it pits the established New York Red Bulls against the MLS's latest addition, nouveau-riche kids New York City FC.
"From when the schedule came out this was the first game I looked at," Red Bulls head coach Jesse Marsch said this week, adding: "If they're looking for a pass around they're coming to the wrong game."
On Sunday, the two sides will meet for the first time in their history at the Red Bull Arena. The stadium is situated in Harrison, New Jersey.
As such, the team's location is often the first thing NYCFC fans cite as a reason for disliking those in red. "They claim to just be New York and they haven't earned it," explains Chance Michaels, president of the Third Rail supporters group. "I look forward to throwing that back in their face in the form of wins."
Fickle folk
Originally known as the New York/New Jersey Metrostars, the older outfit was rebranded in 2006 when European energy drink giants Red Bull bought them.
Dropping 'New Jersey' from the name, the references to their past are still there in the form of blogs and other avenues. Thierry Henry even adopted the Metrostars' colours of red and black into his captain's armband as a subtle nod to the history.
Regardless, there is an easy riposte to the claims of New York City FC fans. "They use [the New York argument] to their convenience," says Eric Rios, a member of the rival Empire Supporters Club.
"We have the New York Jets and the New York Giants [based in New Jersey], but when those teams are doing well they have no problem associating with them. In reality the New York Red Bulls are the first team in MLS that was in the area."
Even the players have noted the geography of the situation. "Right now, I just have a message for all New Yorkers: New York City FC is your team," midfielder Mix Diskerud – scorer of NYCFC's first-ever MLS goal – tweeted in March. The Norway-born USA international is a favourite among the fans.
He may not be from New York, but he's consistently spoken of how pleased he is to be living in the Big Apple. "He's one of the guys who's fully embraced joining NYCFC, and who the fans have fully embraced too," says Chris Zdybicki, another member of the Third Rail.
Standing in the way of Diskerud and a victory on Sunday is Sacha Kljestan. The former Anderlecht man studied and played soccer at Seton Hall University in New Jersey before embarking on a professional career in MLS. "It's exciting because it's the start of something that could become historical," he said.
It's a fair assessment – for many this rivalry has been a long time in the works. "I've been waiting for this since I watched the 2005 Champions League Final," Chris Zdybicki adds. "I think a lot of people want to be part of something new and make history."
The big grapple
Officially, New York has three major professional teams associated with the city. Besides the Red Bulls and NYCFC there's also New York Cosmos, home of Raul and Marcos Senna, in the second-tier North American Soccer League.
However, match-ups between the Red Bulls and the Cosmos are few and far between, and often confined to meetings in the US Open Cup. Consequently it's been hard to generate genuine competition between two New York sides. In the absence of the Cosmos, New York City FC now pose a threat to the Red Bulls in MLS.
Despite their impressive connections (Manchester City and the Yankees paid $100m for the franchise) and roster (including Frank Lampard and David Villa) and location within the city itself, NYCFC have yet to secure their own ground and currently play on the baseball diamond at Yankee Stadium.
"We want to make sure this is a statement game and let the team know that it's our town," says Jason Iapicco, managing editor of Red Bulls blog Once A Metro. Those sentiments were echoed by Bradley Wright-Phillips. The former Manchester City striker, MLS's top scorer last season with 27 goals, is now playing against his old side's sister club and tagged as the man who can fire the Red Bulls to success. "For the first 15 minutes you ignore the soccer and just fight," he explained. "I think whoever wins that battle will win the game."
Fizzy business
In the build-up to the match, social media has played a significant part in allowing the two teams to take aim at each other in public. Red Bulls fans have called New York City FC 'plastic', nothing more than a feeder club for Manchester City. Third Rail's Chance Michaels sums up the response: "I think if there's one team that ought to be careful abut making that accusation, it's a team named after a soft drink."
Fans also pounced on the fact that Sebastian Velasquez was seen sipping from a can of Red Bull while sitting on the bench for New York City FC. Their decision to produce song sheets was also a bone of contention. "The fact they have a songbook is not the issue at all," says Once A Metro editor Iapicco. "They're being ribbed over the content of the songs. They borrow them from a bunch of other MLS teams."
While their aim may have been to embarrass NYCFC fans, it appears jibes about the printed song sheets have only spurred members of the Third Rail on. "I think we will double production of song sheets at this point," Zdybicki joked, before adding: "Red Bull doesn't actually allow away fans to produce tifos, but we plan on bringing different flags and banners and other surprises for Sunday."
"We're going to battle for New York"
Red Bulls boss Jesse Marsch, meanwhile, is focused on what his side can do to keep their rivals quiet. "We'll make sure that at our stadium in the first game ever, we set the tone," he said. That 'tone' will likely be a high-intensity one in which the Red Bulls attack an opponent that's won just once this season, and is currently on a seven-game winless streak. Nevertheless, those recent results haven't dampened spirits. "We're in the middle of a long winless streak but after every match we party in the streets because we're just so happy to have a team," says Chance Michaels, who admitted he could 'never get into' NYCFC's cross-town rivals.
And with the importance of the game not lost on the players, Kljestan in particular is ready for Sunday. "We're going to battle for New York," declared the Californian. "It's our home and we're going to keep it."
ALSO ON FFT.COM
Past the contempt and disdain for their rivals across the Hudson, however, there is also an appreciation from both sets of fans of what they now have. This derby, while perhaps not conventional to the naked eye, still has the potential to grow and manifest itself into one of America's best.
"I think the Cascadia Cup between Portland and Seattle was one of the greatest things to happen to MLS and U.S. soccer," says Chris Zdybicki. "It's been a huge selling point for the league, and this has the potential to do that and even surpass it."
A historic moment for US soccer: the battle for New York begins.
Thank you for reading 5 articles this month* Join now for unlimited access
Enjoy your first month for just £1 / $1 / €1
*Read 5 free articles per month without a subscription
Join now for unlimited access
Try first month for just £1 / $1 / €1
Get FourFourTwo Newsletter
The best features, fun and footballing quizzes, straight to your inbox every week.