Nicolas Anelka, One-on-One: "Something serious would've happened if I'd stayed longer at Real Madrid"
By Gregg Davies
Back in 2008, FFT quizzed the then-Chelsea striker on his colourful career to date. Why were things sour at Real Madrid? Did he play his best football at Arsenal? And what's his most memorable joke? Your questions answered...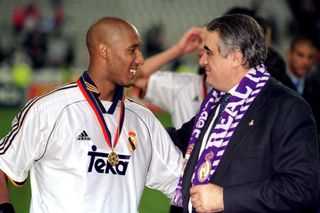 Did growing up in Trappes, a tough Paris suburb, motivate your desire to make it as a professional footballer? What is it about these suburbs that's helped breed so many of France's top players, like Thierry Henry and William Gallas?
Gareth Butt, Sheffield
I think about 70 per cent of the players who are in the French league and the French national team come from the suburbs. When I was little I never used to think about the fact that I was from the suburbs. I always wanted to do all I could to make it as a footballer but I didn't walk around thinking I'm from the suburbs. I came from a calm background, a stable family, but it's true you can't say Trappes is the loveliest of places.
FACT FILE
Date of birth: March 14, 1979
Place of birth: Le Chesnay, France
Height: 6ft 1in
When you were growing up did you ever dream you would one day have a burger named after you? Is it possible to buy an 'Anelka Burger' anywhere in West London? 
Marcus Heath, Bromley
I never thought I'd have a burger named after me, that's for sure. I always wanted to be a professional footballer, but I never thought of anything like that! It was always football, football, football when I was a kid, but I'm glad that I've had a burger named after me. The Burger King promo has finished now – it only lasted a month before the Rugby World Cup and you can no longer buy an Anelka Burger. Shame, huh?! These days footballers can get involved in all sorts of aspects of life, including fashion – we get all sorts of offers thanks to football's notoriety.
You signed for Arsenal when you were 17, and dislodged club legend Ian Wright fairly soon after. How did it feel to have the weight of the fans expectations on your young shoulders, especially considering that Dennis Bergkamp was injured for the last 11 games of 1998?
Carl Ambrose, London
I don't remember Bergkamp being injured now. How did I cope? I don't remember really coping. It just came naturally. I was there, the coach asked me to play and it all went very well with my team-mates. Simple as that. Arsenal were playing nice football and without particularly having to make a special effort or to force anything, things fell into place and my team-mates had confidence in me, trusted in my ability.
 
Was the Arsenal side that you won the Double with in 1998 better than the current side? What's the best side you've played in?
Jason Jones, Bournemouth
I remember we were something like 13 points behind Manchester United at one stage and we came back to win it at the end of the season. I have so many memories of that time with Manu Petit, Gilles Grimandi, Patrick Vieira, Remi Garde. Lots of good memories, good times.
I wonder which team would win, '98 or today? It would be difficult to say, it would be very tight. I can't say who would win, you're talking about two great teams. As for the best team I ever played in? It depends on lots of things. I'm tempted to say Arsenal when I first joined but the Real Madrid Champions League-winning side wasn't bad – although the Madrid side in La Liga and in the Champions League were like two different teams. The France side in 1999 when we beat England at Wembley wasn't too bad either!
 
When you were at Real Madrid there were lots of rumours that some of the older Spanish players, namely Raul and Fernando Hierro, weren't particularly welcoming. Was this a contributing factor to your missing training and your subsequent suspension?
Nigel Waterford, via e-mail
The first day I arrived at Real Madrid in the dressing room, no one introduced me to the players. There was no locker for me, no place allotted, so I had to wait for everyone to sit down before I could decide where I was going to get changed. I remember the first thing that Samuel Eto'o and Geremi both said to me: "Be careful, because we know that some of the players went to see the president and asked why the club had bought you when they already had [Fernando] Morientes".
When they told me that, knowing that at the time I was still a bit rough around the edges and had a bit of a wild streak... I can't say I reacted badly but I couldn't pretend it hadn't happened. And from that moment, things could never be the same. Knowing what they had said about me, and the way that they showed me what they thought – in the way they treated me – that I wasn't welcome. All that means that I stayed for one year but couldn't stay any longer because otherwise something serious would've happened.
 
You played a crucial role in Real winning the European Cup after scoring in both legs of the semi-finals, setting up a couple in the final. How do you reflect on your time at the Bernabeu: job done?
Enzo Hanrahan-Soar, Mansfield
Despite all the things that went on during the season I have good memories of my time in Madrid. I've just kept all the good things in my head: the town, the club – even though there were negative things going on. What I hold on to and remember is that we won that Champions League, one of the most important competitions in the world. On top of that, the final was played in Paris, which is where I come from, so it was magnificent. 
Paris is the city of love. Do you have any tips on romancing the ladies? I need all the help I can get!
Owen Jenkins, Birmingham  
Tips for picking up women? I haven't really got any tips because I'm a footballer, which makes things easier with the girls! [Laughs]. It would be good, Owen, to have some money. That helps! But there's lots of beautiful women in Paris, for sure.
 
Your move to PSG was supposed to be a homecoming for you but it didn't seem to work out. What went wrong? Is it true that the coach, Luis Fernandez, was a bit of a nutter?
James Hawkins, Chesterfield
It was supposed to be a new start, with lots of players from the suburbs. It didn't work because they changed the coach after just a few months. The policy for young players is why I went back, why I signed. Three months later, they changed the policy and changed all the players – so it was ridiculous. That's why it didn't work. They wanted to give a new image to PSG but it all went wrong. It's true that the results weren't exactly what we hoped for, but they should have had more patience.

What Lyon have achieved today, we could very well have done with PSG because we had some extraordinary players at the time, like Ronaldinho, Ali Benarbia, Jay-Jay Okocha, Laurent Robert, Bernard Mendy, Sylvain Distin – some fantastic players. But there was no patience, and it's true that Luis Fernandez is a bit crazy.
An Anelka goal at 4:37
What was the reason behind your decision to convert to Islam? Is this something you've always thought about? Is it true that after converting, you considered playing and living in the Middle East?
Steve Walsh, Weymouth
Living in the Middle East? No, that's complete rubbish. That's what happens when the press speak on behalf of the player. I never said anything like that. Why did I convert to Islam? Because it's a way of life that suits me. I feel good and at ease with the religion and the way I am. But it's a very personal thing and that's why I don't speak abut it very much. It's part of my private side.
CLUB HISTORY
1996-97 PSG (12 apps, 1 goal); 1997-99 Arsenal (75, 25); 1999-00 Real Madrid (31, 7); 2000-02 PSG (56, 18); 2001-02 Liverpool, loan (22, 5); 2002-05 Man City (95, 44); 2005-06 Fenerbahce (50, 14); 2006-08 Bolton (61, 23); 2008-12 Chelsea (184, 59); 2012-13 Shanghai Shenhua (23, 3); 2013 Juventus, loan (3, 0), 2013-14 West Brom (12, 2); 2014-15 Mumbai City (13, 2)
How do you keep your energy up when fasting for Ramadan?
Ishmael Rahman, Burnley  
I respect Ramadan, and its not very difficult to do so. I've done it several times but I realised I often got injured just after the period of Ramadan, so I don't observe it strictly anymore. But it's not something that's difficult to do. It's just I had problems with injuries afterwards two or three times so I decided not to do it anymore.
 
Your brother once bought into Raith Rovers in Scotland and installed himself as director/manager. Did you never fancy going to play for them? Do you have any aspirations to go into management once you retire?
Jim Mcafferty, Fife.
Raith? No! As for management, it's another career with a lot of pressure and decisions which are even tougher than when you're a player. When you're a manager you have to keep so many people happy and you don't become a good manager just because you played at the top level. You never know, but I doubt very much that I will become a manager.
You've worked under some great managers. Who's the best? How did Kevin Keegan and Sam Allardyce compare with Arsene Wenger?
Jody Bemerton, via e-mail
For me, the best coach I ever had is the one I had at Clairefontaine, Andre Merelle. He discovered me when I played at Trappes and taught me everything. He was very patient with me. He made me the player I am today. Arsene Wenger, Kevin Keegan, Sam Allardyce, they're all very good coaches. You get something from all the people you work with and I liked working with them.
 
You seem to be the complete striker now, able to play wide, hold the ball up and bring others into play, something you displayed even when playing for a Bolton team that didn't play to your strengths. How much has your game changed since your time at Arsenal?
Derek Dyer, Motherwell
It's true that the way I play today has little comparison to when I was at Arsenal. You know, I'm glad to hear a question like that because often people say that my time at Arsenal was my best period. But it wasn't. I was in a very good team, we won trophies, but I think I was a much better all-round player when I was playing for Bolton or Manchester City. There is much more to my all-round game than when I was at Arsenal. I've had to learn to play differently, playing with different players and adapt to different styles of play.
Bergkamp, Drogba, Raul, erm... Davies – you've played with some greats. Who's been your favourite to play alongside?
Alex Weston, Worcester
Kanu! Because for me, he's a player capable of playing with his back to goal and never losing the ball. He's an ideal team-mate for a centre-forward. And when he gives you a pass its always a good pass. For me, playing alongside him at Arsenal made things easy because he was so good, so strong with his back to goal. He would give me such good passes that he made my life easy. I really appreciated playing alongside him.

You're known as 'Le Sulk' but what makes you laugh? French mime? French and Saunders? Know any good jokes?
Mark Carpenter, Naas
I don't know why or who in the first place called me Le Sulk. But what makes me laugh? Lots of things. If something's funny, I'll laugh. It's true that people who don't know me very well don't really know who I am off the field. People have often complained that I don't smile on the field. I always say, I smile when there's something to smile about, when there's a goal or something that makes you smile.
But I don't go around smiling for nothing. Do you? I'm much more happy-go-lucky than people think, though. It's just that people don't know me very well. Lots of people make me laugh. Martin Lawrence, for instance. But I laugh easily. Like I say, I guess it's because people just don't know me.

I have a bad memory when it comes to jokes but here's one for you: A kangaroo goes into a bar and asks how much they charge for a Coke. The barman tells him 10 pounds. "Ten pounds for a Coke?" says the kangaroo. "That's a bit steep. But go on, I'll have one." So the barman serves him, gives him a straw and stands back, watching the kangaroo sip his drink. After a couple of minutes the barman goes up to the kangaroo. "Sorry to interrupt but I'm just a bit curious," he says. "You see, we don't get many kangaroos in here." The kangaroo looks up over his glass and says: "At 10 quid a Coke, I'm not surprised!"

This interview originally appeared in the June 2008 issue of FourFourTwo. Subscribe! 
Quizzes, features and footballing fun
Get the best features, fun and footballing frolics straight to your inbox every week.
Thank you for signing up to Four Four Two. You will receive a verification email shortly.
There was a problem. Please refresh the page and try again.