Paul McGrath: One-on-One
By Sam Pilger
"I don't know how he did it, but the next morning Alex Ferguson knew exactly the pubs I'd been to"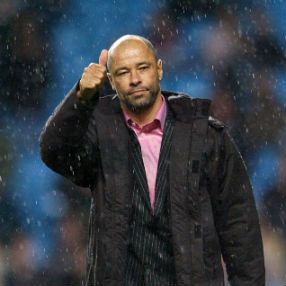 "When my knees were grand, I suppose I was a decent player," says Paul McGrath with a wistful smile. It's something of an understatement. In a career spanning 16 years McGrath won 83 caps for his country, graced two World Cups and, playing for Manchester United and Aston Villa, was one of the finest central defenders the English game has ever seen.
The cover of his painfully honest autobiography Back from the Brink gives a more accurate assessment of his standing: 'Ireland's greatest ever footballer'. But by saying he was only a decent player, McGrath isn't being falsely modest. During his life he has suffered a long battle with alcoholism and low self-esteem, which continues today. He would be the last person to sing his praises. Yet the 46-year-old Dubliner is one of the most endearing and affable men you could wish to meet, as he candidly deals with your questions...
Who were your heroes? Who did you base your game on when you were a young pro?
Richard Canning, Devon
I was a huge Chelsea fan, so Peter Osgood was a big hero of mine. I loved players like Charlie Cooke, David Webb and 'Chopper' Harris, who knew how to tackle. Back in the day, I fancied myself as a bit of a striker, so I looked up to Ossie. I had posters on the wall, and my mum bought me a Chelsea kit. When I wore it I thought I was the bee's knees, with the white socks and the blue shirt with No.9 on the back. As a young professional, I looked up to Martin Buchan because he was immaculate off the pitch and stylish on it.
You worked briefly as a sheet metal worker. How does that compare to professional football?
Tony Langton, Solihull
It was metal work, but not as a sheet metal worker. How does it compare? Not at all. Professional football is getting paid to do your hobby, whereas the job I did was very hard work. I worked for a company that made heavy security gates with the spikes on top. I'd lug these gates around on freezing cold mornings. It was hard graft. There was a time when I put slates on roofs as well. It was great, because it made me grounded. Having done that, I knew I was lucky to be playing soccer.
You were one of the few black players in the League of Ireland in the early '80s. How was that? Was there much racism?
Diarmuid de Brun, Derby via Dublin
There was a little bit, but only from a minority. You would hear things in the crowd, the odd fella thinking he was funny and of course he wouldn't have the nerve to say it if he met you afterwards. On the pitch there was the odd idiot who would try to goad me into being sent off by calling me the odd name.
How difficult was it to adapt to life at such a big club as Manchester United?
Craig Hawlton, Stockport
Surprisingly easy. I was comfortable in Ireland, I was actually earning more playing part-time for St Pat's and working with the metal gates than what Manchester United offered me. When I was asked to go to Manchester I really had to think about it and nearly turned it down because I was doing OK and thought I would stay like that. But when I got to Old Trafford there were loads of Irish lads there: Kevin Moran, Ashley Grimes, Frank Stapleton and Anto Whelan, and they helped me settle in.
Is it true Big Ron refused to sign you unless you removed an earring?
Jon Brennan, Chelmsford
Yes, it is. I think he was joking. Before I signed my first contract Ron said that he had known some of the great centre-halves and they never wore an earring, so I wouldn't be wearing one with him. I took it out immediately, because I didn't want it to be an issue. Kevin Moran said he probably did it because of his love of jewellery – he wanted the earring himself!
Has Kevin Moran forgiven you for your awful pass that led to him being sent off in the 1985 FA Cup Final?
Josh Harris, Chorlton
I hid from Kevin after that game because I knew it was a horrendous pass. I was so worried because the FA refused to give him a medal when he walked up the steps at Wembley. But we had been room-mates for years and Kevin was wonderful about it. He waved away my apologies and told me to forget about it. He is not the sort of person to hold a grudge. The shame of it was he shouldn't have been sent off, because I would have easily caught Peter Reid.
Why did you grow that little 'tache that made you look like Kevin from Corrie? Why not grow a full-on beard?
Dave Dunning, Manchester
I couldn't grow a proper moustache; all I could manage was that bum fluff. I actually thought I looked cool, but looking back at the pictures I'm embarrassed. I was an idiot back then.
Do you remember your appearance on Granada's Kick Off with Norman Whiteside? Looked like you'd had a few...
Rob McPhail, via e-mail
It was more like a few dozen. We had a lot that day. Norman had asked me to go on this programme with him on a Friday afternoon before a game. I was nervous about doing live television, but decided this should be my first go at it. To settle my nerves we went to The Trafford and had a skinfull. I had even more than Norman, and overdid it to say the least. To this day I don't like doing live television because I get nervous. Doing the publicity for my book, I've been asked to do some, but I haven't. That's just the way I am and the publishers have been very good about it.
What did you talk about during your sessions with Robbo and Big Norm?
Jez Saunders, Oxford
It was mainly about whose round it was! We used to shoot the breeze about anything, just bore each other silly until we staggered out. We would talk about anything, make each other laugh and enjoy the craic. We felt very comfortable at Paddy Crerand's bar, the locals all knew us and we would relax with them. We never got any bother from either United or City fans.
Is it true that Fergie had a network of spies all over the Manchester pub scene?
David Fowler, Altrincham
Oh, he definitely got the odd tip-off from punters. I don't know how he did it, maybe he had someone following us, but the next morning he knew exactly the pubs I'd been to. The people in pubs – maybe they were City supporters! – would let Fergie know. But he never turned up at a pub and hauled us out when we were in full flight.
When did you realise your drinking had become a problem?
Andy Mitchell, Urmston
My first drink. I had it when I was 18 on tour in Germany with my team Dalkey United. That first night I drank so much I couldn't remember what had happened the next day, so from then I knew there was a problem. I didn't drink again until I was 22, but I then did it to excess again.
When we went to parties in Manchester I used to have a drink beforehand to help myself go to them. I was very shy and I needed that Dutch courage to help me actually go to the party. I would carry on drinking at the party, so I was always ahead of everyone else. I did it because I was shy, lacked confidence and had low self-esteem, maybe because I grew up in an orphanage and also because I felt different as a black fella in Dublin in the '60s. There weren't many of us around.
Is it true that United officials tried to persuade you to retire rather than sell you in 1989?
Jenny Radcliffe, Droitwich
That's true. I was only 29 and the PFA's Gordon Taylor thrashed everything out with Alex Ferguson and the chairman Martin Edwards on my behalf. It was all agreed that I would retire and get a pay-off from United and a benefit game in Dublin. But I walked out of that meeting in pain – I thought 'It can't end like this'. I went away and spoke to Bryan Robson, Kevin [Moran] and Norman [Whiteside] and they said I shouldn't accept it. They were right and deep in my heart I knew I didn't want to do it, so I rang Gordon Taylor and told him he could tell them to forget it – I wanted to keep playing. They could throw me out of the club, but there was no way I was quitting the game.
Why did they want me to quit? The thought of me going to another club and doing well might not have sat well with United. I hate to say it, but that's the only reason I can think that they wanted me out of football and not join another club. To be fair to Alex, he didn't try to get me to retire after that, he understood why I had changed my mind.
You were good enough to play for an elite continental club. Did you ever hear of any interest? Would you have gone?
Barry Cole, Sheffield
Yes, I would have gone abroad. I got an enquiry from Napoli when Maradona played for them and they were Italy's best team in the late '80s. I was holidaying near Naples on the coast in Sorrento when a delegation of Napoli officials came to see me at my hotel. I was amazed that they knew I was there. We had a big chat, but nothing came of it. Imagine if that had come off... I was very tempted, but maybe with my situation it was best I didn't go. There wasn't really a drinking culture in Italian football, so maybe I would have started one.
In 1992/93 you were ever-present for Aston Villa. How disappointing was it to miss out on winning the league to your old club Manchester United?
Paul Johnson, via e-mail
It was a massive blow to lose that title race, but I was pleased United won if Villa couldn't. For a couple of seasons after leaving United I wanted them to lose every game, but that anger left me. Maybe we didn't have the experience or mental strength to go all the way. Fair play to United, they deserved to win.
How many times did you actually train while you were at Villa?
Matt Law, London
I trained for the first few months I was there, but never again over the next seven years. The Villa physio Jim Walker, who is more than a friend – a hero of mine – is basically the one that kept my career going. If I hadn't had Jim on my side, I would have probably finished playing about four seasons earlier than I did.
Jim created a regime where I just went in and did 10 minutes on the bike each morning and that was about it. Some days I would just have a bath. The games would look after my fitness. It was hard not to join in with the rest of the guys' training, especially the five-a-sides, which I used to love. I'd just watch them and collect the balls. But the lads at Villa were brilliant: none of them moaned about it, they just accepted it.
Aston Villa fans were glad to see the back of Doug Ellis, but what was your perception of him when you were there?
Adam Moynihan, Ireland
I loved the man. Deep down he always had Villa's welfare at heart. I watched Leeds United fall away after they tried to keep up with United and Arsenal. Doug didn't want to splash out money on players and suffer relegation. To be fair, he did actually spend some money in the '90s and maybe that should have been invested more wisely. I really like the man as a friend and chairman. He couldn't have been nicer to me, he helped me an awful lot and put the full weight of Aston Villa's resources behind keeping me well. I wouldn't hear a bad word about him.
You played under Ron Atkinson at Villa. How did you feel when you heard his comments about Marcel Desailly?
Dean Brown, London
I know Ron and he's not a racist. He made a foolish comment about a black player, which you don't condone, but he did it because he is 'old school'. He said something he shouldn't have and he knows that. It is wrong to ruin a man's career because of it. He brought on me, Cyrille Regis, Laurie Cunningham, Remi Moses – he made our careers. He had a lot of black players supporting him, so that says it all.
At Villa he used to organise some games in training by saying, "Right, let's have the coons against the rest". We loved it, because we'd always win; on my team would be players like Tony Daley and Dalian Atkinson. No one was offended, because it was just Ron being Ron. He wasn't being racist. He was just having a laugh. I appreciate why some people would take offence, but not if you knew him.
Your father was from Nigeria. Did you ever think of playing for them?
Sarah McDonald, Cheshire
No, I never considered that. But because I was born in London I was once asked by Ray Wilkins and Bryan Robson on behalf of Bobby Robson about whether I would play for England. But I would never have done that, I would never have got back into Dublin! There was no choice to make. I'm Irish, I was brought up there since I was eight weeks old.
How did you feel when Nelson Mandela visited Ireland and was serenaded with "Ooh aah Paul McGrath's da'"?
Alex Leith, Lewes
That was one of the most incredible things I'd ever heard of. It was such an honour for me just to be associated with that. I was amazed people would even think about that when the great man came to Dublin.
Everybody has a favourite Jack Charlton story. What's yours?
Daniel O'Hanlon, Halesowen
Well, Jack used to go around to pubs in Ireland and pay with cheques rather than cash. No one would cash it, they would get it framed and put it behind the bar instead, so it worked out that he never paid for anything. He was a clever git. He once taught me fly fishing – he thought I needed a hobby to get me on the straight and narrow. He was as mad as a hatter, but I loved the man.
Why did Big Jack call you James?
Quinny, via e-mail
He called me James for about four years, probably still does. I don't know why – he just found it hard to grasp the names of the players in his squad. He called me James to begin with and stuck with it. The funny thing is I started responding to the name.
Some say your pinnacle was marking Roberto Baggio out of the game at USA 94. Was that your greatest performance?
Paul Johnson, Liverpool
I would say that would be up there. I have actually played better in other games, but if you take into consideration this was in the World Cup and against one of the best players in the world, then, yes, it probably was my greatest game. I had to concentrate against Baggio, he was very tricky, but Phil Babb and me did a good job.
You played under Steve McClaren at Derby. What were your impressions of the future England manager?
Jack Walters, Lichfield
I was impressed with his preparation and organisation, and all of his systems, but I still didn't take part in the training sessions back then. I'll be honest, I would never have expected him to one day become England manager. Back then I was amazed at how much abuse he got from the younger players: they would literally tell him where to go, which was downright wrong.
I always said to my son, when a coach is telling you something he isn't doing it for his own good, he's doing it to improve you as a player. It used to rankle with me that the lads used to speak to him like that. The money had made them cocky. I had a lot of respect for Steve and Jim Smith, who were great with me.
You were due to be a pundit for BBC Radio Five Live at the 2002 World Cup but then pulled out at the last minute. What happened exactly?
Graham Ainsworth, London
It was me accepting a job that was too big for me. The glory beckoned, but I wasn't up to it. I had done one Match of the Day with Gary Lineker and Alan Hansen and then was offered this job as a pundit at the World Cup. I got carried away and agreed even though I knew I hadn't done enough shows to be confident. I got frightened and so on the flight to Japan I had a few drinks and made a show of myself. The BBC asked me to turn around and come back on the next plane. They were actually very good about it.
What did you make of the famous Roy Keane-Mick McCarthy row at the 2002 World Cup? Whose side were you on?
The Usual Suspect, via e-mail
I was firmly on Roy's side. However, I told him at the time that he should have stayed at the World Cup no matter what. I would rather the two of them had got together, locked the door and sorted it out. I was a little bit annoyed at Mick because he castigated Roy in front of the other players, and that's just a red rag to a bull. I don't think Roy was set up, Mick isn't that vindictive, but as the manager surely he could have thought of a better way of reprimanding Roy. He would have known he was going to blow his top.
What annoyed me most was that the World Cup was up for grabs, and with Roy Keane in your side, one of the best players in the world at that moment, we would have had a chance. I was annoyed too at the FAI, they were out of order. They all buried their heads, no one wanted to get in between them and sort it out. I was angry with both of them, but Roy was a good friend of mine and I thought he was treated shabbily.
Do you think Keane will be a good boss?
Seth Howard, Morpeth
Whatever Roy does in his life I think he will make a success of it, because he is such a winner. A lot of people might not like his personality, but you can't doubt his commitment when he takes up a cause. He will make a very good manager.
How many times did you play under the influence of alcohol? Did you really mark Alan Shearer out of the game when you were drunk?
Derek Balment, Sydney, Australia
There were probably about 10 games where I played after I'd had a few drinks, and maybe just a couple of games when I was really drunk. Yes, one of them was against Alan Shearer, I think it was a draw, 1-1 or 0-0, but it wouldn't have been because I did anything brilliant. The lads would see when I was a bit under the weather and play better to help me out.
Then again, maybe I played well in those games too, because drinking would heighten my sense that I didn't want to make a mistake because you knew you were doing something wrong. You didn't want to let the other guys down and have them blame your drinking as the reason for losing.
Who was the best striker you ever played against?
Gary Barnett, Sutton
One of my most difficult opponents was Kerry Dixon. He had this knack of being able to flick on headers. He was a big lad, you thought you would win the ball, but he could get there ahead of you. He was very quick and strong. He'd always have a good game against me. Mark Hughes would be another one; he was probably the strongest player I played against. Ian Wright was great to do battle with; he would make it funny and be calling you names. You could have a bit of craic.
How are your knees these days? How many operations have you had on them?
Matt Hall, New York
Not too bad. I can still go to the gym and do the odd weight on them to keep them healthy. You notice the change in weather, but they're OK, they get me around.
Did you know George Best? How did his death affect you?
Martin Hughes, Rochdale
I knew George pretty well on and off over the years and did a tribute dinner to him in Dublin. I loved him, but he was a shy fella, which was amazing when you consider what he did in football. I would have expected him to be so full of himself,
Interview: Sam Pilger. Portrait: Steffan Hill. From the January 2007 issue of Four Four Two.
Quizzes, features and footballing fun
Get the best features, fun and footballing frolics straight to your inbox every week.
Thank you for signing up to Four Four Two. You will receive a verification email shortly.
There was a problem. Please refresh the page and try again.