Pep still striving for perfection despite Bayern's life of luxury
Alima Hotakie runs the rule over Guardiola's start to life in Bavaria...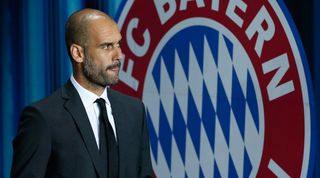 When Pep Guardiola presented Jupp Heynckes with the Bambi award in the sport category last Thursday, he told him: "It's your treble. You handed me a perfect team, I can't top that."
Humble words from one accomplished manager to another. It wasn't the usual self-promotion that accompanies top managers, but a sincere verbal exchange between two of the world's most coveted coaches. But the passing of the baton is only a shift in men. The baton itself represents continuity rather than change.
Since his arrival, Guardiola has been more interested in perfecting or evolving the system than changing it. He wants to take Bayern Munich's game to another level: playing higher up the pitch with quicker ball recovery, short passing and full possession. These are all the trademarks of Guardiola's desire for complete domination.
It's building on the foundations set by Louis van Gaal, who introduced a more sophisticated form of passing football to Bayern. While at times the team can appear rusty or in a stage of adaptation, Guardiola is more than happy with the progress. "To be honest I was a bit surprised at how fast the players incorporated my ideas," he admitted. "I clearly thought we'd need more time, but the level is already very, very high."
Following Jupp
The numbers speak for themselves. The team continues to set records: their 3-0 win over Augsburg confirmed they had surpassed Hamburg's 36-game unbeaten streak, an achievement untouched for 30 years in the Bundesliga. They top the table right now with 10 wins and two draws, and are four points ahead of Borussia Dortmund. They're not only thriving in the German league but also in the Champions League, having tied Barcelona's record of nine consecutive wins in the competition.
Most memorable was the recent match against Manchester City, viewed as a real test for Bayern. But Die Roten totally dominated with long spells of possession in midfield that had City chasing the visitors for the majority of the game. Even Arjen Robben hadn't expected such an easy win against one of Europe's top sides.
With such convincing wins, it's no wonder Guardiola has the confidence of his employers. Bayern chief executive Karl-Heinz Rummenigge believes in the former Barcelona coach's ability to prevent his team from dropping after reaching great heights: "We knew from the beginning that after the treble success of last season it won't be easy... and Guardiola has made sure the team doesn't decline, but rather continues with its success."
There's the magic word again: continuity. It's more about prolongment than ascendancy. While this team has all the signs of a potential dynasty, the club has made it clear that winning die Meisterschale is its main priority and that back-to-back Champions League crowns would be a bonus.
But if there's one man who can lead them to consecutive titles, it's the ever-meticulous Guardiola. He did it in Barcelona, so why not here?
Andres Iniesta once said that Pep pays attention to everything, every detail, and that he is always correcting something. That obsessive-compulsive urge to constantly rectify was evident after their 2-1 win over Hoffenheim earlier this month. Unhappy with his team's performance, Guardiola felt the need to correct his concept despite coming out on top. Even after the 5-0 win over Plzen, the 42-year-old pointed out areas of improvement. "We have to get better at set-pieces," he said. "We often have many players in the middle but none on the sides."
The tinkerman
While some see Guardiola as a perfectionist, it's safer to say he's a man with great foresight. There's no doubt he analyses the game on a level nearly unprecedented. Perhaps where the Bayern coach differs from others is in viewing his own team under very same magnifying glass he views his rivals, seeing weaknesses before they become problems and improving flaws before opponents recognise and take advantage of them.
Contrary to initial fears, Guardiola hasn't introduced anything drastic. He has employed a 4-1-4-1 instead of a 4-2-3-1 at times, using Philipp Lahm as a single pivot rather than Heynckes' powerful double pivot of Javi Martinez and Bastian Schweinsteiger. There were two reasons for doing so; one due to the injuries to Martinez and Thiago Alcantara, and the other to improve his arsenal and give the team more options. Toni Kroos has also played a more defensive midfield role than his more familiar central attacking one. 
At times he has also employed Thomas Müller as a striker instead of Mario Mandzukic, with mixed success. His focus on attack even had Bayern drop to a three-man defence when they played Eintracht Frankfurt, a game won slenderly by Mandzukic's early opener.
Only time will tell if his experimenting and tinkering with players' positions will lead to something special. Sometimes a return to the old seems to work better.
Against Hertha Berlin it was the introduction of out-and-out striker Mandzukic that helped win the game - Müller operating up front as a striker wasn't working. Against Mainz in October, restoring David Alaba and Lahm to their usual positions at full-back and bringing on Mario Götze made the difference.
While it's still a work in progress, complaints are minimal as long as results remain positive. But playing higher up the pitch does, of course, carry with it some risks. It means Bayern need to coordinate even better as well as defending higher up the pitch due to their more advanced pressing game.
In their first few games Bayern displayed a vulnerability that wasn't there last season. The rhythm wasn't the same; the passing wasn't as clean, prompting even Bayern's sporting director Matthias Sammer to openly criticise his team. "We are playing lethargically at times," he moaned, "playing football without any emotions and just going through the motions." 
The recent narrow 1-0 win against Plzen wasn't their greatest display considering the poor conversion rate (Bayern registered 22 efforts on goal). They didn't have the most convincing games against both Hoffenheim and Hertha Berlin either. Müller admitted the wins were far from easy, laboured even. "We're currently lacking the ease of play," he conceded. "Games aren't being handed to us on a silver platter; instead we're having to dig deep every time."
Ego clash
Guardiola warrants a degree of sympathy despite earlier doubts and critics. Inheriting a team that has reached the pinnacle at all levels, it's no longer about achievements but about maintenance. Even the Spanish coach said comparisons with Heynckes are inevitable and that he has learned to accept them.
Of course, others remain adamant that success is almost inevitable when a coach can choose his midfield from Kroos, Götze, Müller, Xherdan Shaqiri, Robben and Franck Ribery. As one German newspaper put it, "Bayern have a luxury problem." But even luxury creates hurdles to overcome. The penalty kick incident against Mainz, in which Guardiola instructed Robben to give the ball to regular taker Müller as he was about to step up, does fuel rumours about the pair's relationship even if the clash of egos never came to fruition. 
Opinions remain split on the issue. Some argue the Bayern coach should have never embarrassed his player in front of the stadium audience as well as national television, while others feel the players must follow the coach's orders at all times. How deep the rift really is remains unknown, if there is anything to it at all. But Robben did refuse to take the penalty in the Plzen match despite Guardiola wanting him to do so.
As soft and gentle as the Bayern coach may remain on the outside, he has certain iron-like qualities: "Whoever accepts my decisions, I support. But whoever doesn't want to understand that will often sit in the stands."
Obviously, some players are only sitting on the bench at Bayern bench thanks to the incredible depth of the squad, but what's intriguing is the sense of purpose that keeps the entire team intact. Sitting on the bench doesn't seem to be a problem at Bayern despite the level of quality.
"It's not shameful to sit on the bench at Bayern," said Rafinha, who has enjoyed a bit of a revival under his new manager. I don't have any fear of that. I promise that I will always be ready, always be focused and always give it my 100%, whether I play from the start or only five minutes."
And that's another factor that distinguishes this team: all players understand their worth and role, something Heynckes instilled into the team after the devastating penalties defeat to Chelsea in 2012. Plus, no one is really left out thanks to rotations and the partaking in three competitions.
The yellow wall
So with der Klassiker this weekend, we're set for a repeat of last season's Champions League final - only this time the Bundesliga title may be on the line. Taking into account the current tight standings, neither team will want to concede any points. Lahm believes the title race will be a test of perseverance, a marathon rather than a sprint. "We are showing again that both teams play at a constantly high level," he said. "The only question is for how long. It will come down to a duel between us and them."
But if there's one team that knows how to beat Bayern, it's Borussia Dortmund. It will be interesting to see the tactics Guardiola will employ against a team that is deadly on the counter, plays a high-tempo pressing game with quick passes, recovers the ball immediately and transitions quickly. This game could possibly help determine the winner at the end of the season. But Bayern are currently in a better position and there's more pressure on Dortmund after an undeserved loss to Arsenal and dropping points to Wolfsburg.
Crucially, though, with Mats Hummels out until January and Marcel Schmelzer sidelined for three weeks, Dortmund are now without their entire first-choice back four. On the plus side, Lukasz Piszczek is nearing a return. 
As for Guardiola, whether or not he can follow in Heynckes' footsteps is an unrealistic expectation. But with Bayern's current crop and invincibility factor, even winning games on a bad day, it's highly likely the team can repeat what it did last season.
But as Dante reminds us, it's slightly unfair to expect so much. "All the people are expecting another treble," Bayern's Brazilian defender said. "But what if Jupp had stayed? It would also be very hard. We can't say that even with Jupp we would have won the treble again. We must trust our new coach. It's not so easy for him. He came to a team that had won it all."
LIVE ANALYSISFollow Dortmund vs Bayern on Stats Zone
Quizzes, features and footballing fun
Get the best features, fun and footballing frolics straight to your inbox every week.
Thank you for signing up to Four Four Two. You will receive a verification email shortly.
There was a problem. Please refresh the page and try again.