Poet, flasher and tabloid nemesis: Long may Louis van Gaal's wacky reign continue
Chas Newkey-Burden is enjoying the eccentric madness provided by the Dutchman and reflects on his greatest hits so far...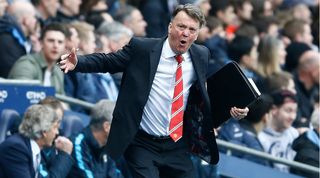 Hipsters can talk all they like about what a 'super-crazy character' Jurgen Klopp is. The German – surely the boring person's idea of a funny person – will never be as effortlessly entertaining as his north-west rival, Louis van Gaal.
The Manchester United boss, whose full name is, wonderfully, Aloysius Paulus Maria van Gaal, has been a frog box of eccentricity, egomania and hilarity from the moment he set foot in Old Trafford two years ago.
Full frontal
He's always been a bit 'out there'. Retired Italian striker Luca Toni recalls how, when Van Gaal managed him at Bayern Munich, the boss revealed his naked scrotum to the team, to demonstrate that he had the balls to drop any of them. "Luckily I didn't see a lot, because I wasn't in the front row," remembers Toni.
During Louis' playing days he told his Antwerp coach that he knew less about the game than his wife. Then, as a boss at various European sides he repeatedly told journalists they were "stupid", and described one as an "annoying little man". He also once staged a faux on-air 'walk-out' as part of a promo stunt for a sports TV show.
At Ajax, he informed his horrified colleague Ronald Koeman that he was a "boy" and a "farmer". During his Amsterdam years he also partied hard at a gay rights parade. "We want to take a stand today and show it's time to accept homosexuals in the world of football," he said.
While with the Dutch giants, he wrote a poem about the club, which included this stanza:
"Here with Ajax lies my heart,
This fascinating club is a class apart.
For man the home of God's own sons,
For me it's the cradle of football icons."
Astonishing. As the Dutch poet Nico Dijkshoorn recalls: "He thought he had written a masterpiece. Not a trace of self-deprecation."
International relations
But who wants self-deprecation when you can have Van Gaal? As he was first linked to Old Trafford, he foreshadowed his relations with the British press when, asked what he knew about Manchester United, he snapped: "That's a stupid question…it's a stupid question."
Once in the job, he went on to nitpick with a journalist who wished him a happy Easter, pointing out that "Jesus didn't start walking with the cross until 2pm", and later corrected himself on a separate issue, saying he was wrong to say he had "squeezed" his ass during a nervy game, because he had in fact "twitched" it. An important distinction.
Following his "tired and emotional" end-of-season speech last summer, he returned for the new campaign refreshed and ready for battle – with the press. In August, tired of being asked why United did not sign Pedro from Barcelona over the summer, he told a journalist: "You are a little bit deaf."
By Christmas, he had more or less given up trying to maintain friendly relations with the media. When his side lost 2-1 to Norwich, he spent less than four minutes at the post-match press conference, telling the assembled reporters he had only shown up at all because Premier League rules dictate attendance.
He left them with a sour and sarcastic "I wish you a merry Christmas and also maybe a happy new year when I see you. Enjoy the wine and a mince pie. Goodbye."
Within days he was unleashing this beauty of a death stare at a Sky reporter.
Open warfare
The following month, in the aftermath of the Manchester United's 3-3 draw at Newcastle, he had a pop at The Sun's Neil Custis. Asked about Wayne Rooney, the Dutchman responded: "We don't speak any more about Wayne Rooney. You have criticised him. I don't, you." Pointing his finger at Custis, he added: "You too, fat man, there."
There was supplementary comedy when Custis appeared on Sunday Supplement the following weekend and described Van Gaal as a "playground bully". For a journalist from The Sun to accuse anyone of bullying took that unintentionally hilarious Sky series to new depths of self-unawareness.
And then came February, when the glorious gaffer really went for it. First, he said he wanted his players to be more sexually aroused, saying: "Desire… it is a great word. I often use the word 'horny' with my players."
During the visit of Arsenal, he threw himself to the ground after a discussion with fourth official, Mike Dean.
This comic moment had a predecessor: he had been similarly demonstrative to the officials during the 1995 Champions League Final.
End as you begin
By Maytime not a single f**k was given. During United's clash with Leicester, Robert Huth pulled the hair of Marouane Fellaini. When Van Gaal was asked about this after the match, far from dodging the question he answered it frankly and erotically.
"Every human being who is grabbed with their hair would react," he began. "Every human being who is grabbed by the hair, only with sex masochism, then it is allowed but not in other situations."
At the end of the season, Claudio Ranieri told the under-fire United boss that he was "doing a fantastic job". Van Gaal agreed: "I am."
A week later he was booed by United fans, even as he thanked them for their "unconditional backing".
United fans may not agree, but for many of us, Louis van Gaal is a true inspiration. I wouldn't necessarily want him to manage my club, but my goodness I hope and pray he stays in the Premier League. If wild self-confidence and fearless hilarity is your bag, then you can't do better than good old Louis.
Poet, testicular flasher, slayer of tabloid hacks, and occasional football manager, he is a true hero for our times. I'd love to be his friend.
Quizzes, features and footballing fun
Get the best features, fun and footballing frolics straight to your inbox every week.
Thank you for signing up to Four Four Two. You will receive a verification email shortly.
There was a problem. Please refresh the page and try again.