Pogba to begin penalty run-up this afternoon, Manchester United confirm
The Frenchman is looking to save everyone some time, Back of the Net reports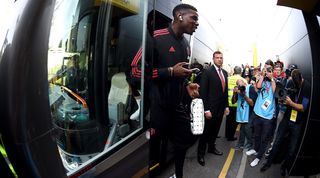 Manchester United have confirmed that Paul Pogba has travelled in advance of his team-mates to the Vitality Stadium, in order to begin his preparations to take a penalty against Bournemouth on Saturday afternoon.
After Pogba's laborious spot-kick run-up against Everton, comprising nearly 50,000 steps and taking the best part of three hours, United have moved to prevent the game being held up by the playmaker's set-piece protocol.
Presuming that United will be awarded at least one penalty against Bournemouth, Pogba will carefully place a match ball on the spot at around 6pm this evening, glare moodily at the space where the goalkeeper will stand, turn slowly, and start his run-up.
"We estimate that by around 10pm this evening, [Paul Pogba] will move on to the stutter-steps stage," a Manchester United statement to FourFourTwo reads.
"If things progress as expected, by breakfast time tomorrow, Paul should be within two feet of the ball, and by the time the [controversial] penalty is awarded in the 35th minute he should be ready to strike it without any delay.   
"Our club would like to put on record our appreciation that AFC Bournemouth have set up outdoor heaters in their penalty area to let Paul safely continue his run-up through the night even if the temperatures plummet."
All eventualities
Bournemouth have arranged for the floodlights to stay on overnight, and for the club's caterers to feed Pogba several small meals during his run-up, while goalkeeper Asmir Begovic is expected to drop in and out at various points to stare Pogba down.
"I'll head down there before bed this evening to do a few star jumps and tap the crossbar," Begovic told FourFourTwo.
"Then I'll come back home, watch some TV and grab an early night so I can get back for 7am or so to move a decent distance off my line and bounce up and down.
"I'm hoping that after five hours or so of watching Pogba slowly approach I should have a pretty good idea of where he's going to place it."
Jose Mourinho has refused to comment on reports that his men have focused solely on penalty rebounds and treating extreme blisters in training this week.  
More Back of the Net • New features you'd love on FourFourTwo.com
Quizzes, features and footballing fun
Get the best features, fun and footballing frolics straight to your inbox every week.
Thank you for signing up to Four Four Two. You will receive a verification email shortly.
There was a problem. Please refresh the page and try again.