Pogba's Manchester United move shows Juventus are still not among Europe's elite
The Bianconeri may rule supreme in Italy, but Adam Digby argues that the loss of the France international proves they're still not quite at the continent's top table...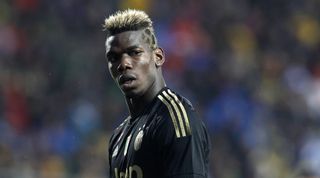 Paul Pogba may not be a Juventus youth product, but the Bianconeri deserve immense credit for helping him develop into a player worthy of a world-record transfer fee. There should be very little doubt that in terms of both footballing ability and marketing potential, the 23-year-old's worth every penny of the £100 million that Manchester United paid to bring him back to Old Trafford this week.
He returns to a club very different to the one he left behind four years ago; Pogba will certainly not find reserve-team coaches or full-backs pressed into service in midfield ahead of him. Indeed, where Sir Alex Ferguson once preferred to select Rafael or an already-retired Paul Scholes ahead of the Frenchman, Jose Mourinho will place him at the centre of a team aiming to contend for the Premier League title this term.
Insieme, magie e trionfi #MerciPaulhttps://t.co/1rmtMXKc3Z
— JuventusFC (@juventusfc) August 9, 2016
The Frenchman has spent his time in Italy alongside some truly fine players and learnt the intricacies of his position from some of the very best midfielders in the game. Stealing insight from Arturo Vidal and Andrea Pirlo, the Paris native has also gained immense tactical knowledge from spells under coaches Antonio Conte and Max Allegri. Gigi Buffon, Patrice Evra and Carlos Tevez have shown him what it means to be a leader in good times and bad, while his own natural gifts have been improved by an environment that breeds winners.
What now for Juve?
"People need to know that nothing at Juve is easy," Pogba told La Stampa earlier this year. "There's a different culture of work compared to elsewhere. I was at Manchester: it seemed like being on holiday!" That dedication and application will be needed now more than ever as, while the Premier League side – thanks to their high profile, superb marketing and lucrative TV deal – can afford to spend such an incredible sum on a player they lost for almost nothing just four years ago, Pogba and United will come under huge scrutiny in 2016/17.
The outlay adds to the pressure created by bringing in Zlatan Ibrahimovic and Mourinho this summer, with the malaise that existed under David Moyes and Louis van Gaal expected to vanish quickly with the charismatic Portuguese in charge. Yet of equally pressing concern is what – aside from a huge influx of cash – the move means for Juventus.
It's a difficult question to answer, particularly in light of the Old Lady's own recent acquisitions, but is one which supporters of the club may not find too favourable when analysing Pogba's exit.
Perhaps the best place to start a search for an answer is a decade earlier. In 2006, Juventus were a financial superpower, a club whose earnings were at least on a par with the likes of United, Real Madrid and Bayern Munich. They had always been among Europe's richest clubs, repeatedly breaking the world transfer record themselves and offering wages that very few of their rivals could match.
Started from the bottom
Then came Calciopoli. Relegated to Serie B for what was then seen as a prominent role in the influence-pedalling which made Italian football a farce, the club sold off its stars in order to survive the financial blow of their punishment. Sponsorship deals were renegotiated at vastly cut rates and their share price plummeted, so much so that the Bianconeri have openly discussed suing the FIGC for a sum of around €443 million in lost revenue.
But while rivals like Milan, Roma and Inter bemoaned the demise of their once dominant position, Juventus chose to actively pursue a different path. Leaving their domestic rivals trailing in their wake, new president Andrea Agnelli oversaw a magnificent revival in which the club did everything expected of a would-be contender in the Champions League era, including investing in young talent and beginning work on a new stadium in order to increase their profit margin.
Veteran stars such as Pirlo, Sami Khedira and Dani Alves arrived in Turin as free agents, with the club spending big on the likes of Paulo Dybala, Alex Sandro and Mario Mandzukic. Operating within a strict wage structure, Juventus have slowly built a superb squad, boosted this summer by moves for Miralem Pjanic and Gonzalo Higuain - which also significantly weakened their domestic rivals.
Those two signings have seen the Bianconeri compared to Bayern Munich, but unlike the Bavarian giants Juve remain on the outside looking in at Europe's truly elite clubs. Pogba's left to join United, just as Vidal and Kingsley Coman moved to Bayern last summer, each expressing their desire to win the Champions League at the Allianz Arena.
Outside looking in
The French ace has repeatedly expressed a burning desire to win the Ballon d'Or, something no player in Italy has done since Kaka in 2007, the year Juventus returned to Serie A after their season in the second tier. It's a sad legacy of that black mark in history that, rather than compare themselves to the biggest sides on the continent, Juve now find themselves on equal footing with the likes of Paris Saint-Germain and Atletico Madrid rather than Barcelona or the Premier League's top sides.
They may well clinch a sixth consecutive league title this season – an achievement never seen before in Italy – but Pogba has instead decided to join an outfit who will be competing in the Europa League. He'll see his profile and wage packet increase exponentially, though, as the lure of playing for a club recognised in all corners of the globe proved too much to resist.
Juventus may have viewed their Champions League final appearance in 2015 as a return to the top table, but the harsh reality is they're still waiting for a seat to be made available.
Quizzes, features and footballing fun
Get the best features, fun and footballing frolics straight to your inbox every week.
Thank you for signing up to Four Four Two. You will receive a verification email shortly.
There was a problem. Please refresh the page and try again.