Portugal prove you don't need to be good at anything to succeed
Euro champions inspiring kids who want to be the best despite being quite bad, Back of the Net report…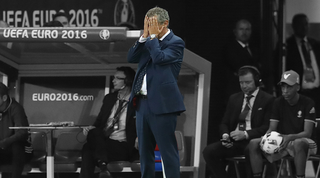 Portugal's success in the European Championships has been hailed as proof you can reach the top without any redeeming qualities whatsoever.
Fernando Santos' workmanlike side lifted the trophy in Paris on Sunday despite winning only one tournament game within 90 minutes, a performance that will inspire anyone hoping to reach the top despite being bang average at best.
"Sometimes the cream rises to the top, but sometimes an own-brand teabag rises even higher," Santos told FourFourTwo. "Maybe there wasn't even any cream to begin, just semi-skimmed milk on the turn.
"This victory is a slap in the face for anyone who said we couldn't win without Cristiano Ronaldo," he continued. "Or a recognised striker, or a strong defence.
"Or a proper goalkeeper, or a creative midfield, or a noticeable work ethic, or any of the other traits normally associated with tournament-winning football teams.
Sweet success
"I hope our success inspires the incompetent, the lazy and the second-rate to be the best. If we can reach the pinnacle despite relying on a Swansea City cast-off to provide our cutting edge, you can achieve your dreams despite being several yolks short of a pastel de nata."
France manager Didier Deschamps admitted that his side had come off second-best, despite ostensibly being first-best in every position.
"We naively thought that being better than our opponents in every way would help us beat them," he said. "But it turns out that's a very outdated attitude for 2016."
Please note: This satirical story is not real. But you already knew that, right?
Quizzes, features and footballing fun
Get the best features, fun and footballing frolics straight to your inbox every week.
Thank you for signing up to Four Four Two. You will receive a verification email shortly.
There was a problem. Please refresh the page and try again.