Pseudonews: Paul Scholes quit Oldham after fax machine failed to send Kylian Mbappe bid
By Back of the Net published
There were some differences in Scholes's vision and the chairman's, Back of the Net reports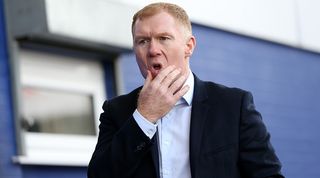 Paul Scholes's position at Oldham Athletic became untenable when his attempts to reinforce his squad with world-class players were derailed by a lack of a transfer budget, a malfunctioning fax machine, a shortage of ink for the fax machine and a pressing need to wash the existing squad's kits instead, FourFourTwo has learned.
The former England international resigned after just 31 days at the League Two club and it soon became clear that there was a discrepancy between his aspirations and the realities at Boundary Park.
At training, a bemused Scholes struggled to understand his players' reluctance to smash the ball into the top corner from 30 yards, while in the boardroom his requests for a war chest were downgraded to requests for any kind of chest or possibly a hamper, creating a rift with chairman Abdallah Lemsagam.
"When he first arrived, Scholesy [Paul Scholes] had created this presentation about getting Oldham to the Champions League in five years' time," an insider told FourFourTwo.
"But the chairman had to cut him off because Scholesy [Paul Scholes] had put the Champions League theme over it and the club couldn't afford to pay the licence to play it. It would have cost £1.99 for a month.
"The chairman wasn't really listening anyway because he kept looking at the laptop which was plugged into the power socket and asking whether it had enough charge if he unplugged it.
"The final straw for Scholesy [Paul Scholes] was when he had a list of transfer targets, really top players, but found that the fax machine hadn't been working for several years, so he had to write Paris Saint-Germain a letter by hand to enquire about the availability of Kylian Mbappe.
"The letter came back undelivered because the club hadn't put a stamp on it – they'd just drawn a picture of the queen in pencil."
Do this
Problems had also arisen in training sessions, where an exasperated Scholes was amazed by what his players were unable to do.
"Scholesy [Paul Scholes] would casually ask the lads to fire a 30-yarder into the top corner or to pick out an inch-perfect through-ball and then shake his head with absolute bemusement when the ball ended up in the car park," the insider continued.
"But to be fair, at the chairman's request, most of the week was spent washing the kits by hand and trying to get stubborn stains out with Aldi brand stain remover.
"During games, Scholesy [Paul Scholes] spent most of his time yelling 'play football better' or openly laughing, believing Oldham players' attempts to play one-touch football to be some kind of satirical street theatre."
Oldham have issued a statement thanking Scholes for his work and enquiring repeatedly whether anyone had replaced the milk in the fridge.
Please note: This satirical story is not real. Because obviously.
Thank you for reading 5 articles this month* Join now for unlimited access
Enjoy your first month for just £1 / $1 / €1
*Read 5 free articles per month without a subscription
Join now for unlimited access
Try first month for just £1 / $1 / €1
Quizzes, features and footballing fun
Get the best features, fun and footballing frolics straight to your inbox every week.
Thank you for signing up to Four Four Two. You will receive a verification email shortly.
There was a problem. Please refresh the page and try again.