Revealed: The exact point at which Leicester fans lost their confidence in Nigel Pearson
By Nick Harper published
FourFourTwo and Forza Football have surveyed 200,000 fans of Premier League clubs to gauge their confidence in their team's manager, players and chairman/owner. Here, Nick Harper picks through the findings to see how Leicester City fans' mood has changed over the season...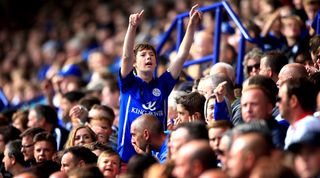 How long does the glow of a record-breaking promotion to the Premier League (on a tight budget) last? About three weekends, judging by the figures we have for Nigel Pearson.
Entering the new season with a confidence rating of 91% (and 88% for his squad), hopes were high that the Foxes could mount a successful campaign, i.e. keep their heads above water.
By September 9, following the Foxes' 1-1 draw at home to Arsenal, confidence in Pearson (and his squad) had fallen to 79%. The honeymoon was clearly over.
Confidence in Pearson jumped back up to 88% following the 5-3 defeat of Manchester United, with confidence in his squad jumping to 87%. Those figures jumped again to a season (so far) high 90% for Pearson and 91% for his squad following the 2-2 draw at home to Burnley, but a run of four defeats and a place in the bottom three has taken chunks out of both percentages.
Confidence in Nigel Pearson and his squad right now is 64%. Which is pretty ungrateful, you'd have to say.
SURVEY See all of our findings - including data from every other Premier League club (opens in new tab)
Thank you for reading 5 articles this month* Join now for unlimited access
Enjoy your first month for just £1 / $1 / €1
*Read 5 free articles per month without a subscription
Join now for unlimited access
Try first month for just £1 / $1 / €1