Russell Brand: I can snog Pink or throw Christina Aguilera around, but when Mark Noble comes in, I get tongue-tied
"The fact that I'm into football is akin to Ray Winstone admitting he's into lacrosse..."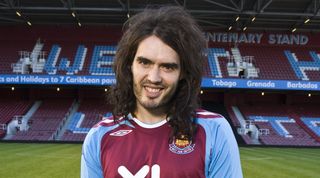 You'd have to be living on Mars not to know that Russell Brand is a bit of a ladies' man.
But faced with "throwing around" a Hollywood starlet in a salubrious LA hotel room or watching his long-loved West Ham scrape a win over Fulham on a dreary winter's afternoon, the comedian, writer and Hollywood A-lister-in-waiting faces a serious dilemma.
"I tend to want what I can't have," he says, sipping a fruit juice in the kitchen of his north London flat. "So, if I was working in London and West Ham were having a good Cup run, and I was going to a lot of games, then I'd probably think, 'I'd like to f**k a lap dancer, right now, on the bonnet of a Chevrolet.' But when I was in LA I missed going to the games.
"I thought about going to the Galaxy. I met David Beckham when I was in LA and he said, 'Come along.' And I thought, 'Yeah, I will go.' He's quite impressive in real life.
"It's very difficult to distinguish what his natural persona is and what's been bestowed upon him by his position, but he was good looking and nice, so when he mentioned going I thought about it, but I didn't go in the end.
"It's not the same as Upton Park, is it? I love being part of the crowd and walking out of the tube station through the throng, into the police horse manure in the streets, and the smell of fried egg sandwiches."
With his anarchic hair and leggy, stage persona – part vaudeville actor, part alien sex fiend – Brand makes for an unlikely Boleyn Ground patron. "No one would be surprised if I said things like, 'Urgh, football?! Twenty-two men kicking a ball? No thanks,' would they?
"The fact that I'm into football is akin to Ray Winstone admitting he's into lacrosse. But I've been going since I was little. It's difficult to pinpoint from exactly when but according to my dad, I was with him at my first game, looking at all the people leaving and I said, 'Dad, is that all the people in the world?' I'd like to think I was no older than five because it would have probably been a bit embarrassing saying something like that if you were any older.
"I really got into it about five years later when Frank McAvennie, Tony Cottee and Alan Devonshire were playing. Recently I went to a game and met Phil Parkes, the goalkeeper from that time. I saw him and I didn't approach him at first, not least because a few years ago, I slept with a woman who told me she'd slept with him a long time ago. I was really into that – she was nice and she had really nice boobs. Really nice boobs that disrupted your consciousness like lysergic acid."
Brand has won many admirers through his football column in The Guardian, though he admits to being no tactical expert. "I would never claim to be a great reader of the game," he says. "I'm no David Pleat. I could never do nothing with a blackboard. Nor have I been caught kerb-crawling."
His left-field perspective on the game, however, has won many friends at West Ham. "People have got used to me being there. Because of my column, people seem to know that I have a certain amount of knowledge. When I first got spotted, it was at the FA Cup final against Liverpool [in 2006] and I was getting recognised a lot more because I was doing the Big Brother stuff.
"Then I went to the first home game of the next season and I remember someone going, 'Aaah, here he is now. I don't remember seeing you here before you got famous.' I thought, 'Of course you didn't, because you wouldn't have known who I was then.' And would I really think, 'Ah-ha, I am famous now! To Upton Park!'? No, I'd use fame as a way to have sex with as many people as possible with the minimum amount of effort."
More than anything, though, Brand loves the humanity of following West Ham: the unlikely humour ("Like, 'Rass-awl, git yer 'air cut yoo wankah!'") and the rage-venting. "The last time we were relegated, we were watching the game in a box," he says.
"There was this bloke shouting, 'Roeder you c**t! You've killed West Ham!' And he said it with such rage, it was unbelievable. I love that feeling, that venting of emotion, because it makes football so mentally real. How often do you see that passion anywhere else in life?"
Another perk Brand experiences – access to the players' lounge – has its pitfalls. "Me and my mate Ade Adepitan – the black geezer, basketball player in a wheelchair on the BBC2 adverts – go in there sometimes. And after one game recently, Mark Noble turned up.
"Now, if he worked as a runner in a TV company what I own, I'd be able to ruffle his hair and say, 'Allo mate, how are you, you little sod? Have you got a girlfriend?' But because he plays for West Ham, I develop a squeaky voice and say silly things."
He scratches his lawless hair. "I can snog Pink or throw Christina Aguilera around a bit," he says. "But when Mark Noble comes in, I get tongue-tied. Now how does that work?"
This interview was originally published in the February 2009 issue ofFourFourTwo magazine. Portrait: Jon Shard.
Thank you for reading 5 articles this month* Join now for unlimited access
Enjoy your first month for just £1 / $1 / €1
*Read 5 free articles per month without a subscription
Join now for unlimited access
Try first month for just £1 / $1 / €1
Get FourFourTwo Newsletter
The best features, fun and footballing quizzes, straight to your inbox every week.