Scott Sinclair: Talentspotter
"Coming from Bath, I supported Manchester United"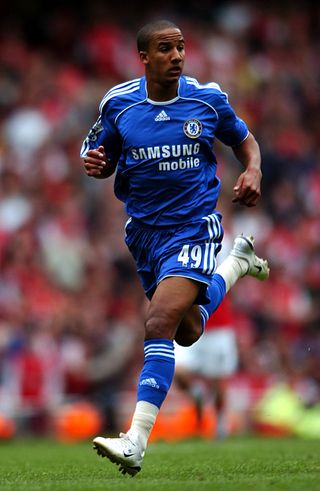 Born
Bath 25/03/89
Position
Winger
Nickname
People know me as Scotty although since I joined Plymouth on loan, a couple of lads have called me 'Dash' from The Incredibles.
Club supported as a boy
Coming from Bath it was Manchester United, obviously! I used to love watching Eric Cantona play and went to a Manchester United Soccer School when I was younger. At the end of the week we watched United play Tottenham and it was just amazing stepping inside Old Trafford for the first time.
Previous clubs
I joined Bristol Rovers at the age of nine and made my first-team debut against Leyton Orient when I was 15. I then joined Chelsea in the summer of 2005 and didn't even know the club had been watching me. We played them in a friendly, where I scored both our goals in a 6-2 defeat, and was soon on my way to London.
Strengths
Scoring goals and taking players on. My pace is my major asset and I'd say I'm the quickest player at both Chelsea and Plymouth.
Weaknesses
My heading. It's a part of my game that I need to work on more, even though I scored a header against Derby in the FA Cup the other week. I could also do with improving my tackling, although that's not a big part of my game when I'm out on the wing.
I play a bit like…
While I'm nowhere near his level, I can see similarities with the way Thierry Henry plays. I like to drift out wide before making runs into the box and, like him, I can play either as a winger or a central striker.
Career highlight
Making my debut for Chelsea in the Carling Cup at Wycombe this season. Jose Mourinho called me into his office beforehand and told me to have no fear, which I kept in mind when I went onto the pitch. I wasn't out there that long, but all the lads were great and John Terry was a big help, even though he wasn't playing.
Best goal scored
My individual effort for Plymouth at Barnet in this season's FA Cup. I picked up the ball from just outside my own penalty box and ran the length of the pitch before poking the ball past their keeper. I took on four or five players and then all of a sudden the goal opened up in front of me. If I'd done it for Chelsea reserves it wouldn't have received a mention, but because it was the FA Cup it was headline news. It was an amazing reaction.
Toughest opponent
It would have to be John Terry in training. He's just as committed as he is in a match, jumping into tackles and putting his body in the way of everything in his path.
Best player played with
Arjen Robben. The way he carries the ball and takes on players is fantastic and it's great to be able to watch him at close quarters. But in terms of ability, it would have to be Joe Cole. Some of his skills are breathtaking.
Last time a team-mate amazed you
It would have to be Arjen in training, just before I joined Plymouth. He smashed this ball into the top corner of the net which left our keeper Makalamby rooted to the spot.
Biggest influence
My parents. They would take me to training and matches at Rovers, which involved a 45 minute drive three times a week. They had to miss work on occasions just so I could play and I'll never forget that.
Best advice given
My dad Martin always tells me to enjoy my football and take each game as it comes.
Biggest practical joker
At Plymouth it's Lilian Nalis – he's the life and soul of the dressing room and before games you'll find him dancing around the changing room. I'd give him a 6/10 for his efforts – which are not too clever! At Chelsea, our physio Glenn Driscoll is a good laugh and full of jokes.
Last time you laughed on the pitch
The bad weather down in Plymouth meant the park we were training at had become a mud bath. All of a sudden the gaffer Ian Holloway started doing Klinsmann dives on the pitch and was absolutely caked in the stuff. Then he starts rubbing his face in it. He's fantastic, a complete one-off!
Latest iPod download
I download lots of remixes every week but the last CD I downloaded was probably The Massacre by 50 Cent.
Xbox or PSP
I'm a PSP man and it's usually Pro Evolution Soccer 6 that I play. Hopefully I'll get an invite to John Terry's house this year to play in the annual tournament he arranges for the Chelsea boys.
Flicks
My favourite of all-time is The Shawshank Redemption, although I haven't seen any good films of late.
Chicks
Sarah Harding from Girls Aloud.
Wheels
I've got a Mini Cooper S.Having passed my test six months ago, it's so nice to be able to drive back to Bath to see my family instead of getting the train.
What other sports do you enjoy?
Table tennis and pool, although since I've been down at Plymouth a few of the lads have got me into tennis. I also used to play rugby as a kid, but gave it up to pursue a career in football.
TV programmes
I like a lot of the soaps but my favourite programme is EastEnders – even if it's pretty depressing at times.
With your first pay packet you bought
Clothes. A few of the Chelsea lads like their Prada and Armani, so I went on a bit of a spree for some designer gear.
Player you'd love to play alongside
As a winger, I'd love to play with Cristiano Ronaldo for a day just to watch him at close quarters. He's been fantastic this season given all the negativity that surrounded him after the World Cup.
Funny fan encounter
Since I came to Plymouth and have done well in the FA Cup, I get a lot of people coming up to me and wanting autographs. The Argyle fans love their football and their club, and it's great to play my part. I had a boy wanting me to sign his cast the other day, which was a first.
In five years time I'll be…
Playing for Chelsea every week. I'd also like to make progress with England; I've played for England U-18s so the next step would be to try and break into the U21 set-up.
From the May 2007 issue of FourFourTwo. 
Quizzes, features and footballing fun
Get the best features, fun and footballing frolics straight to your inbox every week.