So, seriously: what's wrong with Cristiano Ronaldo right now?
Nearly four months into the season, CR7 has more new children than he does La Liga goals. Thore Haugstad looks into why...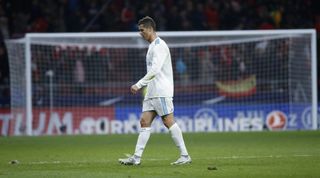 In December 2012, Cristiano Ronaldo lit up the Madrid derby with a display of jaw-dropping athleticism. As Real Madrid cleared a corner and launched a counter-attack, he sprinted the length of the pitch to finish it off, hitting the post. It later emerged that he had run 96 metres in 10 seconds. Usain Bolt's world record over 100 metres stands at 9.58.
On Saturday, Ronaldo played in another derby, this time at Atletico Madrid's new stadium Wanda Metropolitano. On 16 minutes, Madrid cleared a corner and launched a counter-attack. When Luka Modric sent him a ball over the top, all Ronaldo had to do was to nudge it forward and score.
But this time he didn't even get there. Making a late recovery run was Juanfran, the 32-year-old right-back, who intercepted the ball accompanied by the kind of rapturous cheers usually reserved for goal celebrations. What felt like a trick of the mind was confirmed by Spanish TV, whose graphics showed that Juanfran had run 33.8 kilometres per hour, while Ronaldo had hit the ceiling at 32.8.
The night only got worse for Ronaldo, who had two free-kicks saved and then spoiled a last-minute chance when uncharacteristic hesitation allowed Lucas Hernandez to block his shot. The Portuguese now has one goal in eight league games. That is anything but normal – and it begs the question why.
Freakish numbers
A declining physique can only be part of it. At 32, Ronaldo lacks his old explosiveness, but few players have reinvented themselves as cleverly, the tricky winger having long evolved into a gladiatorial goalscorer more reliant on movement and finishing.
Real Madrid have backed him to prolong his stay at the top by extending his contract to 2021, a move that looked justified when Ronaldo fired los Blancos to the Double last season. That means there must be something else going on, because his numbers have nosedived.
One goal in eight league games is Ronaldo's worst start to the season since he came to Madrid in 2009 – and by some distance. Since returning from the suspension that cost him the first four league games, he has notched up 55 attempts – handing him a conversion rate of 1.8%.
This anomaly seems even more curious when you consider that Ronaldo has hit six goals in four Champions League games. Statistically he has never been the most efficient anyway – his conversion rate has landed between 14% and 18% in six of the last seven seasons, whereas the most clinical strikers stay near 20% – but the current numbers are still freakish.
They have also hampered Madrid, whose stalemate at Atleti left them 10 points behind Barcelona – a gap no team have ever closed to win La Liga. Madrid would, then, be wise to find the reasons for his travails.
But what are they?
Supporting actors
Though finishing is hard to analyse, dependent as it is on luck and confidence, what is clear is that Ronaldo has been let down by some of his most crucial support players. Karim Benzema, his partner up front, has underwhelmed all season, neither scoring to lighten the burden nor providing the movement and link-up play that helps Ronaldo get chances. The Portuguese is not alone in not doing his job.
Then you have the full-backs. They have grown in importance over the last year, providing the width and crosses in the 4-4-2 diamond that Zinedine Zidane has used amid Gareth Bale's injuries. For the 37 goals Ronaldo scored in La Liga and the Champions League last season, his two most frequent providers were Marcelo and Dani Carjaval.
This season Marcelo has not looked himself at all and, on Saturday, played two suicidal passes that set up Atleti players outside the box. Meanwhile, Carvajal got injured just after Ronaldo returned from suspension, meaning the two have only played three league games together. Carvajal's replacement has been Achraf Hakimi, an academy product who just turned 19.
Ancelotti's theory
Such factors have contributed to a wider decline in Madrid's play. Their initial slip-ups in La Liga were down to inefficiency rather than deep-running flaws; the chances kept coming, Ronaldo and Benzema kept missing. But lately performances have worsened as well, as evident in the deserved 2-1 loss at Girona and the 3-1 hammering at Tottenham.
Something's not quite right. This does affect Ronaldo, because he needs service. He is unable to drop deeper to change the flow of the game and, back in 2015, Carlo Ancelotti noted that for Ronaldo to play well, the team had to play well too. As the former Manchester United man has evolved towards being a pure No.9, so the truth behind that observation has grown.
That said, Ronaldo has had enough chances to rescue Madrid several times over. Big players should bail out their teams and, in his case, that means converting opportunities. Doing so would have boosted his own game as well: he is bound to get more space when Madrid are ahead, which has not happened too often lately.
Besides, 55 attempts in eight games hardly denotes a striker starved of service. Beyond that we can only speculate in the psychological factors.
SEE ALSO
Bad streaks affect all strikers, even Ronaldo. Nor can it help that Lionel Messi, with whom comparisons remain inevitable, has struck 12 times to top the Spanish goalscoring chart.
Another factor is that Madrid are yet to get a penalty in the league this season, which is unusual for such a big team. While many opposition fans accuse Ronaldo of massaging his stats from the spot, most strikers do rely on penalties to regain confidence from time to time. Ronaldo could do with one right now.
The good news for Madrid is that Ronaldo has had bad streaks before. He scored just twice from 36 efforts at Euro 2016, before replying with a towering header against Wales that put Portugal in the final. He also suffered a drought at the start of last season, going four league games without a goal. Soon came a hat-trick at Alaves, then another at Atleti.
Still, this particular streak is unprecedented, and the concerns are understandable. One goal could trigger a hot streak, but it better come soon. As far as the La Liga title is concerned, it may already be too late.
Thank you for reading 5 articles this month* Join now for unlimited access
Enjoy your first month for just £1 / $1 / €1
*Read 5 free articles per month without a subscription
Join now for unlimited access
Try first month for just £1 / $1 / €1