Southampton finally get rid of Hughes by telling him club no longer exists
Saints have informed Hughes that the club has been disbanded, Back of the Net reveals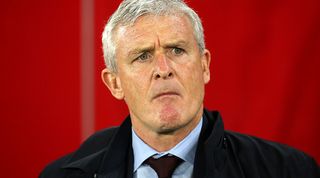 Southampton players and officials are tentatively celebrating finally shaking off manager Mark Hughes by telling him that the club no longer exists and everyone has found other things to do at weekends.
The south coast strugglers had been attempting to get rid of Hughes for several months but found to their dismay that he continued to show up to matches regardless of their hints, entreaties and attempts to play games after they believed Hughes was in bed.
However, it appears that the club has finally succeeded in parting ways with the experienced tactician by convincing him that Southampton Football Club has wound down its 133-year existence overnight.
"Week in, week out it'd get to an hour or so before kick-off and he [Mark Hughes] would come staggering into the dressing room whinging about the 'administrative cock-up' that had seen him sent to Dubai or the 'back office snafu' that had led to a hungry lion being locked in the toilet with him," winger Nathan Redmond told FourFourTwo.
"They stopped his key card for the training ground, but there he was bright-eyed on Monday morning, clothes ripped from clearly having scaled the fence.
"We were really starting to think there was no way to remove him. Even when we ordered a life-sized cardboard cut-out of David Moyes and put it in the clubhouse window, like a kind of footballing scarecrow, he just waltzed in delivering laddish pleasantries to the imaginary Scotsman."
That'll do it
In the dressing room after Saturday's 2-2 draw with Manchester United, Southampton players put into practice their ingenious stratagem that would at long last rid them of Hughes.
"The subs had decked the dressing room with bunting, a banner saying 'The Saints Have Gone Marching In' and a cake with the club crest and '1885-2018' written on it," Redmond continued.
"The perennial gaffer [Mark Hughes] looked confused so we explained to him that this was the club's final game, and expressed shock and disappointment that nobody had mentioned that to him.
"He seemed surprised that after over a century the club would cease playing mid-season for no given reason, but we all went into our future plans from signing for Guangzhou Evergrande through to prospecting for gold in Alaska. Hughes indicated that he would love to find time to brew some [revolting] ale or manage West Brom.
"Plus we had a cake. Even Mark Hughes can't argue with a cake."
Club officials parted on good terms with Hughes, who they insisted in no uncertain terms should check for future Southampton results as it would be a waste of his time because there definitely won't be any.
Please note: This story is satirical, obviously.
Quizzes, features and footballing fun
Get the best features, fun and footballing frolics straight to your inbox every week.
Thank you for signing up to Four Four Two. You will receive a verification email shortly.
There was a problem. Please refresh the page and try again.