Boca Juniors rejected tear gas 'to even things up a bit', say CONMEBOL
South America's governing body were 'open' to playing game with Boca players on fire, Back of the Net reports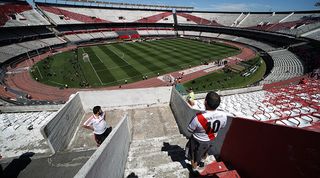 NEWS River v Boca: The timeline of the Libertadores final postponement
FourFourTwo has learned that the South American Football Confederation (CONMEBOL) has made over 100 failed attempts to stage the Copa Libertadores final since the original kick-off slot, with proposed match times now increasingly tentative and half-hearted.
The second leg of the final was eventually postponed after stubborn Boca Juniors players insisted they weren't able to play having been tear gassed moments earlier, an excuse that CONMEBOL reluctantly accepted after several attempts to persuade the players to 'have a go at it anyway'.
Since that inconvenient postponement, CONMEBOL has made hourly attempts to play the match and has instructed fans to remain inside River Plate's El Monumental stadium because 'a game could break out at any minute'.
"To be honest, the feeling inside CONMEBOL is that Boca Juniors have made this very awkward for us all," a source within CONMEBOL told FFT.
"A little bit of tear gas and some shards of glass in one player's eye and they suddenly can't play the game. Typical highly-strung footballers.
"We'd have had them play even if they were quite literally on fire, but we worried that it may upset the sponsors to put medals around the necks of still-smouldering Boca players.
"When we, quite reasonably, suggested that we tear gas the River Plate dressing room to even things up a bit, even that didn't seem to appeal."
Keep trying
Leaked messages shown to FourFourTwo reveal that CONMEBOL has been haranguing Boca officials with four or five emoji-filled communications every hour to ask if the game can start now.
"It's pretty much the same formula each time," our source explained.
"Hope you guys r [are] [smiley face with a wink], gutted about the [face streaming with tears due to tear gas attack]. Game today?
"So far we haven't had a reply but we're ready to play it whenever they are, wherever they want – whether that's in Buenos Aires, Dubai or on a superyacht near Belize. In fact, especially if it's on a superyacht near Belize.
"In this day and age, surely we can just do it all online with a winner-takes-all game of Football Manager or Age of Empires anyway."
While critics have accused CONMEBOL of lacking a crisis plan for this kind of eventuality, FourFourTwo has in fact been shown the Crisis Plan document.
It spans just a single page of A4 and is largely a series of pictures of nice-looking hotels in Aruba, coordinates for an unspecified buried box, and instructions for how to shred documents quickly and efficiently.
"We're very well prepared for an emergency," our source pointed out. "Within minutes CONMEBOL will become BLOC ME NO, a family-run plumbing outfit specialising in clogged toilets.
"Nobody will ever be able to prove our entire 102-year existence wasn't spent elbow deep in putrefaction."
Please note: Obviously this story isn't real. Obviously.
Quizzes, features and footballing fun
Get the best features, fun and footballing frolics straight to your inbox every week.
Thank you for signing up to Four Four Two. You will receive a verification email shortly.
There was a problem. Please refresh the page and try again.