Tottenham to test new stadium with pretend unexpected, costly defeat
Spurs want to know that their new facility is ready to host heart-breaking losses, Back of the Net reports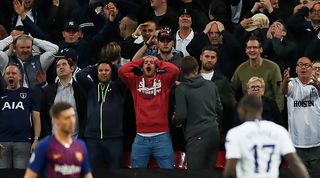 Tottenham Hotspur have announced plans to test their new stadium on December 16 by hosting a simulated 2-1 defeat to Brighton, with two goals conceded in the dying minutes costing the home side a Champions League spot.
The club had planned to move into the new stadium at the start of the season, but their move-in date slid back after an inspection revealed that the ground – which had looked impressive in pictures – was in fact made of papier-mache.
However, Spurs have proudly announced that the stadium is now complete and ready to host decades of false dawns.
"The whole club is excited to make new memories at our stunning new home," a statement from Tottenham to FourFourTwo reads.
"Horrible, scarring memories of raised hopes dashed in the cruellest of fashions, as if by the fickle whims of a capricious Arsenal-supporting deity.
"We look forward to welcoming our fans to explore the scene of their future misery, to see the very seats they will kick at in anger when we concede a controversial penalty to put a terminal dent in our fragile title hopes, and the bar that will charge them extortionately to drown their sorrows after a 93rd-minute derby defeat.
"We really can't wait to welcome our masochistic fans to their new footballing BDSM dungeon, where their safe word is a desperate appeal for VAR and the only ointment to salve their whip wounds is the consolation that we aren't West Ham."
Test conditions
In order to make sure that the ground is fit for purpose, a test event will take place on Sunday, December 16, when 6,000 Spurs fans will be invited to watch an enactment of the kind of last-gasp defeat they can expect to enjoy in the new venue.
"To get the best impression of the stadium's capacities, we wanted to stage something as close to reality as possible," the club spokesman explained.
"That's why we've got Spurs and Brighton's actual first teams to give up a day to come and put on a staged 2-1 loss, despite the home side having a glut of chances and seemingly being in complete control until the 88th minute.
"We'll really get to see the possible weaknesses in our readiness for thousands of people suddenly being hit by a wave of despair and anger.
"It'll be a great chance for the fans to get to know the stadium – which exit is quickest to reach in disgust, which part of the stand you can weep openly in without being too visible."
Please note: This story is satirical. OBVIOUSLY.
Quizzes, features and footballing fun
Get the best features, fun and footballing frolics straight to your inbox every week.
Thank you for signing up to Four Four Two. You will receive a verification email shortly.
There was a problem. Please refresh the page and try again.