Stats Zone's Premier League Team of the Season 2015/16
If you haven't seen our individual award winners yet, head here. If you have, great – now find out who's been selected in our best XI of the campaign…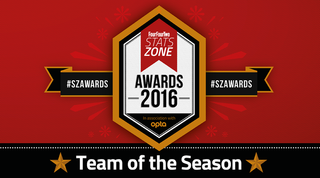 The Premier League's players have had their say for the PFA Team of the Year – now it's our turn, with some help from our pals at Opta.
We've scrutinised the numbers to come up with what we think is the top flight's best-performing selection of the season, analysing the areas that matter for each position and more. But enough of the chit-chat…
Goalkeeper: Petr Cech (Arsenal)
Chelsea reluctantly let the experienced Czech skip across London to Arsenal last summer, and everyone knew perfectly well why: Cech has been a top-flight Steady Eddie for years, and was just too good to play second fiddle to Thibaut Courtois.
This season he kept more clean sheets than any other goalkeeper (16 – one more than Kasper Schmeichel, David de Gea and Joe Hart), but also boasted fine numbers in other key areas: a 76% save accuracy overall, and 72% in the box – both Premier League highs (to Schmeichel and De Gea's matching 73% and 71% respectively).
Only three keepers made more saves, meanwhile – so he's hardly been thumb-twiddling.
Right-back: Kyle Walker (Tottenham)
Walker hasn't always been lauded for his defensive contributions, but his 2015/16 has coincided with the impressive displays of his team. Spurs could be seen regularly overawing opponents out wide this term, and Walker – in tandem with the also-impressive Danny Rose – was a big part of that.
Further back, however, the Sheffield native has shone too: only four players (Simon Francis, Christian Fuchs, Cesar Azpilicueta, Erik Pieters) beat him for tackles made (87), three for interceptions (92), and three for chances created (34). Consistency is key for a full-back, though – and Walker ranks highly in each of those categories. Chuck in the fact that three of those aforementioned rivals have started more matches this season, and he's a rightful winner.
Centre-back: Wes Morgan (Leicester)
Leicester's very own captain, leader is now in legend. Morgan might have made for an easily pokeable figure of fun last term, but the Jamaica international has stood tall above the rest this season to block, grunt and grind his team to the Premier League title – lest we forget, straight after back-to-back summer international tournaments in the Gold Cup and Copa America.
In the end only two sides conceded fewer goals than the champions' total of 36 (Manchester United and Tottenham, both 35), some 19 better than their 2014/15 efforts. Only Swansea's Ashley Williams made more tackles, blocks and interceptions, but the Wales international also made four errors that led to shots. Simply, Leicester's rock.
Centre-back: Robert Huth (Leicester)
Stoke were happy to let Morgan's mate join the Foxes permanently last summer, but the brutish German has demonstrated exactly the kind of no-nonsense steel that his former club have lacked in 2015/16.
Huth has been outstanding at both ends for Leicester – just three stoppers rank higher for tackles, interceptions and clearances; two for blocks – and he weighed in with some significant net-ripplers at the other end. The goal in Leicester's 1-0 win at Spurs was understated at the time but so crucial in the long run, and he followed that up with a brace in the Foxes' blistering win against Manchester City at the Etihad Stadium.
Left-back: Christian Fuchs (Leicester)
Remember that thing about consistency? Well, that. It took until the eighth game of the season for Fuchs to start in the Premier League, but after that he only missed one more – and that was merely through injury.
So it speaks volumes that the Austria skipper still dominates when it comes down to crunching the numbers: the second-most chances created this season for a full-back (44); the second-most interceptions (98); the third-most tackles made (99, behind Pieters and Azpilicueta).
Oh, and a Premier League winners' medal. Not bad for a Schalke cast-off.
Central midfielder: Mousa Dembele (Tottenham)
The Belgian may have ended the season on a duff note with an assault on Diego Costa, but it shouldn't detract from what has been a terrific season at the heart of Spurs' midfield. Dembele was at his bullish best, combining a brutish control of central midfield with the elegant dribbling he's been associated with since his days in Holland.
His passing accuracy averaged a brilliant 90%, only four players completed more dribbles than his 83 (Riyad Mahrez, Wilfried Zaha, Ross Barkley, Eden Hazard) and his defensive figures weren't at all bad either considering he played seven games fewer than Duracell pin-up N'Golo Kante: 104 tackles, 56 interceptions (one more than Danny Drinkwater) and a 61% duel success. Aston Villa's Idrissa Gueye ranked highly too, but his impact was a drop in the ocean for the relegated side.
Central midfielder: N'Golo Kante (Leicester)
Ask most Leicester fans who their season's best player was and they won't spin off the names of Mahrez or Vardy, but that of their diminutive destroyer in central midfield. Kante has been a revelation as the heartbeat of this tireless team, coming off the back of just one season in France's top flight and an earlier career spent haring around in the lower divisions.
You do wonder how it took this long to uncover him. Kante's numbers have been staggering: for the second season running he made the most tackles in Europe's top five divisions (165), nipped in for the most interceptions (152), recovered possession 326 times and achieved a passing accuracy of 82% – some 12% above his team's season average. Leicester will be fighting other clubs off with sticks for their star men this summer, of whom Kante is surely their most important.
Right wing: Riyad Mahrez (Leicester)
Speaking of those players – Mahrez has done OK for himself, hasn't he? Kante may have provided the consistent class that helped shoot Claudio Ranieri's side to glory, but Mahrez was their glittering jewel of the crown.
Seventeen goals and 11 assists was a stunning return from a player who struggled to produce his best last season, not least in a wider context – he either scored or supplied goals in games against West Ham, Southampton, Tottenham, Chelsea, Everton, Liverpool and Manchester City, then netted the winners in 1-0 victories at Watford and Crystal Palace. No player pleased the crowd more, and his PFA Player of the Year award was deserved.
Attacking midfield: Mesut Ozil (Arsenal)
The player most likely to melt the internet, thanks to Arsenal fans' besotted devotion to their German No.10. You can see why, though – he's just broken a Premier League record for the number of chances created in a season (146) thanks to his midfield wizardry and set-piece guile.
Ozil carved out 16 assists in his first 19 matches of the season and finished on 19, just one behind Thierry Henry's 2002/03 Premier League record. He chipped in with six goals too, to round off a pretty darn fine campaign in the hole.
Next season, with a better striker in front of him (here's looking at you, Arsene), surely there's plenty more where this came from.
Left wing: Dimitri Payet (West Ham)
West Ham fans' battle with their Arsenal counterparts for a chant neither of them invented may be the height of tedium, but you can't knock the Hammers faithful's love of their brilliant Frenchman.
Payet missed seven matches through injury in the run-up to Christmas, yet ended the season with 12 assists – one more than Mahrez – and another nine goals (more than statistical rivals Ozil and Christian Eriksen, and just behind Dele Alli's 10). He created the second-most chances in the top flight, and his propensity to deliver the spectacular – particularly from free-kicks – was worthy of Upton Park's final season. His form was good enough to earn him a France recall for Euro 2016.
Striker: Jamie Vardy (Leicester)
Vardy's ride from squillionth tier (OK, ish) to top flight has hogged column inches, but less acknowledged is his stunning improvement from just last season. The 29-year-old hasn't been just a goalscorer for Leicester, but a vital outlet for their direct game which caught so many opponents out in the first two-thirds of the season in particular.
Where the numbers are concerned, though, he's strong: Harry Kane may have edged him in the Golden Boot stakes, but the younger hitman also attempted far more efforts than his international colleague (158 to Vardy's 115). Vardy essentially converted one in five of his chances to Kane's one every six, but he also chipped in with six assists to Kane's solitary one.
As usual, though, Sergio Aguero's injury record has let him down here: the Argentine started seven fewer games than Vardy and nine fewer than Kane, but finished only a goal behind the latter. His shot-conversion rate was 27% and his 98 minutes-per-goal was only bettered by young colleague Kelechi Iheanacho, on 94 minutes per goal – but it's just not quite enough to edge him above all-rounder Vardy. Maybe next year.
More features every day on FFT.com • Analysis
STATS ZONE Free on iOS • Free on Android
Thank you for reading 5 articles this month* Join now for unlimited access
Enjoy your first month for just £1 / $1 / €1
*Read 5 free articles per month without a subscription
Join now for unlimited access
Try first month for just £1 / $1 / €1