Strachan sacked after bringing nine-foot man into meeting with Scottish FA
Strachan was experimenting in human genotype moulding, report Back of the Net – the final straw for SFA bods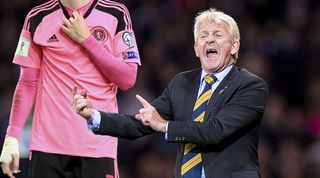 Gordon Strachan turned up to today's crunch talks with the Scottish FA flanked by a nine-foot man he created in a laboratory, sources have told FourFourTwo.
Sacked Strachan was under fire after Scotland's failure to reach World Cup 2018, and attempted to shift the blame onto thousands of years of human evolution – the first known use of that excuse in football history.
However, Strachan marched into the Scottish FA offices with a five-year plan for world football domination based on his newfound ability to synthesise giant Scotsmen.
"It was clear that Gordon hadn't slept much and he was still wearing a white lab coat as he entered the building," an eyewitness told FFT.
"He kept telling everyone that he'd cracked it. Then he speculated about how he'd like to see Slovenia mark the nine-foot creature standing next to him wearing a Scotland shirt.
"To be honest, we were all quite impressed that he'd managed to create this beast, but also terrified that it would devour us all or crush us in an attempt to flick an imaginary corner on for Leigh Griffiths."
Breakthrough
Between cackles and asides about the current state of refereeing, Strachan communicated to office staff that he believed he was on the cusp of creating something the world had never seen before: a proficient Scottish striker.
"[The grotesque striking monster] was plenty tall alright," our eyewitness conceded. "But he clearly didn't have any mental faculties. He stood there mouth agape, gesturing wildly at some perceived slight on the part of a team-mate.
"Apparently Gordon had used DNA samples from several of the Scottish players, mixed with trace elements of Ally McCoist and the basic skeleton of a wild gibbon."
BACK OF THE NET
Sources inside the Scottish FA had initially suggested that the meeting with Strachan was mostly positive, with the exception of a brief period in which his towering creation sent furniture flying out of the window, and lamented the cruelty of a life spent playing for Scotland in a series of ear-splitting, tortured cries.
But it wasn't enough for the 60-year-old to keep his job, despite player support for the new initiative. 
"I think I speak for everyone in the squad when I say that I'm excited to welcome the new lad," Barry Bannan told FFT. "Excited, and mortally afraid.
"As long as he joins in with the banter in the dressing room, I'm sure he'll get on great even if there's the odd goring. After all, Duncan Ferguson got a fair few caps."