The strange curse of Louis van Gaal and ex-Man United target Hector Moreno
Ahead of their sides' Champions League meeting at Old Trafford, Michael Yokhin charts the curious jinx that has shadowed the Manchester United manager and PSV defender in recent years...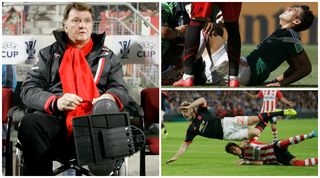 You can call it the saga of broken legs, and it all started when Louis van Gaal decided to try his luck at pole vaulting in the autumn of 2007. The event took place at a reunion of the Dutch Academy of Physical Education, with the current Manchester United coach – who was working at AZ Alkmaar at the time – apparently completing the exercise perfectly but slipping upon landing because of unsuitable footwear. "I was crazy enough to think that I was 18," Van Gaal said that day, after breaking both his ankle and fibula.
As a result, Van Gaal was confined to a wheelchair for a while. It was in that condition that he first met Hector Moreno. The Mexican centre-back was signed by Alkmaar in December 2007 as a highly promising 19-year-old, and played a crucial part alongside the likes of Carlos Vela and Giovani dos Santos when Mexico won the Under-17 World Cup in 2005. He fast became a regular for Pumas – who reached the final of the Mexican Primera Division in the 2007 Apertura – and it was Van Gaal who personally demanded that AZ bring the talented youngster to the Netherlands.
One of the first conversations between the two, however, left Moreno in a state of shock. "I hope that people will understand that I was right about a few things after I'm gone," Van Gaal said. "Signing you is one of those things." Moreno, demanding an explanation, was then told that the Dutchman would resign when the season ended.
Title triumph
It was a difficult time for Van Gaal, who had watched his magnificent project fall apart before his very eyes. In 2006/07, AZ played some sensational football and were on the verge of winning their first Eredivisie title since 1981.
Heading into the final day needing to beat lowly Excelsior Rotterdam, AZ inexplicably lost 3-2 and dropped to third behind PSV and Ajax. That's when everything started to go wrong; in 2007/08, the team finished closer to the relegation zone than the top. Van Gaal was mercilessly criticised in the press and decided to leave, with Moreno his supposed farewell long-term present to the club.
AZ players refused to accept the situation, and tried to persuade Van Gaal not to abandon them. They enjoyed working with the coach who had taken them to the brink of the championship and were willing to shoulder the blame for poor performances. Naturally, Moreno was among those who wanted the former Barcelona boss to stay.
"Van Gaal trusted me. He helped me a lot with my adaptation in Europe and was like a father to me. He spoke a little Spanish, but forced me to study English which is essential in life. He might be tough with the press, but he's very warm and friendly with the players," the Mexican recalled in an interview with El Periodico in 2011.
Remarkably, the players succeeded in their plea. Van Gaal changed his mind and remained at AZ for the 2008/09 campaign, guiding the modest club to that elusive second title by a huge margin. Moreno became an important player that year, but was ultimately unable to celebrate with his team-mates: after 15 Eredivisie starts, he fractured a bone in his right leg in the trip to Feyenoord in December 2008 and missed the rest of the season.
Poch's rock
That unfortunate game in Rotterdam was the last he played under Van Gaal, who moved to Bayern Munich in the summer of 2009. Moreno subsequently impressed in the Champions League and the 2010 World Cup, before finally moving to a bigger league when he joined Mauricio Pochettino's Espanyol in 2011, where he soon became one of the most reliable and respected defenders in Spain.
By 2014, it was obvious that the Mexican was ready to take the next step in his career. Pochettino, who admires him immensely, tried to lure him to Tottenham, while Arsenal was also mentioned as a possible destination. The most interesting option, though, was Manchester United, where Van Gaal had landed after guiding the Netherlands to third place at that summer's World Cup in Brazil.
Having previously rejected a €9million bid from Rubin Kazan, Espanyol wisely decided to wait until the end of the World Cup before selling their star, knowing that his price was likely to go up after his performances for Mexico on the biggest stage. The gamble seemed to be working out perfectly, with Moreno mightily impressive in his country's group stage games, including an entertaining 0-0 draw with the hosts.
Fittingly, Mexico's last-16 opponents were the Netherlands. It was the first time that Moreno and Van Gaal had met face to face since their time together at AZ, and the situation couldn't have been more amusing. The defender not only wanted to beat his former coach and help his country to reach the quarter-finals for the first time since 1986, but also to impress Van Gaal and make certain of a move to Old Trafford in the weeks to come.
World Cup woes
The first 45 minutes went according to Moreno's plan, but then disaster struck. Just before the half-time whistle, Arjen Robben attempted to kick the ball but accidentally struck Moreno's left leg instead, breaking the defender's tibula. "It's such a shame for Hector," manager Miguel Herrera said after watching his side dramatically beaten by the Dutch in the dying seconds of the tie. "He had a great tournament."
The injury ruined all of Moreno's sacred dreams: not only had his best international tournament come to a premature end, but the lucrative reunion with Van Gaal in Manchester had become impossible. The Mexican had to remain at Espanyol for another season, before eventually settling for a move back to the Netherlands this summer when PSV signed him for just €5 million.
The Champions League draw was made just a couple of weeks later, and Moreno discovered that he was about to meet Van Gaal again. Memories of previous broken legs might have crossed both mens' minds, but neither could have imagined that a third party would fall victim to the jinx this time around.
Season cut Shaw-t
Luke Shaw was the man to suffer such misfortune two months ago, when Moreno tackled him after 14 minutes of the match at Philips Stadion. The left-back had enjoyed a sensational start to the season, but it was ended prematurely with a double fracture to his right leg.
"What happened to Shaw was very unfortunate. I was just in shock. I am glad I was able to speak to him. That was very difficult in the beginning, but he was very kind to me and didn't blame me," Moreno said after visiting the Manchester United star in hospital.
Van Gaal, though, was not pleased with his former protégé's actions, probably for the first time in his career. "It was a very bad tackle," the Dutchman growled. To add insult to injury, Moreno scored his very first goal in European competition that night, helping PSV to secure a 2-1 win.
Now the 27-year-old is headed to Old Trafford to meet Van Gaal again at the stadium that could have been his home but for the cruel setback in 2014. Everyone involved will hope that the curse will not continue and that there will be no fifth broken leg on Wednesday night.
Quizzes, features and footballing fun
Get the best features, fun and footballing frolics straight to your inbox every week.
Thank you for signing up to Four Four Two. You will receive a verification email shortly.
There was a problem. Please refresh the page and try again.