Vidic: Smooth transition will keep United on the trophy trail
The Man Utd defender on retaining the title, taking on Chelsea and Scottish accents...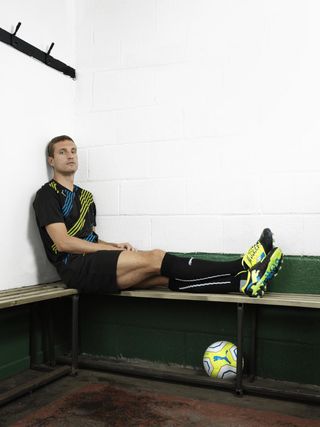 New season, new manager, same Manchester United. That's the message from Nemanja Vidic, who, despite admitting it feels "strange" to pull on his shirt and play under a manager who isn't Sir Alex Ferguson, believes he and his team-mates still have what it takes to retain their Premier League crown.
The hunger, the desire and the drive to win silverware hasn't disappeared. Those are things inherent in the Manchester United dressing room, a legacy of Sir Alex and a product of 20 years of success. What has changed, of course, is the new man in charge.
And yet, far from disrupt the harmony of a title-winning squad, Vidic says David Moyes' arrival has brought with it fresh enthusiasm and energy. Indeed, the Serbian couldn't wait to return from his summer holidays and tackle the 2013/14 campaign. And now it's here, he has only one goal: "I want to win trophies."
FFT: For a lot of fans, those two and a half months over summer feel like forever. What's it like for players?
NV: Me too! I just want to play. I found myself this summer really missing football. I missed being out on the pitch and I even missed having football on TV to watch. Okay, I had a nice holiday – I went away with my family – but I got back and I was thinking, "Seriously, it's about time to start now!".  Maybe in December when we're playing two games a week I'll be wishing for a two-week break [laughs]. For now, though, I'm just really happy we're back and the season is underway again. I'm a footballer – this is what I do!
Of course, this summer has been a big one for Manchester United. There have been a lot of changes. Does that take some getting used to?
To be honest, it's the same club. Obviously we had a change of manager but the players are the same and a lot of the same faces are still around. David Moyes has come in and he's been great – I really enjoy his training sessions, he's a straightforward person, he's open, you can talk to him and he spends time explaining to you what he wants. He's very clear in his instructions. So I think he's helped make that transition smooth for everybody. I can honestly say that the transition from Sir Alex to David Moyes has not been that hard for the players. Even the accent is the same – we don't have any problems with the Scottish! Seriously though, I know people outside the club are asking questions about our squad – Do we have enough players? Do we need to sign a big name? – and they're wondering if David can be successful after Sir Alex, but inside the club we're really happy. Honestly, the training sessions are great, the players are all happy, we're confident...
For the last 26 years United fans have looked to the dugout on matchday and seen Sir Alex. Is it odd for you to see somebody else there?
When I'm playing football, I try not to look over to the dug-out! That's probably a good thing, right? Who knows what they're yelling at me about! "Hey Vida, you did this wrong!" [laughs] Seriously though, of course it's different. Just like the fans, I've been used to the same manager so it's natural that it will be different at first. And yeah, it's strange to see Manchester United without Sir Alex. But that's the situation and now we start a new chapter.  I played for seven years under Sir Alex and it was a huge pleasure and I'm glad I experienced that. It was very emotional when he left, as you'd expect, but like I say, now we've started a new chapter and we move on. There's a new manager in charge and we all feel as though we have to step up, train harder and give him our very best performances.  I think that's particularly important in this transition phase. We need to do everything David Moyes asks of us so we can help him and help the team be successful. Everybody – not just him – is judged by the trophies we win and we all want to be successful.
Monday night it's Chelsea at Old Trafford. It's a huge game considering it's only your second fixture of the season.
Yeah, that's true, but it's only one game. Of course it's an important game but it's only one of the games this season that we'll go into targeting three points. We were determined to beat Swansea on the first day and now we're determined to beat Chelsea. I know we have a tough start this season – probably the toughest start I can remember in my seven years at the club – but that's what we're facing and we can't change that. We definitely don't go into the game and think that a draw would be a good result. We want to win every game. But like I said earlier, we won't get too excited if we win and we won't get too disappointed if we lose. It's one game out of 38 this season. After Chelsea, it's Liverpool and then it's Crystal Palace. The target for each game is the same: three points.
Vidic's United honours
Premier League (2007, 2008, 2009, 2011, 2013)
League Cup (2006, 2009, 2010)
Community Shield (2007, 2008, 2010, 2011, 2013)
Champions League (2008)
Club World Cup (2008)
Is Chelsea a side you think will challenge for the league this year?
I think so. I think they'll be one of the big contenders to win the title. But you never know where the season will take them. At the moment, though, I think they'll be right up there.
Bookies have United down as third favourites to win the league. Does that surprise you?
It does a little bit. Obviously Sir Alex has left and I think people aren't sure how we will react and just how big his influence was on the club and the players. But in the dressing room we don't really take much notice of what other people say. If they were saying we were the big favourites to win the league that wouldn't change anything either – the only thing that matters is our results on the pitch. Personally, I don't mind if people think we're third favourites. They can think that. But our aim is always the same – we want to win trophies and I believe we have the players to do that.
What makes this Chelsea team such a good side?
I think the young players they've introduced in the last few years have made a difference. And, like us, they also have a core of experienced players that have been at the club a long time. Maybe the biggest thing this year, though, is the new manager, Jose Mourinho. I think it's given everybody at Chelsea a big lift and there's a lot of positivity around the club. I don't think there was a lot of positivity towards Chelsea in the last few years – I think the media were quick to question the last few managers and they didn't seem to give them a lot of time or support. Now, with Jose back, it seems there's a real positive environment around the club again and that could be a big factor. Whether that's enough to win the league, I'm not sure. We just focus on ourselves: what's going to make us better, what can we do to improve?
Chelsea have a lot of young, creative midfielders who also like to join attacks and run through the middle. Is that difficult to cope with as a defender?
That's where teamwork comes into it. It's not only my job in the team to defend – the defending starts with the forwards and goes through the whole team. If midfielders are getting into the penalty area then that's where our midfielders come into it and help out. You have to make sure you keep talking, keep communicating and letting your team-mates know where everyone is. If players are switching positions then you talk to each other and pass that player on to the next defender. It's all about teamwork and concentration.
Last season United played Chelsea five times and won only once. 
Really? I didn't know that. You see, that's what I was talking about: once a game is over we move on and think about the next one. If that's the case, though, then we want to improve and this season we want to win both games, starting with Monday night. Statistics are funny in football... there's no point in saying we always beat this team or always lose to that team: the past doesn't affect the next game and that's the most important one. In my head I don't think any differently about the Chelsea match because we only won once last season. That doesn't come into my thinking at all.
You mentioned the tough first five games. Is there a goal at the end of those five games? Where do you want to be?
I'd like to be top of the league. I'd like to win all of those games. And if we come out of these first five games with 15 points that would be fantastic. But you also have to look at the fixtures and realise that you're playing Chelsea and you're playing Liverpool away and Manchester City away. Those are tough games. It will be hard to win them all but that's definitely our aim. We've won our first two games of the season – the Community Shield and against Swansea – so we're positive about our chances. 
Do those new coaches, new training methods the new manager help to bring a new energy to the squad?
I think there has been a little bit of that, yes. That was one of the reasons why I couldn't wait to get back from my holiday. Everybody's really positive about this new start, we're experiencing different training methods, we're working hard, preparing new routines... we're all really enjoying it. Of course, for the first few weeks it takes time to adapt and get used to something new – it would be the same in any job – but everybody's really keen and training well. I think we're all feeling the benefits from the sessions and there's no question in my mind that we'll be fit to compete for all these trophies. The physical aspect of our training is different to how it was before and again that took time to get used to. But we've adapted now and I think everybody feels in great shape for the season.
Exactly. The targets don't change, do they?
Definitely not. Nothing's changed there. Our ambitions haven't changed and nor have people's expectations. People expect Manchester United to win trophies. We expect Manchester United to win trophies. We want to win the Premier League and we want to win the Champions League – that's been the expectation for the last seven years here and that's still the case. So it's nothing new.
Is there an element of wanting to do well for the new manager?
Yes and no. Of course we want David Moyes to be successful. It would be great for him to win the league in his first season. What a fantastic start to the new chapter that would be. But I want to win trophies anyway. I don't want to win it any more or any less for somebody else.  Players want to win trophies all the time. I don't think we need any extra motivation. I think that mentality is the same throughout the squad – we're all winners and that's a big part of why we are successful. Everybody's main focus is to win.
There does seem to be something extra at United. You obviously have to be good on the pitch, but there's something else that seems to give you an edge. What is that? 
It's hard to say. I'm on the inside and everything I'm doing I do because it's natural to me. I don't think about having a winning mentality – it's just something I have. I think the environment we have at the club helps to develop that because the young players who come through all have it as well. And they also have players they can look up to and learn from. There's not always a lot of talking that goes on. We don't say, "Listen, you have to do this and this". Instead, the examples are there in front of you and around the dressing room. You just have to watch and learn.
Also, I think it's important to say that at United we always try and remain calm. It never feels like we're on a rollercoaster. When we lose we don't get carried away because we know we have another game. It's the same when we win, too. I think we're careful to keep a good balance – the highs aren't too high and the lows aren't too low. If we lose then we're disappointed, but we know we have the next game. We stay on this steady line that helps us remain focussed and perform. Honestly, all we do is think about the next game. Not about where we're going to be in December or in May – all that counts is what we're going to do tomorrow.
There haven't been any big arrivals this summer at United. But you're the league champions so I assume you're happy with the players you have...
It's important to also remember that we have a young side and that's probably our biggest strength. We have young players who are hungry and are now experienced when it comes to winning a trophy. They're developing as players and as people and they're getting better and better. I think that's a big positive. Of course, we also have experienced players who can help these younger lads. It's a good balance.
Last season, some of the younger players won their first league title – people like Danny Welbeck, Tom Cleverley and Phil Jones. How much will that first title mean to them?
It means a lot. I think the biggest thing it gives you is belief and trust in yourself that you're good enough. If you keep falling short you start asking questions about why you're falling short. Now they know that they can win titles because they've done it before, and they know what it takes to win in certain situations. I think the experience of winning the league last year will help these young guys a lot. The club is set up really well, with a mix of young players and experienced players. It's a mix that's really important.
Nemanja Vidic wears PUMA PowerCat football boots. Photos: Tom Oldham Photography & PA.
Quizzes, features and footballing fun
Get the best features, fun and footballing frolics straight to your inbox every week.
Thank you for signing up to Four Four Two. You will receive a verification email shortly.
There was a problem. Please refresh the page and try again.