Villa fans now even less confident in Lambert than they were at the start of the season
By Nick Harper
Nick Harper picks through the findings to see how Aston Villa fans' mood has changed over the season...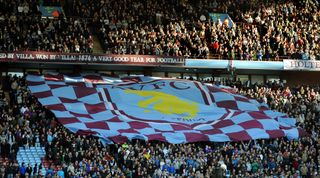 Having endured a mainly wretched season in 2013/14, the Aston Villa faithful approached this new campaign with an understandable amount of cynical dread. Confidence in the squad sat at a Premier League low of 45%, while confidence in Paul Lambert stood at an only slightly less risible 47%.
Confidence in the owner, Carry On character Randy Lerner, sat even lower – a Premier League low of 24%, largely on account of him making clear that he'd had enough and was selling up.
In the aftermath of Villa's 1-0 win at Anfield in mid-September, an air of unlikely optimism swept through Villa Park – confidence in Lambert rose to 69% and in his squad to 72% – even Randy Lerner clambered as high as 41%. But it couldn't last, and it didn't last.
Villa's slow slide south since then has seen Paul Lambert drop to 36% and Lerner to a hammer-down-the-doors-and-have-his-head-on-a-stick 22%. Yet despite hovering right above the relegation places, the squad has bucked this trend, seeing their stock rise to 49%, five percent higher than at the start of the season.
SURVEY See all of our findings - including data from every other Premier League club
Quizzes, features and footballing fun
Get the best features, fun and footballing frolics straight to your inbox every week.
Thank you for signing up to Four Four Two. You will receive a verification email shortly.
There was a problem. Please refresh the page and try again.