Walcott's Arsenal career sums up a disappointing era – but his departure now has to mean something
The arc of Walcott's career - which began with great expectation and ends so flatly - sums up 12 years at Arsenal, says Chas Newkey-Burden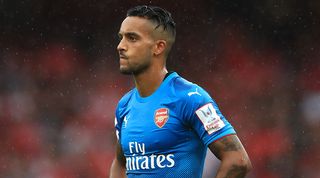 When Theo Walcott signed for Arsenal in 2006, there was real hope that he could define the club for years to come. He did – but not in the way everyone hoped.
Walcott, who joined just months before the club left Highbury, became the embodiment of the club's relatively lean years at the Emirates: polite, fresh-faced and gifted; but fragile, overly comfortable and underachieving.
When Graeme Souness accurately described Arsenal as a team of sweet 'son-in-laws', he was the prime example. From Patrick Vieira, who would quite literally spit in your face, to Theo Walcott, who probably wouldn't even spit in private.
Perhaps his Gunners career was doomed from the start, such was the great expectation that was allowed to build around him. He was the most expensive 16-year-old in the history of British football when he signed. Dangerous comparisons were made with Thierry Henry before Walcott had even kicked a ball for the club.
Within months, Arsene Wenger had convinced Sven-Goran Eriksson to take Walcott to the 2006 World Cup. He hadn't made a single first-team appearance for Arsenal, let alone won an England cap. Eriksson hadn't even seen him play. "My first thoughts were that I can't believe this is true," said Walcott.
Well, quite. He didn't get a second on the pitch in Germany. Steven Gerrard later said that the young Gunner "had no right to be there".
Burden of expectation
Eriksson's bizarre decision put the burden of expectation on Walcott's shoulders that he has never quite shrugged off. The pressure only increased when, in 2008, the club unwisely allowed him to take Henry's No.14 shirt. More and more expectation was being heaped upon the youngster. He was a thoughtful and sensitive man, and never lived up to it.
It's tempting to conclude that Walcott's years at Arsenal were a failure, but to dismiss his Emirates career out of hand would be unfair. He put in some magnificently memorable performances. In 2008, he pulled off that epic, Maradona-like run in the Champions League at Anfield and scored a hat-trick in his second game for England.
Indeed, Walcott made many great contributions to Arsenal in big games. Against Barcelona, he put in performances that led to Pep Guardiola praising his "quality" and "pace". He also found the net in both of the cup finals he appeared in for the club: the 2007 League Cup Final and the 2015 FA Cup Final. In comparison, Thierry Henry and Dennis Bergkamp failed to score in any of the 10 cup finals for which they collectively represented the Gunners.
He was the club's leading scorer in 2012/13 with 21 goals. How many other top-flight players would score so consistently while generally playing out wide? In that same season, Arsenal fans pleaded with Walcott to put pen to paper on a new contract for the club. The clamour, which came under the banner of 'sign da ting', made clear how much affection there was for him.
He did indeed sign da ting, but ultimately his career began to drift. Gunners fans, who had felt for so long that Walcott was on the brink of something huge, began to wonder if he would ever live up to their excited hopes. By 2016, his eternally boyish features could no longer conceal the fact that he had been with the club for 10 years without ever coming close to becoming a pivot in the mould of Ian Wright or Henry.
Tiger Theo
Berkshire boy Theo's sensible, nice-guy persona had helped his standing among the ever-demanding Arsenal fanbase for many years. However, it began to wear thin as the years passed. When he was on top of his game, his wholesome character gave him an endearing, Roy of the Rovers image. But when things were going wrong, he seemed more like football's Tim Henman.
His stock began to fall but, much like the team itself, he was always capable of stringing a few sensational performances together just in the nick of time. For instance, during the 2014/15 run-in, his Arsenal career looked to be over. Then he hit a hat-trick against West Brom, scored in the FA Cup final and signed a new contract. He was embodying Wenger's teams of recent years, which, just as fan discontent threatened to boil over, have often pulled a winning run or cup final victory out of the hat.
But then, in just four words during a post-match interview last season, he talked his way out of the club. When the Gunners lost 3-0 at Crystal Palace, hopes of a top-four finish were hanging by a thread. It had been a feeble, disorganised performance. The travelling fans jeered their own team and chanted that they were "not fit to wear the shirt".
After the final whistle, Walcott – ever the polished and honest interviewee – was asked by Sky Sports what went wrong. "They wanted it more," he said. Wenger was absolutely livid. He said this remark was "not acceptable", and Walcott was barely seen in the first team again, run-outs in the second-tier Europa League line-up aside.
Walcott's arrival in 2006 was flush with symbolism for Arsenal. Hopefully, for their sake, his departure can symbolise something too. Perhaps it can signal a future in which the comfort zone, which has coddled the players, management and board for 12 years, is replaced with a more ruthless – winning – approach.
No longer must players simply coast contentedly along as a fiercely loyal manager, terrified of confrontation, looks on indulgently, year after year. Let Walcott's exit be the end of this comfort zone that has served Arsenal so badly.
It never did the player a whole lot of favours, either. It's hard to imagine Sam Allardyce, who loves confrontation and just days ago questioned publicly the "professionalism" of his players, allowing his new signing to drift.
Will Walcott finally be allowed to fulfil his wish and play through the middle consistently? It's actually easier to imagine Big Sam employing him on the wing to deliver his direct style, which he likes to build from the back and down the flanks with one striker.
So although his Goodison move might not see the 28-year-old become Thierry Henry, he might finally become Theo Walcott and everything that can be.
Thank you for reading 5 articles this month* Join now for unlimited access
Enjoy your first month for just £1 / $1 / €1
*Read 5 free articles per month without a subscription
Join now for unlimited access
Try first month for just £1 / $1 / €1