Wayne Rooney
By Nick Moore
"Jamie Carragher? I can just about understand him myself, so I don't know what it's like for Liverpool's foreign players..."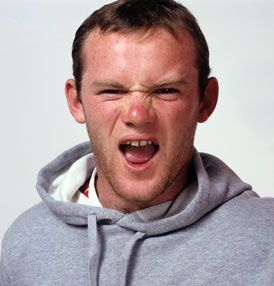 It's cold and wet, England have failed to qualify for Euro 2008, and Wayne Rooney is still recovering from the ankle injury that forced him to watch that fateful game against Croatia from the stands. Yet it's a happy and relaxed Wazza that walks into a central Manchester studio to talk and pose for FourFourTwo.
Even in his old age (22), Rooney's cheeky smile is still very much that of a teenager, but after three and a half seasons in the high-pressure environment of Old Trafford, his demeanour suggests he's becoming increasingly at ease with the media attention which has long since come with the Scouse striker's territory. He even has a kind word to say about Manchester City.
But don't for one minute think he's going soft. Despite the tabloids claiming it's Champions League glory that Sir Alex Ferguson and his players really crave this season, for Rooney the bread and butter of the Premier League title remains the priority and he won't be letting it go without a fight…
The big four are all in there fighting it out for the title. It's much more interesting than last season, isn't it?
Definitely, yes. The last few years it's only really been between two teams, but this year it looks like it's going to be between four. I think it's better for the league and the fans if the title race is more open and the winners will deserve it.
Can you see any other teams breaking up the big four?
I'm not too sure if that's possible. Blackburn and Manchester City have done really well so far and both had a really good start to the season. Portsmouth have also surprised a few people and done really well, but to be honest it's difficult to see anyone breaking into the top four.
Is there more pressure on United this season being reigning champions or last season when the club hadn't won the league for four years?
Last year, we hadn't won it for four years and Chelsea were the clear favourites to win it again so in a sense the pressure was less. But now we've won the league again, everybody expects us to do it again and so there's more pressure on us to retain the title. We had a poor start to the season but then we won eight league games in a row, which put us back up among the leaders. Hopefully we can keep our good form going to the end of the season.
Do you think it's harder to win the title from somebody else or harder to defend it?
I can't say for sure because defending the title is a new experience for me, but personally I don't think it matters too much. Whatever team you play against they always seem to try harder because they're playing against Manchester United. When we travel away from home there's always a full house and their fans are always right behind them. It's the same whether we're champions or not – I certainly haven't noticed any difference between this season and last.
How surprised are you at Arsenal's form this season? After they finished fourth last season, did you expect them to be challenging for the title?
I'm not that surprised. They've got some great players, some exciting young players in particular, and a great manager. They're playing some fantastic football and they deserve to be in the position they are, but we're confident that if they drop points and we keep winning then we can repeat what we did last season. Whatever happens, I think ourselves and Arsenal have been playing the best football in the last three seasons. Even though Chelsea won the league two years in a row I still think we were playing better football.
Did you think the upheaval at Chelsea might cause them to falter? How surprised are you at how well they've done under Avram Grant?
Obviously there was a lot of talk about what could happen when Mourinho left, but it's still the same bunch of players and if anything the whole affair seems to have made them stronger. Avram Grant has come in and they've got some good results and played some nice football. I think there was a lot of unwanted press towards the end of Mourinho's reign and I think it might have affected a few players, but they're looking strong again now.
What were your own experiences of Jose Mourinho? Will the Premiership be less fun without him?
He seemed like a nice bloke. He's obviously a top-class manager who did really well at Chelsea and I'm sure he'll be back in a job soon. I think he was good for the Premier League, a real character. I used to watch some of his press conferences and he would always make you laugh.
Chelsea won the title twice with a strong English contingent and you have yourself Gary Neville, Paul Scholes, Rio Ferdinand, Michael Carrick, Owen Hargreaves plus other homegrown players like Giggs, O'Shea and Fletcher. How important is it to have a nucleus of English or British players?
Really important. You need players who have been brought up with the club, who know the club and can relate to the fans. And I think you need English players to help the foreign players settle in. I don't think it's good to have too many different languages flying around the dressing room.
Last season, United won the league title having only signed Michael Carrick. This season, Nani, Anderson, Hargreaves and Tevez all arrived. Has it taken longer to gel?
With four new players you have to learn how to play together so I think it's fair to say it took a bit of time to gel. But Tevez and Anderson had only just got back from the Copa America so they hadn't had a rest. We had a few injuries so Tevez came back earlier than maybe he was expecting and Anderson trained really hard to get himself fit again and it's paid off because he's playing really well now.
When you see so many top class signings do you think 'Great, we've got an even stronger squad' or 'Blimey, I better be on my game if I want to stay in the team'?
It's a bit of both to be honest. It's exciting knowing you're going to be playing with these players and you're happy that the club are making top signings. But obviously in the back of your mind you know that you're going to have to play well when you're in the team and be on top of your game to make sure you keep your place.
Fernando Torres says it's taking him a while to understand Jamie Carragher. How are Nani, Anderson and Tevez getting on with your accent?
I don't know but I guess they won't understand me because they don't understand English that well at the moment and they're still learning. There's an English teacher in all the time and different players learn quicker than others. I've been very surprised with Nani, who did his first interview in English the other day. He's only been here a few months so all credit to him for trying so hard. As for Carra, I can just about understand him myself so I don't know what it's like for Liverpool's foreign players!
People said that you and Carlos Tevez were too similar to play together. Were you ever worried that might be the case?
Not really. I think if you're playing with any top player you should be able to play together and adjust your game in whatever way you have to. He's done brilliantly. He's great to play with, he creates space for himself and for others, so I think he's been a great addition to the team.
You've now struck up a devastating partnership. What's the secret?
We work hard on certain things in practice but on the pitch I think we're both pretty clever players and know where the space is to exploit. Although we don't speak the same language I think we both understand the way we like to play. In time we'll work on more things and hopefully get better as a partnership.
You seem to be playing further forward this season. How are you finding that?
I love it. I've been scoring the kind of goals I don't normally score, like tap-ins! If I'm honest I'd say it's my best position. It's great knowing that once you get in behind the defence you're through on goal.
In the last couple of season you've been asked to play in a variety of positions. Has that helped to improve your game?
Definitely. I've played in midfield, on the wing and up front and I think that helps you become more aware of the players around you. It's good to know that when somebody gets sent off or you change formations you can always do that job. We've got a few flexible players at United, which is good for the team.
Have you learnt anything from Ronaldo or Giggs about playing out wide?
I speak to Giggsy about it a lot because when we're playing together he can sometimes drift in so then I drift out. His main piece of advice was that if you're not getting involved in the game for long periods don't just wander in. Keep your patience and keep your width and eventually the ball will come to you, so make the most of it when it does. It's very tempting to drift infield, though. It's the same when I'm playing up front. If I'm not involved in the game then I'll sometimes drop back and try and get on the ball.
Many people have said United's signings were made with Europe in mind. How has your emphasis changed this season? Is the Champions League your number one priority?
I don't see the new signings like that. Tevez obviously played in the Premier League last season and did really well. I think Owen Hargreaves is also perfect for the Premier League. I think it's good to have someone like Nani because we know Giggsy isn't going to play every game and Anderson is strong and good on the ball. Obviously they'll be good for us in the Champions League but they'll be just as valuable in the Premier League. Everyone keeps saying that our priority this season is to win the Champions League. Obviously I'd love to win both, but if I had a choice between the two I'd take the Premiership.
Quizzes, features and footballing fun
Get the best features, fun and footballing frolics straight to your inbox every week.