Who is Germany's first-choice penalty taker at the World Cup?
Manchester City's Ilkay Gundogan has scored five penalties for his country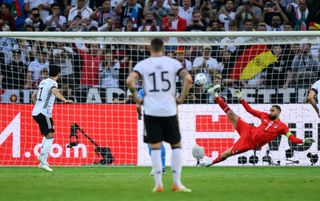 (Image credit: Getty)
German players are well-versed in the art of penalty taking, and their first-choice for the World Cup is Ilkay Gundogan.
Throughout his career, Ilkay Gundogan's success has been based on consistency. A talented midfielder with great tactical awareness, he has thrived under two of the greatest managers of the modern era – Jurgen Klopp and Pep Guardiola.
But it's only been in the last few years that Gundogan has made himself indispensable to the German national team. He's taken on more responsibility and shown his quality on a regular basis, scoring 11 of his 15 international goals from 2019 onwards.
Five of those goals have come from the penalty spot, as Gundogan has demonstrated a cool head and flawless technique under pressure.
His latest success came in the 5-2 thrashing of Italy back in June, helping Hansi Flick's side register a thumping win over the reigning European champions. Gundogan wasn't fazed by the imposing figure of Gianluigi Donnarumma, firing down the middle as the Paris Saint-Germain goalkeeper dived to his left.
Although his record for Manchester City isn't as impressive, with two misses in six attempts, Gundogan is evidently the main man for Germany. Indeed, throughout his career Gundogan has taken 17 penalties, scoring 15 and missing just the two aforementioned for Man City.
Previous efforts against Estonia, North Macedonia, Liechtenstein and Armenia were also successful, giving him a 100% conversion rate at international level.
With Gundogan off the pitch after being replaced by Thomas Muller, the Bayern Munich man stepped up against Israel earlier this year. It wasn't a success as Muller's shot cannoned back off the post after a stuttering run-up.
Despite an impressive strike rate, with 44 goals in 116 appearances at international level, Muller sometimes struggles from the spot. Whether or not he has a starting role at the upcoming World Cup, the 33-year-old offers invaluable experience and a winning mentality.
Together with Matthias Ginter and longstanding Bayern teammate Manuel Neuer, he's one of just three players from the victorious 2014 squad who are still involved under Flick.
Thank you for reading 5 articles this month* Join now for unlimited access
Enjoy your first month for just £1 / $1 / €1
*Read 5 free articles per month without a subscription
Join now for unlimited access
Try first month for just £1 / $1 / €1