Who needs Bayern anyway? 10 things to take into the Bundesliga winter break
Jonathan Harding assesses the state of play at the Bundesliga's halfway mark...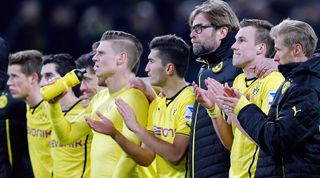 There's more to the league than Bayern Munich
Werder Bremen, Nürnberg and Eintracht Braunschweig kept clean sheets this weekend - heck, two of the three even won. Hertha Berlin's win against Borussia Dortmund (BVB's third consecutive home defeat) fired them into the top six, while Bayer Leverkusen missed out on a setting a club points record against a former manager. Even Freiburg won at home for the first time (against appalling travellers Hannover, admittedly). Hamburg boss Bert van Marwijk's shine has well and truly worn off in northern Germany, and plucky Augsburg fancy sticking around. Who needs Bayern while they're off gallavanting?
Augsburg are here to stay
If there's an unsung team so far this Bundesliga season, it's ballsy Bavarians Augsburg. If only striker Arkadiusz Milik had scored instead of missing a late and glorious one-on-one chance to win Friday's game against Frankfurt (who still haven't won at home), things would have been even better. Twenty-one goals in 17 games may not sound like much to boast about, but it's been enough to win them 24 points and put them in the top 10.
Their collective force has endeared them to many after promotion from the 2.Bundesliga in 2010/11, and after two seasons staving off relegation they're now proving how keen they are to be league regulars. Augsburg may be a club of few names but now they are teetering on the verge of becoming a club intent on making some. Andre Hahn, one of the league's quickest players and whose six goals have proved crucial so far this season, was still playing for third pision Kickers Offenbach in December of last year. They're certainly sticking around - and that's good news.
Gladbach have stumbled but remain well poised
Borussia Mönchengladbach have been exceptional so far this season. Although their 2-2 draw with Wolfsburg on Sunday blemishes an otherwise perfect home record, the North Rhine-Westphalia side are now undefeated in eight and have climbed above Dortmund into third. It's no secret that Lucien Favre's side is built around speed, technical quality and stamina. But what's most impressive is that the Swiss manager has continued this ethos despite losing core players in the last few years.
Favre has got forward Raffael soaring, after previously working with the Brazilian at Hertha Berlin, while Germany international Max Kruse has fit the system perfectly since joining in the summer. Despite the aforementioned duo's heroics it's Christoph Kramer, on loan from Bayer Leverkusen, who's been the signing of the season. In his holding midfield position, the machine-like 22-year-old has covered 13km or more in every league game so far. Oh, and then there's evergreen Venezuelan Juan Arango and his magical set-pieces (opens in new tab). The 33-year-old, however, is out of contract at the season's end. Go on Lucien, keep him on for another year why don't you?
Defiant Wolfsburg are staying amongst it
They just won't be beaten will they? Wolfsburg are finally playing like the side they were always capable of being, and under Dieter Hecking too. It's remarkable that the man with formidable eyebrows and far-from-inspiring previous is at the forefront of Wolfsburg's consistency. The late equaliser to draw in Gladbach means the northern side have just enjoyed their best-ever first half of the season – even better than their title-winning season of 2008/09 when Grafite and Edin Dzeko lit up the Bundesliga. With 19-year-old Maximilian Arnold the new attacking talent in town, the question remains as to whether former main man Diego's petulance is worth putting up with for those flashes of brilliance.
Hertha Berlin are quietly endearing
Hertha's 2-1 away win against Dortmund was their fanfare moment, but it's been coming. Improved away form and a tighter defence have been key to their sixth-placed position, and there have been some standout names. Japanese star Hajime Hosogai has proved crucial in holding midfield, Tolga Cigerci (on loan from Wolfsburg) has added bite, while Colombian striker Adrian Ramos (11 goals, four assists) is doing all he can to be on the plane to Brazil next summer. There's no reason to doubt Hertha's 2014 won't be as successful as their 2013 - especially when they can beat Dortmund with an 18-year-old reserve goalkeeper (Marius Gersbeck) in between the posts.
There are holes in Hoffenheim's entertainment
Yes, there have been 74 goals in Hoffenheim games and yes, that's entertaining, but the Sinsheim outfit must shore up their defence for it to be entertainment of value. Saturday's 1-0 away defeat to lowly Braunschweig spoiled what has otherwise been a positive first half of the campaign. A solitary goal from a debatable penalty was hardly the problem. Hoffenheim had chances of their own but, for only the second time this season, they failed to score. When, and not if, the likes of Kevin Volland (opens in new tab) and Roberto Firmino do leave, Hoffenheim will have to rely on the other talents in their ranks. Kai Herdling, their 29-year-old striker, certainly isn't the man.
Is time up for Mirko Slomka?
Hannover 96 have enjoyed two fairytale Europa League adventures in recent years, and with their humble squad, manager Slomka deserves credit. But those times are long forgotten at a club that hasn't won away from home all season. It's not just this year, though - in the last two seasons Die Roten haven't picked up a single point at teams who finished in the top half. As infamous as Hannover's wretched away form is, their 2-1 defeat to Freiburg this weekend poses the pivotal question: are they lethargic on the pitch because they no longer believe in Slomka's once-hailed vision, or is it that the players, the new ones in particular, simply aren't good enough? We might not be hearing much from them for some time.
Nürnberg are still without a win
Seventeen games, 17 shots onto the woodwork and no wins. Fortunately, thanks to some indifferent form elsewhere, Nürnberg remain only four points adrift thanks to their 11 draws. On Saturday night the win column should really have lost its albatross-like zero, though. They dominated Schalke and were denied by the bar, visiting keeper Ralf Faehrmann and Lady Luck (a touch-and-go offside effort was ruled out).
Gertjan Verbeek has been stubborn with his formation ever since he arrived. There are still question marks about the system stretching some individuals beyond their means (here's looking at you Timothy Chandler) but the continuity has certainly seen improvements. Now they just need to find someone who can score. Regularly.
There's a new Shinji in town
Thomas Tuchel and Shinji Okazaki. The pair sound more like the pen friends you read about in your school textbook than a footballing manager and his tactical showpiece. Okazaki struggled at Stuttgart where, in a desperate attempt to find the back of the net, he wore his Japan shirt underneath his club kit as a result of his better international scoring record. So how does a striker infamous for not scoring becoming Mainz's leading man? The tactically astute Tuchel has got his side playing to Okazaki's strengths and, with the striker now full of confidence, it's all going his way - just look at the stoppage-time winner he scored against Hamburg this weekend. The initial header is one of surprise. And then, just in time, the 27-year-old realises he's in position to poke home and duly does. Mainz claimed it 3-2.
Werder Bremen are consistently inconsistent
Werder are nearly as despairing as Schalke when it comes to stringing results together. Their 1-0 win against a tired Leverkusen on the final Bundesliga weekend of 2013 is baffling. Not only did they keep a clean sheet, virtually unheard of for that defence, but they held on to a lead. "The last six months have felt like six years," moaned manager Robin Dutt. Well, yeah. And he's not even a fan.
Thank you for reading 5 articles this month* Join now for unlimited access
Enjoy your first month for just £1 / $1 / €1
*Read 5 free articles per month without a subscription
Join now for unlimited access
Try first month for just £1 / $1 / €1
Get FourFourTwo Newsletter
The best features, fun and footballing quizzes, straight to your inbox every week.