Why Benzema is too important to leave Real Madrid this season
John Robertson highlights how Real Madrid missed Karim Benzema this past weekend and explains why the striker is essential to the performance of Bale and Ronaldo...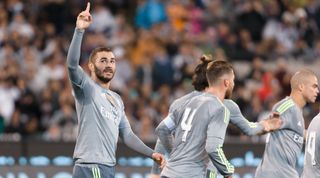 As the old saying goes, you don't realise how good you've got it until it's gone. That's exactly the cliché that hit Real Madrid against Sporting Gijon, and it's the one that'll continue to hit them should Karim Benzema be absent. Seen typically as the attacking support act to the main event of Cristiano Ronaldo and Gareth Bale, Benzema's importance to Los Merengues' tactical harmony and positional diversity was made abundantly clear in his injury-induced exile. Manager Rafa Benitez tried to improvise by playing Jese up top, with Bale, Ronaldo and Isco in support, but to say the approach was offensively impotent is an understatement.
With so few high-quality chances created and a distinct lack of understanding about how to organise themselves up front, Real's performance against Sporting serves as the perfect example through which to understand Benzema's quality. Benitez will surely be counting down the minutes until the Frenchman is once again ready for selection, meaning Arsenal fans should not be holding their breath for his arrival.
Without a clue
A big part of the problem resulted from Real's most advanced playmakers not understanding where they should play in relation to each other in certain situations, particularly in instances in which Toni Kroos and Luca Modric were advancing and looking to play a forward pass. Frequently, all four of Isco, Jese, Bale and Ronaldo would be grouped together, in a single line, level with Sporting's backline.
Clearly, the idea was for someone to make a late run and latch on to a through-ball. Once the game had settled into a rhythm after the first 20 minutes, however, this tactic was wholly undermined by Sporting's decision to have both central midfielders play holding roles in front of the defence. With six or more men to play through at almost all times, combined with the lack of horizontal movement up front, Kroos and Modric struggled eternally to connect with meaningful passes.
The lack of options, oddly, weren't born from a lack of movement; Real Madrid's forwards were adept at switching positions with one another regularly. However, they would only do so within a tightly confined space. You can see how rigidly the frontline stuck to central areas in the Stats Zone graphic above, Madrid's match last season against Cordoba (and featuring Benzema) used as a comparison. So rare was it for Ronaldo to find himself on his favoured left wing position that it seemed as though left-back Marcelo was playing that entire flank by himself. Ditto new signing Danilo on the right. Predictably, this lack of support forced the full-backs into getting rid of the ball earlier than they would otherwise like. The resultant crosses were of largely acceptable quality, but with Ronaldo the only genuine aerial threat their impact was muted.
As you can see, crosses rarely connected and chances created in dangerous areas within the box were few and far between. Benzema's predatory and diversionary movement was sorely missed.
Boxed out
With a regularity that bordered on the tragic, Real's crosses into the box focused firmly on attacking the back post. While Ronaldo perhaps should have scored with his head on one such chance late in the game, the predictability of motion within the box allowed Sporting to further concentrate their defensive efforts within an already small area of operations. Jese never seemed interested in making those runs to the near post that would potentially have stretched Sporting's centre-backs and forced the opening of more space between them. Benzema would have done exactly that. More than that, though, he would have performed a similar space-creating role right across the attacking third. Benzema is a master when it comes to peeling off to one outside zone or another, drawing a defence out of shape and creating space for his team-mates centrally. This is evidenced through the areas of the pitch that he frequently receives possession.
Jese, by comparison, picked up the ball through central areas in front of Sporting's box... the exact same zones that were being defended more aggressively than any other part of the pitch. Unsurprisingly, Jese managed just two shots - neither troubling the opposition - and created zero chances. Only when dropping deep did he pick the up ball wide, leaving a gap up front that neither Modric nor Kroos were keen to fill.
ALSO ON FFT.COM
LA PREVIEW Real need to win big
Real's lack of genuine and consistent penetration was a result of naivety more than a lack of individual quality, clearly. Without Benzema leading the line through his experience of knowing precisely how to work the more creative players around him into the game, Benitez's team never looked like carving out a clear-cut opportunity. Instead, they relied on shots from distance and hopeful balls to Ronaldo's head.
Benzema might not score as many as the likes of Ronaldo, but his intelligent movement on the pitch plays an enormous role in the breaking down of opponents. Benitez will surely be hoping that his only recognised No.9 will stay healthy following his present layoff. The performances of Bale and Ronaldo rely upon it. Sell Benzema to Arsenal? On the evidence presented by his absence... no chance.
More features like this every day on FFT.com (opens in new tab)
Thank you for reading 5 articles this month* Join now for unlimited access
Enjoy your first month for just £1 / $1 / €1
*Read 5 free articles per month without a subscription
Join now for unlimited access
Try first month for just £1 / $1 / €1