Why the cloud over Spain won't stay for long – not when Iniesta's looking this good
Spain began their Euro 2016 campaign with a narrow win against the Czech Republic after a masterful performance from Andres Iniesta. Kiyan Sobhani explains why the Barcelona midfielder will be crucial to La Roja's title defence...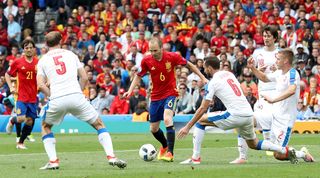 This perplexing Spain team is making history – they are the most dominant team that can't score. It's bizarre, and in a match where they pinned the Czech Republic deep, managed 72% possession, slung out 442 (not the formation, that's the actual pass discrepancy) more passes and carved out 18 shots, they only squeaked by – in the 87th minute at that.
And that's fine. On another day, Alvaro Morata's six-yard shot from an inswinging David Silva cross might not be masterfully closed down by Petr Cech; and on another day, Aritz Aduriz's acrobatic kick doesn't stray just wide. Both Aduriz and Morata are proven finishers, and beyond those two, Spain have enough direct players to capitalise on the build-up that David Silva and Andres Iniesta concoct. Nolito is a direct player who can create his own chance from the left flank, and both Sergio Ramos and Gerard Pique have a knack for scoring from set-pieces.
The Spanish have proven themselves capable of breaking down opposition in so many ways, until the wear and tear of infinite passes pinged all around them becomes so overwhelming that they collapse. It takes a disciplined team to resist la Roja's penetration for 90 minutes. Many teams have gotten as far as 80, but that's when Spain really start blitzing through tiring defensive systems, kicking into high gear and revving through unnerved defenders.
Their ability to control a game and kill it with their passing means they don't necessarily have to score more than one goal, as was the case in the knockout stages of their World Cup 2010 run (when they won 1-0 in four consecutives fixtures).
Ammunition everywhere
But if they ever find their latent goalscoring prowess, it will be their watershed moment. Spain are favoured but not favourites for Euro 2016; should they rediscover a deadly touch, that will change.
Before this tournament started, many were pigeonholing Vicente del Bosque's team as a second or third-tier favorite. But this team has depth, and lots of it. They boast two strikers who mesh with the rest of the team much better than Diego Costa did, and are charged by one of the best midfielders to ever play the game.
When Iniesta performs the way he did against the Czech Republic, Spain are a marvel to watch and can put their opponents into submission quickly. The Barcelona conductor is the soul of the team, and after a terrific season with the Blaugrana where he showed no signs of ageing, he has continued his form into the Euros; what he's bringing to the table for Spain now might be undervalued.
Iniesta, one of the best players to ever play in his position, is still at his peak. And as long as he is, he makes the transition into the post-Xavi era easier to deal with.
All about Andres
Iniesta showing up to this tournament paints a picture for all of Europe to see – that you can't sleep on this team. The 32-year-old epitomises everything about the aesthetic machine that Spain is; he find holes, slashes dissective through-balls through teams' hearts, and generates instant attacking moves despite playing in slow-motion. He catches napping defenders off-guard time and time again.
This move below captures what Iniesta's slow-motion, surgical passes can do. Here, he crafts a pass from deep that needs to get through five or six defenders, and somehow finds the darting run of Juanfran in the box. The instant attack can be paralysing.
It wasn't just Iniesta's vision in that particular move, or his assist to Pique for the game-winning goal that stood out. Throughout the entire match, Iniesta – and Spain – were knocking on the door. It's his ability to get out of tight spaces, glide out of precarious positions, and his uncommon talent to slow down the game in general that makes him so hard to defend. He's simple, yet unpredictable and unique.
Here, he picks the ball up deep in his own half and ploughs through pockets of empty space until he finds himself in a position to release Morata with a trademark through-ball:
The Czechs defended well for the majority of that match in Toulouse, but eventually they cracked. Against air-tight defences, Spain will need help from their galloping wing-backs, particularly Jordi Alba on the left flank. He's excellent at making overlapping runs, and Iniesta will pick them out, providing an extra dimension of attack that typically enables a cross and chance at goal.
Don't write off Roja
The way that Spain opened this tournament, from the performance to the end result, is how Del Bosque's men will try to leave their mark in France.
The haunting 1-0 loss to Georgia in a pre-tournament friendly doesn't embody what they're really about, and Monday's match was a much more accurate depiction of how this tournament could play out for la Roja.
And yet, it hasn't been seamless. They can improve so many aspects of their game, and while that could mean certain flaws end up costing them, eventually you have to figure Spain will start taking their chances more efficiently.
READ THESE
Leaky at both ends: How Stats Zone saw Spain 1-0 Czech Republic
The two Pogbas: Why France just isn't that fussed if Paul is dropped for Albania
8 Stats Zone screens that explain why Iceland annoyed Cristiano Ronaldo
If striker Morata has proven one thing in the past two or three years, it's that he shows up in big games; Aduriz, meanwhile, is a lethal targetman who has seemingly improved with age like a fine wine. Nolito's ability to cut inside with curling shots from the left provides a goalscoring threat from the wing, and for all the criticism Del Bosque has received for bringing Cesc Fabregas and Pedro to France, both of those players can help take a more direct approach to find the back of the net.
Spain have work to do, and their toughest games are well ahead of them. Iniesta's match-altering ability helps set the tone, though, and the overall message from game one is clear: Spain are here to win.
Thank you for reading 5 articles this month* Join now for unlimited access
Enjoy your first month for just £1 / $1 / €1
*Read 5 free articles per month without a subscription
Join now for unlimited access
Try first month for just £1 / $1 / €1