Why Luis Enrique is the best man for the Barcelona hot seat
David Cartlidge explains why the Catalan outfit have reacted to their first trophyless season since 2008 in the right way...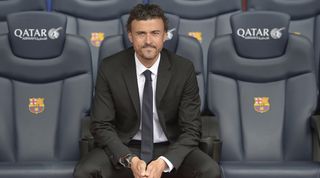 A return 'home'
Although Luis Enrique's boyhood club was Sporting Gijón, it was at Barcelona that the 44-year-old not only experienced his best years as a player, but also enjoyed his first success as manager. Lucho played more than 300 times for Barça from 1996-2004, and in that period won seven major honours. A club like Barça, where the style and ideology is so important, needs someone who shares those values in the dugout. Enrique the player was a passionate, aggressive type who never relented in any challenge put at his door, and those were the values he took to Barça B when Guardiola personally referenced him for the role of manager.
With Barça B he gained promotion to the second division in the 2009/10 season, before leading the team to their record Segunda points haul (71) the next. Tata Martino's inability to take on board the values preached in La Masia meant his battle to win hearts and minds was half lost before it had even begun, but Enrique just 'gets it' – wearing the captain's armband from 2002-04 probably helped.
Management style
An article recently emerged in Spain dissecting what some Barça players had referred to as ancient methods used by Tata Martino. There should be no such problems with Enrique, who is a progressive coach, never willing to stagnate or settle for second best. His work on the fitness of the players could well be the most significant change he brings to the team, especially with Barça's lethargic demeanour all too often negating their excellent footballing ability in the season just gone. Lucho is a believer in the physical and mental sides of the game leading to success, and he brings with him a coaching team that can revitalise even the most disbelieving of individuals.
Among them is Rafael Pol, a man who will work primarily on the fitness side of training. If those who have previously worked with him are to be believed, he could have startling results in a very short period of time. A leaner, meaner, tougher Barça will be the directive from day one.
Also noted by those who have worked with Enrique has been his ability to relate and identify with players, drawing on experiences from his own playing career, and building relationships steadily within a camp. Yet in terms of discipline Enrique is a hardliner, perhaps a nod to his time spent under the tough-to-please Louis van Gaal. He has shown a willingness to accept mistakes, but only if a desire to correct the error is evident.
Playing the right way
Enrique's style borrows heavily from the Barça traditions, but he has also shown a desire to bring more variation and directness to his team's play. With both Roma and Celta there were spells of easy-on-the-eye football, with slick combination play and fluid movement in attacking areas. Enrique has as much time for false nines as anyone, but he knows when to utilise a more direct style of play. Possession is of course key, and he'll be looking to repeat the kind of figures he achieved with Barça B – an average 65.9% possession and 546 passes per match.
Rotations and innovation
With Celta, Enrique kept his squad on their toes and prevented his players from growing stale by picking a different XI nearly every week. It kept players fresh, and it also kept them hungry. His ability to judge games that aren't going well and then offering a swift, decisive reaction also improved immeasurably over the course of the season with the Galicians. Barça need someone on the bench who can read the pattern of the game; they have a ridiculous amount of talent on the field but at times even the very best players need guidance. Enrique, the authoritarian, brings that to a team.
While operating with Celta's smaller squad, there was little hesitance when it came to innovating, and several players found themselves progressing in a variety of roles they hadn't previously encountered, let alone succeeded in. Levy Madinda, a central midfielder by trade, was used as an interior (the widest player in a narrow midfield). Rafinha meanwhile, blossomed in a wide right role, devastating opposition defences with his pace and willingness to carry the ball forward positively.
The Roma and Celta experiences
Roma is a stick regularly used to beat Enrique, but the truth is there were forces working against him from day one during his season with the Italian side. It was a case of the wrong man at the wrong time, and Roma needed stabilising rather than radicalising, as Enrique set out to do. At Celta we were reminded why Enrique was so highly rated in the first place. There he took a team that the previous season had only escaped relegation on the final day, to the verge of the European places.
After the club lost fan favourite and top scorer Iago Aspas to Liverpool, a state of depression hung over the club, but Enrique sought to bring in La Masia product Nolito to soften the blow. The 27-year-old former Benfica man did more than that, surpassing Aspas's goal haul of the previous season.
Youth
The value of the cantera can never be overstated at Barça, and Enrique will most likely harness the youth academy better than most. When in Rome, Enrique made the decision to have the Giallorossi youth side train beside the first team on the same schedule and with the same system. This was done with the aim of promoting a better understanding between the youth side and first team, making the eventual jump a smoother process.
At Celta he was handed a squad of 24, with half produced in Madroa, Celta's very own production line. Upon arrival he requested a dossier on Celta's talent from top to bottom, and witnessed a slew of Juvenil A and B games before even taking charge of his first game with the full team. Enrique also handed out four debuts to players while at the club, and progressed Rafinha at a rapid rate that showcased the full level of his potential. The young Brazilian will be at Barça too next season, and his ambition could well propel him into the first team before long.
Thank you for reading 5 articles this month* Join now for unlimited access
Enjoy your first month for just £1 / $1 / €1
*Read 5 free articles per month without a subscription
Join now for unlimited access
Try first month for just £1 / $1 / €1