Why Mat Ryan to Liverpool would be the wrong move for all parties, for now at least
Belgian expert Wim Van Walle explains why the Reds – and Ryan – are better off focusing their attentions elsewhere...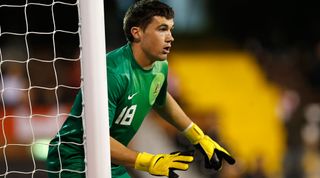 To say that Liverpool aren't having the best of seasons is a bit of an understatement. Having come so close to that elusive 19th league title, the Reds have been left frustrated this term, seemingly unable to mount anything remotely resembling a challenge.
FACT FILE
Date of birth: April 8, 1992
Place of birth: Plumpton, Australia
Height: 5ft 11in
Position: Goalkeeper
Current club: Club Brugge (78 apps)
Previous clubs: Central Coast Mariners, Blacktown City
International: Australia (16 caps)
It's a goalkeeper's lot that eyes turn his way when things are going wrong, and it's therefore not a huge surprise that Simon Mignolet has been highlighted as a key culprit in the Reds' demise.
The Belgian has been pilloried in the press and on social media, with former Anfield No.1 Bruce Grobbelaar's scathing attack (in which he slammed the Belgian for being "worse than Dracula" when it came to dealing with crosses) a particular low.
Yet while it's fair to say Mignolet is not enjoying his best form, it seems harsh to label him the club's main problem.
When Brendan Rodgers dropped Mignolet for Brad Jones, Liverpool conceded five goals in two league games. Since Mignolet's return, the 26-year-old has shipped five in six and kept two clean sheets, making it six for the season. It isn't entirely ridiculous to say that without Mignolet, Liverpool could be in an even worse state.
But an extra goalkeeper is still high on Rodgers' list of priorities.
With only two goalkeepers on the books and one injured, pulling in another makes a lot of sense. Mignolet has always been his own harshest critic, and an increased fight for his place is certain to get the best out of him.
Since returning against Burnley he seems to be moving back towards his best form, culminating in an authoritative performance against Aston Villa last weekened which was hailed by his manager as 'outstanding'.
Belgium's best
Mathew Ryan, Australia's No.1, is reportedly one of Liverpool's main targets. What this proves is that the Reds don't just want a backup for Mignolet, but a solid second option for the future. It's logical thinking. Ryan, currently at Club Brugge, is highly rated and, at only 22, a massive prospect for the future. To get him in now would be good business financially, as his value is only likely to rise in the coming years.
Ryan has been outstanding for Club Brugge, both in the Belgian league and Europa League, and was rightly voted Belgium's best goalkeeper of 2014.
As former Club Brugge sporting director Arnar Gretarson said in October: "I don't think he will be at the club much longer. He will move to a bigger club, possibly as soon as next year. We know he won't stay at Club Brugge forever. He has enough quality to play in the Premier League."
But while Ryan may be too good for Belgium, how much does that really tell us? With all due respect, the Jupiler Pro League is hardly the best place to judge a player.
England's top flight is an enormous step up, and a move to Liverpool would only mean more pressure for Ryan. In the past three years, Romelu Lukaku and Kevin De Bruyne made the move from Belgium directly to a top English club in the form of Chelsea, and both struggled to make their mark.
Lukaku has now found his place at Everton, while De Bruyne joined Wolfsburg after a frustrating time at Stamford Bridge. Both are excellent young players who will only get better, but serve well as an illustration of the gaping void between Belgium's top division and the Premier League.
Blue is the colour?
If Ryan wants to make the move to England, he'd be better off at a mid-table club where he can really establish himself. Right now he wouldn't keep Mignolet out of the Liverpool line-up.
Hull are also linked, and Everton are said to have been monitoring the Australian for some time. With Tim Howard injured, a move to Liverpool's arch rivals would almost certainly mean playing time, and given Howard's age (35), it wouldn't be implausible for him to establish himself as the Toffees' new No.1 in the foreseeable future; certainly a much better way to build a career than warming the bench at Anfield.
As for Liverpool, if they want an instant fix, they may need to look elsewhere. Much like recalling Divock Origi from Lille won't magically solve their problems up front, signing Ryan won't change much at the back. Like Origi, Ryan is very talented but probably not yet ready to perform at the highest level.
In which case, Liverpool would spend a lot of money on him but still have the same problem. He won't come cheap, having signed a new deal at Brugge only last November and picking up last season's individual honour in Belgium.
Rodgers would do better helping Mignolet back to his best, finding a backup goalkeeper at a reasonable price and looking for a real replacement for Daniel Agger. Then there's the small matter of finding a new Steven Gerrard in the summer. Over to you, Brendan...
Thank you for reading 5 articles this month* Join now for unlimited access
Enjoy your first month for just £1 / $1 / €1
*Read 5 free articles per month without a subscription
Join now for unlimited access
Try first month for just £1 / $1 / €1
Get FourFourTwo Newsletter
The best features, fun and footballing quizzes, straight to your inbox every week.