Why Real Madrid fans might have to endure Florentino Perez's mismanagement for years
The Bernabeu is restless place and recently began protesting Perez's presidency, but, as Kiyan Sobhani explains, it looks unlikely that anything will change at the top in a hurry...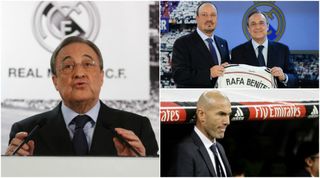 The first time that Real Madrid (opens in new tab) president Florentino Perez opted to resign from his post was in February of 2006 – midway through a season on the tail end of the Galactico era.
Zinedine Zidane was playing out the final year of his contract, Raul and Roberto Carlos were in their post-peak and Madrid were about to go through another disappointing season – failing to progress past the last 16 of the Champions League for the second consecutive year.
Florentino stepped down, but not before shuffling through four coaches in the one-and-a-half seasons leading up to his resignation. He claimed the club "needed a new direction".
Dismissing Vicente del Bosque – far and away the most successful coach the club has had in the modern era – had come back to haunt him; so too, his decision to part ways with defensive anchor Claude Makelele just three seasons prior, not to mention his meddling with the football side of things in general.
Perez is now going through his second tenure and he's feeling the heat. With his decision-making over the course of the past two season having hampered the club's success on the pitch, the 68-year-old is arguably feeling more pressure now than he did when he first stepped down 10 years ago.
Feelings of unrest
Chants of "Florentino resign!" rang loud and clear around the Bernabeu over the weekend when Atletico Madrid enjoyed yet another league victory over their cross-city rivals. The message was quite clear: the fingers were being pointed at Perez and no one else.
For once, Florentino has no one to deflect the blame to. Zidane was tossed onto the fire but unless things become absolutely catastrophic on the pitch as the season slowly draws to a conclusion, no one will ever fault the beloved Frenchman. Perez would be digging his own grave if he attempted to blame the head coach for any of the calamities Real Madrid are currently going through.
The mood at the Bernabeu is understandable. Real Madrid have been the most prolific spenders in the sport's history and they have virtually nothing to show for it. Since Perez's return in 2009, Real Madrid have won just one league title.
The fans have grown tired, with the general feeling that the team was better off when the manager was the one making decisions, not El Presidente. They forget, though, that chants of 'Florentino resign' are as faint as they are loud – they're mute, helpless. The grass isn't always greener on the other side, for one, but Madrid fans might not even get to see what that grass looks like.
Making his own rules
Florentino's return to the Bernabeu in 2009 was a completely uncontested affair. Back then, the requirements for being a presidential candidate were a little less ridiculous than they are now – but ridiculous nonetheless. Perez had to put down a €57,389,000 guarantee in order to run for president, a figure so wild that no one else could afford it.
Three years later, Perez led a discussion with the board to revise Real Madrid's presidential candidacy prerequisites, making it even more difficult for anyone to run against him. All potential candidates must now be a club member for at least 20 years, while providing a bank guarantee of 15% of the club's annual budget – a figure projected to be close to €100 million or more next season.
Given that Perez is currently the 12th richest man in Spain, he's forecasted to be Real Madrid's president for quite some time. There are no signs to indicate that the 11 individuals who are ahead of him in the net worth column are club members at all – let alone for 20 years.
Ramon Calderon, the ex-Real Madrid president, once joked that Perez might as well change the requirements to consider only those whose names start with 'F-l-o'.
The astronomical amount of capital required as a guarantee to run for presidency at Real Madrid is not necessarily a huge obstruction, depending on how you look at it. The rules require the candidate to provide the bank guarantee – which means the candidate can find sponsors to fund their campaign. But it requires some sort of ultra-reputable person to retain that sort of funding.
A lack of identity
Real Madrid might yet win the biggest prize of all in the Champions League. If that happens, the chants begging for Florentino's resignation may subdue, but that might only encourage Perez to continue his ways without realising the bigger picture – that there are fundamental flaws in his decision-making process and the odd trophy here and there only masks the underlying problems that the club has. Namely, the lack of stability and continuity.
More specifically, there is a lack of an identity, something which their rivals Atletico and Barcelona have established and run away with.
There is a consensus brewing at the Bernabeu now that the team's lack of identity is directly correlated with the team's lack of titles, and that a true identity can never be implemented so long as Perez restructures the club as often as he does. The pension is happy to change everything from the team's core players for marketing reasons to desperately flipping through coaches with contrasting styles through short time spans.
Now Zidane – who had never lost to Atletico Madrid as a player – has become the third Real Madrid coach, alongside Jose Mourinho and Carlo Ancelotti, to have lost to Diego Simeone. The Argentine is a man who has implemented a certain identity with his Atletico team that sees them grind out wins with their aggressive pressing and defensive scheme that's incredibly difficult to penetrate.
Simeone will argue that this was always Atletico's identity and he's quite right – all he did was fortify a latent identity and run with it.
The problem is that no one really remembers just what Real Madrid's identity should be. What would it look like to give the team some continuity? How much patience would it require?
MORE REAL MADRID
La Liga Loca: Madrid fans ready to ditch Perez
5 things for Real to compete with Barcelona
La Review: Blancos hanker for Perez's head (opens in new tab)
5 talking points from Madrid Derby (opens in new tab)
Perhaps what Real Madrid were renowned for most during their peak spell at the turn of the century was their direct football – aesthetically pleasing, possession-based and direct. Their next successful stint was one that began with Mourinho's league title and ended with Ancelotti's Decima run. Real Madrid were deadly on the counter.
It's clear that whatever the identity needs to be, it was never meant for Rafa Benitez's dull and defensive ideologies. Benitez is a mostly successful coach, but he wasn't suited for the Bernabeu and Florentino's lack of patience with Ancelotti came at a great cost.
How he reacts to the way this season has unfolded will be a huge measuring stick of where this team is headed under his reign if he continues as president.
More features every day on FFT.com (opens in new tab) • More Real Madrid
Thank you for reading 5 articles this month* Join now for unlimited access
Enjoy your first month for just £1 / $1 / €1
*Read 5 free articles per month without a subscription
Join now for unlimited access
Try first month for just £1 / $1 / €1
Quizzes, features and footballing fun
Get daily World Cup 2022 news, updates and other football frolics to your inbox
Quizzes, features and footballing fun
Get daily World Cup 2022 news, updates and other football frolics to your inbox
Thank you for signing up to Four Four Two. You will receive a verification email shortly.
There was a problem. Please refresh the page and try again.