Vintage Simeone vexes the Bernabeu again: 5 things that got us talking after Real Madrid 0-1 Atletico Madrid
Thore Haugstad was in the press box at the Santiago Bernabeu to analyse the Rojiblancos' latest success over their city rivals using Stats Zone - FREE on iOS and Android...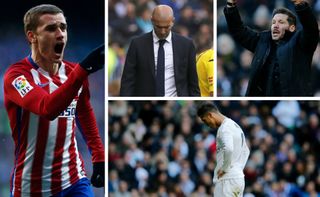 1) Atletico press high
If you want to summarise the tactical elements Atletico Madrid have come to master under Diego Simeone, this 1-0 victory at the Santiago Bernabeu would be a good introduction. It was a vintage display from Los Colchoneros, built on a rock-solid defensive shape, industrious strikers and an unrivalled ability to harass and frustrate opponents. Real Madrid had scored 33 goals in their last six league games at home, yet Atletico showed why they had shipped just two in their last six games on the road.
Facing Zinedine Zidane's 4-3-3, Simeone deployed a 4-4-2 that featured aggressive pressing. Strikers Antoine Griezmann and Fernando Torres pressed Sergio Ramos and Raphael Varane, while behind, widemen Koke and Saul tucked inside to help central midfielders Gabi and Augusto Fernandez close down the midfield trio of Toni Kroos, Luka Modric and Isco. They pushed high, and even Keylor Navas was pressed into a handful of long kicks.
That both Gabi and Augusto took up such advanced positions left a large gap between defence and midfield, but Simeone knew Madrid would have trouble exploiting it when put under pressure, and was largely proven right. Particularly in the first half, Madrid could be seen struggling to play their way out, with all midfield options marked. That left the forward trio as the best option, but when they got the ball to feet, Atletico's defenders rarely let them turn. If the front trio did manage to retain the ball and start a counter, Gabi and Augusto were quick to retreat.
The pressing was not just an opening strategy. Atletico kept doing it for periods throughout the game and, as late as the 85th minute, they put several men close to the Madrid penalty area to force Navas to kick long. One of them was Gabi, underlining how Simeone was happy to send his defensive ball-winners high up the pitch.
2) Griezmann and Torres help midfield
But the pressing was only part of the overall defensive plan. Doing it constantly was never going to be possible, and Atletico sat back for long spells as Madrid tried to find openings.
Key to keeping a solid shape was the work of Griezmann and Torres. As Madrid recycled possession, the duo dropped back to 30 yards to cover space just in front of their midfield four, and they often managed to frustrate Isco, Modric and Kroos as they tried to create openings for the home side.
Griezmann in particular made a series of tackles and ball recoveries deep inside his own half, and when the Frenchman combined with Filipe Luis to score the only goal of the afternoon on 53 minutes, thus ending his five-game drought, it crowned a display that had already merited plaudits.
3) Compact shape frustrates Madrid
The work of Griezmann and Torres made it easier for those just behind. With both positioned so deep, Simeone essentially had his whole team covering a zone stretching across 15-20 yards outside the box. The two narrow wide midfielders took turns shuffling out to close down the Madrid full-backs, while in the centre, Diego Godin and Jose Maria Gimenez kept their customary high standards in dealing with crosses and runners.
This compactness practically eliminated the space between the lines in which Cristiano Ronaldo, Isco and James Rodriguez like to operate. The trio were positioned narrowly as Madrid attacked, with the full-backs providing width, but each usually found himself surrounded by opponents.
Torres and Griezmann also eliminated several possible passing lanes from Modric and Kroos by providing an extra layer in front of the midfield. On one occasion, Modric actually managed to find James between the lines, but so narrow where Atletico that four opponents surrounded him and robbed him of the ball.
As the graphic shows, Madrid exchange passes pretty much everywhere except the square in front of the backline. Correspondingly, Atletico made relatively few of their tackles in the same zone.
4) Zidane's playmakers go missing
Although this was efficient, Madrid were not helped by the contributions of their chief playmakers.
With Gareth Bale injured and Ronaldo practically operating as a centre-forward, much of the creative responsibility in the final third was left to Isco and James, yet neither appeared sharp, with Isco having some strange touches such as when he fumbled the ball over the byline, or sent a pass straight to an Atletico player before shaking his head in disbelief.
As often, Isco drifted towards the left to try to overload the zone close to Ronaldo, but Saul tracked back diligently and made several tackles in his own half. Madrid also missed Marcelo, with his replacement Danilo more accustomed to playing on the right.
Like James, Isco also tried to wander in between the lines, but Atletico let nobody slip through. The result was an unproductive afternoon for both playmakers; James was taken off on 57 minutes, and Isco 70.
5) Cristiano fluffs his lines
While Madrid created less than they had hoped for, and only produced two corner-kicks, they did engineer some opportunities to find the back of the net. Karim Benzema dragged a shot wide in the first half, and Borja Mayoral, who replaced him at the break, was presented with a decent chance inside the box.
Yet the biggest opening fell to Ronaldo three minutes into the second period; he was played free to fire at Jan Oblak, only to direct his finish wide. Later, Ronaldo had another big chance when afforded a free header, but his effort went straight at Oblak.
Those misses proved costly and meant Ronaldo has now failed to score in his last five games against Atletico. Madrid duly left the pitch to a chorus of jeers. As for the victors, it was a characteristic defensive masterclass. "We were Atletico Madrid," Simeone told the press after the match. "This match clearly defines us as a team. It represents us. This is who we are."
Analyse Real Madrid 0-1 Atletico Madrid yourself using Stats Zone
More features every day on FFT.com • Analysis
STATS ZONE Free on iOS • Free on Android
Quizzes, features and footballing fun
Get the best features, fun and footballing frolics straight to your inbox every week.
Thank you for signing up to Four Four Two. You will receive a verification email shortly.
There was a problem. Please refresh the page and try again.