Why Real Madrid's thumping win at Atletico has cast doubt over a BBC future
By Thore Haugstad published
The results aren't lying, writes Thore Haugstad: Zinedine Zidane's side are doing better when Bale, Benzema and Cristiano aren't on the pitch at the same time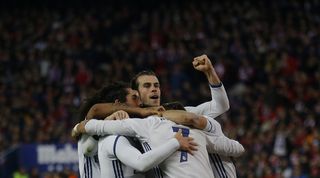 In hindsight, the horrifying list of absentees was the best thing that could have happened to Real Madrid. On Saturday night, Zinedine Zidane travelled to the Vicente Calderon without his chief midfield enforcer, key playmaker and two first-choice centre-backs – all while on a run of just one clean sheet in 11 games that included a 3-3 draw at Legia Warsaw.
Most expected Atletico Madrid to punish their fragility. And yet instead, Zidane discovered a tactical formula that may solve their defensive issues on the road once and for all.
The Frenchman has been here before. Back in February, after a demoralising 1-0 defeat at home to their crosstown rivals, he resorted to beefing up midfield by playing Casemiro instead of Isco or James Rodriguez. The pragmatic call launched Madrid on a wave of victories that delivered the Champions League title and nearly the Liga crown as well. They haven't lost a league game since.
At the Calderon, Zidane made a comparable move. Without Karim Benzema and Toni Kroos, he ditched the customary 4-3-3 for a steelier 4-4-1-1 in which Isco played behind Cristiano Ronaldo as Gareth Bale and Lucas Vazquez sandwiched Luka Modric and Mateo Kovacic. He was not only rewarded with an astonishing 3-0 victory, but a potential template for the future. Certainly in tough away games, Madrid seem better off by breaking apart the glitzy 'BBC' forward trio.
Stealing from the neighbour
Let there be no doubt about the merit of the achievement. This is an Atletico side that equalled the Liga record for the fewest goals conceded in a season (18) and that can reasonably claim to be one of the best defensive sides in history. Their previous league defeat at the Calderon came in September 2015. Their line-up here was the same that beat Bayern Munich 1-0 less than two months ago, while Madrid missed Benzema, Kroos, Casemiro, Pepe and captain Sergio Ramos.
In some ways, Zidane used concepts from Simeone. Instead of a 4-3-3 in which the forwards track back only sporadically, two lines of four sat tight to create a compact defensive shape. Madrid were happy to wait inside their own half, leaving Atletico to do most of the pressing.
Key to the approach were Bale and Vazquez, whose work-rate helped Marcelo and Dani Carvajal combat Juanfran and Filipe Luis. Particularly Vazquez put in a formidable shift.
The Lucas factor
This created a basic defensive framework that elevated Ronaldo and Isco. Isco responded with one of his finest displays for Madrid, finding gaps in midfield to help his side keep possession; meanwhile, Ronaldo was able to save his energy for runs down the left-hand channel, where Marcelo kept whipping passes into space in order to draw out Stefan Savic, the weakest of the two Atleti centre-backs and who had a woeful game.
This was hardly rocket science from Zidane, but it worked. Their passing between the lines triggered the free-kick from which Ronaldo scored and, while the penalty goal came out of nothing, Raphael Varane's clearing header releasing Ronaldo who was tripped by Savic, Madrid would not have been ahead at that stage had they not known how to defend. They were particularly successful in stopping Antoine Griezmann, who was often forced to pass backwards.
That meant Atletico produced only a few chances until Ronaldo completed his hat-trick on the counter. Yannick Carrasco went close twice and Griezmann could have scored from a tight angle, but the hosts had been expected to create far more and, though Simeone introduced Kevin Gameiro and Angel Correa, they put few shots on target from good positions.
The BBC pattern
Considering the tactical triumph, one would have imagined Zidane would like to keep the system for similar occasions. He later said formations matter little as long as the players work hard, but in this case the two are surely interlinked: a 4-4-1-1 or a 4-4-2 makes room for more industrious players, instead of Ronaldo, Bale and a striker in a 4-3-3. Even before this game, there had been evidence that Madrid should dump the BBC in tough away games.
Since Zidane took charge in January, Madrid have conceded twice or more in five away games. In four of them, Bale and Ronaldo have started alongside either Benzema or Alvaro Morata: the 2-0 defeat at Wolfsburg, the 2-2 draws at Las Palmas and Borussia Dortmund, and the Legia debacle. The exception was the 3-2 win at Rayo Vallecano, but there the third man was Jesé Rodriguez, who is also a striker. The observation is hardly illogical: the more forwards, the greater the vulnerability.
Conversely, out of the three clean sheets Madrid have kept on the road this season, none have featured the BBC from the start. At Real Sociedad, Bale, Morata and Marco Asensio secured a 2-0 win; at Espanyol, the result was repeated with Asensio, Benzema and Vazquez; before Bale, Ronaldo and Vazquez shone at the Calderon. Incidentally, Vazquez also started when Madrid held Manchester City to 0-0 at the Etihad back in April.
Ancelotti's secret
As if this wasn't enough, further evidence can be found prior to Zidane's arrival. In the Carlo Ancelotti era, Madrid won 22 games in a row in the last half of 2014 largely thanks to a 4-4-2 in which Ronaldo played as a second striker. Just as on Saturday night, two hard-working lines of four were present, with Ancelotti saying that "4-4-2 is the best defensive system that exists".
That may be something to consider for Zidane, particularly ahead of a gruelling away schedule. Ignoring the Club World Cup in December, Madrid will next travel to Portugal to face Sporting, then visit Barça, Valencia, Sevilla and Celta – all likely formidable defensive tests. Though the list of absentees forced Zidane to improvise at the Calderon, he may be wise to stick with a similar combination for the upcoming weeks.
STATS ZONE Free on iOS • Free on Android
Thank you for reading 5 articles this month* Join now for unlimited access
Enjoy your first month for just £1 / $1 / €1
*Read 5 free articles per month without a subscription
Join now for unlimited access
Try your first month for just £1 / $1 / €1
Quizzes, features and footballing fun
Get the best features, fun and footballing frolics straight to your inbox every week.
Thank you for signing up to Four Four Two. You will receive a verification email shortly.
There was a problem. Please refresh the page and try again.