Why Unai Emery is the manager Arsenal need for the here and now
The Spaniard's two seasons at PSG were disappointing – but his track record of hard work, player improvement and trophies makes him a good fit right now, writes Lee Roden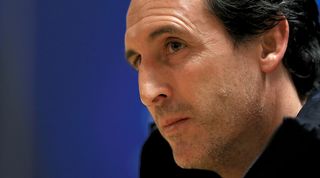 Oh, to be David Ornstein. The BBC's Arsenal oracle sent Twitter into overdrive on Monday evening when he revealed that Unai Emery would be the Gunners' first new manager since October 1996 – a decision which has divided an Arsenal fanbase that was slowly getting used to the idea of Mikel Arteta in the dugout next season.
But the good news for those doubting Emery's impending arrival, however, is that the Spaniard will bring about many of the changes Arsenal have been crying out for over the last decade.
If part of Arsene Wenger's sad fall away from Europe's managerial elite can be attributed to him giving players too much freedom and a lack of focus on detail, then there's little danger of that being repeated with the Spaniard in office.
Devil of the detail
Emery's videos, analysing both opponents and the nuances of his own team, are so detailed that they are the stuff of legend in Spain. Or in some cases, the stuff of nightmares. As Joaquín, who played under him at Valencia, once quipped in trademark style: "He put on so many videos that I ran out of popcorn."
Emery is obsessed with football and leaves nothing within his control to chance – but that's actually what impressed Arsenal's decision-makers most according to one report, which says he wowed them with a presentation about every Gunners player and how he'd improve them.
Nor is there any risk of the lax training that has hampered Arsenal being an issue. Emery is a manager who tends to provoke strong opinions, and there are many ways of describing him, but few would disagree that "intense" is among the most apt. He expects high energy, an unwaveringly fast rhythm in both practice and on the pitch, and passion from his players to match his own.
An example which sums that up well is the fascinating video footage of training from the day before the 2016 Europa League Final, where the then-Sevilla coach ran more than some of Arsenal's players have in years.
Revitalising the old
The 46-year-old Basque also has a capacity to revive footballers who have stalled in their progression – a particularly welcome trait at Arsenal, where there are numerous candidates in need of his help.
Ever Banega was washed up when he reunited with his old Valencia boss at Sevilla, so much so that he'd been loaned back to Argentina after a period of disappointment that included running himself over with his own car. Emery turned him into a double European trophy winner and one of the best, most impactful playmakers in Spain. He even got him to track back; a near miracle for those who remember his Valencia days.
Adil Rami has a similar story to tell – sans the car – and became a rock at the back for Sevilla in Europe under Emery's mentorship, after a disappointing plateau at Milan. A similar recalibration could do the trick for someone like Hector Bellerin, whose development was stunted in 2016/17.
Trouble in Paris
That's not to say that Emery is without his failings, and his critics will relish in telling you about them.
There are fair questions to be asked about his capacity to man-manage top stars, which manifested itself most obviously in the Neymar vs Edinson Cavani farce at PSG last season. At Arsenal, though, egos of that magnitude are less likely to be a problem these days. The departure of Alexis Sanchez, and the in-fighting he was central to, was no bad thing for the Gunners' immediate future in that regard.
Then there's the unavoidable fact that he has floundered in the Champions League, the place where success really mattered for PSG. The negative impact of a weak Ligue 1 is worth taking into account when considering their European failures, but Emery's problems in the Champions League are not limited to his time in Paris – they were also seen at Valencia and Sevilla, making it difficult to ignore PSG's flaws on that stage.
But while criticism about certain details of Emery's time in Paris are fair, at the heart of the matter was that he was simply the wrong man for the wrong club. It was a bad combination – like adding peanut butter to caviar. Both are good in their own right, but that doesn't mean they should be put together.
Better fit
Arsenal looks more like the right club, and Emery the right man for it. Their reality at the moment is that of a second-tier European side competing against larger budgets in an effort to sit at the big table. If that's the brief, then Emery is a specialist. This is a man who consistently got Valencia to third place in La Liga, and thereby the Champions League, at the same time they were selling so much, so fast that it's a miracle the Mestalla toilets survived.
That bodes well. So too, most obviously, does his time in Andalusia. It's difficult to imagine now, but Emery was not popular among Sevilla fans when he first arrived in January 2013. Stop us if this sounds familiar: a proud club that had been through a string of disappointments and dropped away from being one of the better sides in Spain; fans were tired, wanted change, and wanted it immediately. So they voiced their disappointment when Emery could only take them to ninth in less than half a season.
The following season he delivered their first trophy in four years with the Europa League. Then he defended it, making Sevilla the most successful club in the competition's history, on a Warsaw night that Sevillistas will never forget. Then he defended it again just for good measure.
By that point, the same supporters who were restless in the beginning had long been singing songs about how they couldn't live without him. Many now consider him to be Sevilla's greatest ever manager.
Champions League football and the financial benefits that come with it, via the most exhilarating of routes – winning knockout competitions and trophies in order to get there. Would Arsenal fans, tired of disappointment and their club prioritising book-balancing over glory, really turn their noses up at that?
It'll be passionate, intense, obsessive and honest; frustrating at times, even. But there could be moments of real glory too. Either way, it will definitely split opinion. That's Unai Emery. Buckle up.
Thank you for reading 5 articles this month* Join now for unlimited access
Enjoy your first month for just £1 / $1 / €1
*Read 5 free articles per month without a subscription
Join now for unlimited access
Try first month for just £1 / $1 / €1
Get FourFourTwo Newsletter
The best features, fun and footballing quizzes, straight to your inbox every week.