Thierry Henry's assist record of 2002/03: how Arsenal's talisman reinvented the Premier League striker
Kevin De Bruyne is trying to record the most assists in a Premier League season, but the current record-holder was playing a whole different ball game...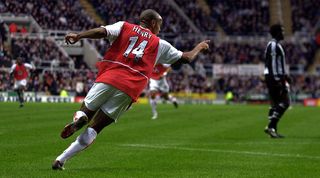 There are some records in football that beggar belief. Consider how Just Fontaine managed to score 13 goals in six games at the 1958 World Cup. Or how Milan won Serie A in 1994 by scoring 36 goals in 34 games. Or how Thierry Henry delivered 20 assists in the 2002/03 Premiership campaign, a record that stands to this day.
Henry's achievement drew less attention then than it would have done now. Although the Premier League has now created an award for the top assister, the record hardly got mentioned until Mesut Ozil started racking up assists in 2015/16. Ozil got to 19, one ahead of Frank Lampard (2004/05), Cesc Fabregas (2014/15) and Kevin De Bruyne (2016/17). You may notice what these pretenders have in common: they're playmakers. They're supposed to give assists.
Henry never was. He remains the all-time top scorer for Arsenal and France, and sits fifth in the Premier League goalscoring charts. Unlike the players mentioned, he rarely took set-pieces unless he went for goal himself; 18 of his 20 assists came from open play. "None of the great goalscorers in history can compare with his assist record," said Arsene Wenger.
SEE ALSOQuiz! Can you name the 50 highest foreign goalscorers in Premier League history?
And yet what drove Henry to set the record was not an interest in stats, but his ideals about how the game should be played.
The way Henry perceived football was shaped by his time at Monaco. Although he played up front in the youth teams, he made his debut there under Wenger as a left-winger. The 17-year-old was told to race down the flank and feed Brazilian striker Sonny Anderson. "I wasn't born with a gift for goals," Henry told The Blizzard. "As I started my professional career on the wing, I also worked on my crossing – which helped me understand the role of the guy who passes the ball."
As Henry dished up tasty crosses, however, he also learned how recognition works. No matter how much he grafted, the star of the show was Anderson. "I think it's a shame that there's so much focus on the guy who puts the ball in the net," Henry once told FourFourTwo (opens in new tab). "You can beat three men and put in a cross that needs only poking over the line, and still the guy who scored will get all the headlines."
In August 1999, after an ill-advised spell at Juventus, Henry signed for Arsenal as a striker. Upon his arrival, vice-chairman David Dein showed him a video of all-time club top scorer Ian Wright. "This is what you have to do," Dein said. When Henry duly went eight games without a goal, he said he felt less likely to overtake Wright than to break the Highbury clock.
Yet Henry improved enough to hit 17 league goals in each of his first two seasons, before smashing 24 in his third. That year, Arsenal won the title and Henry snared the Golden Boot. When he returned from a horrid 2002 World Cup, he knew he'd face a ferocious fight for both titles. Craving revenge were Manchester United. Gunning for the Golden Boot was Ruud van Nistelrooy.
Van Nistelrooy had signed for United a year earlier, only to lose the Golden Boot by one goal. Obsessed with stats, he had made it an art form to stab the ball home from one yard. "He was one of the most selfish finishers I ever saw," Sir Alex Ferguson claimed in his autobiography. "He had no interest in build-up play or how many yards he had to run in a game, how many sprints he had made. The only aspect he was ever interested in was: how many goals did Ruud van Nistelrooy score?"
Now Van Nistelrooy was getting nervous. In the first six rounds of league action he'd scored one goal, whereas Henry had hit four. The Frenchman was unleashing 25-yard screamers that threatened to break the net. He swung free-kicks into the top corner with the ease of a man walking his dog. He left defenders for dead and curled the ball into unreachable corners. "When he hit top gear and ran past you," Jamie Carragher wrote in the Daily Mail, "it was like trying to chase after someone on a motorbike."
As Arsenal went top in mid-November, Henry seemed to be outshining rivals such as Van Nistelrooy, Alan Shearer, Michael Owen and Ole Gunnar Solskjaer – natural strikers who relied on service. But Henry didn't feel he was competing with any of them. "I'm not only a goalscorer," he told The Guardian. "Sometimes people put me in the same league as Owen or Van Nistelrooy, but I'm not at all like this type."
Instead, Henry related to other players. He cited Romario, Ronaldo and George Weah as strikers who, rather than feasting on crosses, took charge of the game. "They were the first to drop from the box to pick up the ball in midfield, switch to the flanks, attract and disorientate the central defenders with their runs; their accelerations; their dribbling," Henry told The Blizzard. "Who'd done that before? Gerd Muller? Paolo Rossi? No."
Now Henry tried to do the same. Instead of battling bruising centre-backs, he wandered into midfield and slipped back into his left-wing role. Partnered with deep-lying forward Dennis Bergkamp in a 4-4-2, Henry could make it seem as if Arsenal played with no strikers at all.
SEE ALSO
QUIZ! Can you name the first 50 players to start for Arsene Wenger in the Premier League? (opens in new tab)
He was popping up everywhere. When he wasn't scoring, he put in crosses with either foot. He'd move into the zones reserved for left-winger Robert Pires and striker Sylvain Wiltord, who would storm beyond him into the box and finish off his passes. That season both players hit double figures. Even Francis Jeffers scored twice thanks to Henry sending in crosses that were too good to miss. The former Everton striker never scored a league goal for Arsenal again.
"Sometimes I get more pleasure at giving a goal than to score it," Henry said. "My mind is not, 'I need to score today'. I want to help. If we lose 4-2 and I've scored two great goals, I will still be fuming."
Manchester United awoke at Christmas. A Boxing Day defeat at Middlesbrough jolted them into a run of six straight wins, with Van Nistelrooy scoring four goals in five games. "If he didn't score, he'd sit on the back of the bus and sulk, even if we'd won the game," Paul Scholes later said. "He perceived Henry as a personal rival and Ruud was adamant that he was going to get the most goals."
Arsenal soon lost it. An eight-point lead in early March was eaten up by United, who didn't lose again all season. As Van Nistelrooy began a scoring streak that would last eight games, Henry went four matches without a goal. Some saw the Dutchman as the better striker because of his killer instinct, whereas Henry could stand on edge of the six-yard box, spot a team-mate in a better position and feel obliged to pass. Henry would then demand that his team-mates do the same for him.
"Maybe I don't have that selfishness that makes some strikers special," Henry said. "Playing on the wing made me understand about being less greedy. That's why I get upset when people don't pass to each other. To play good football is fragile. When one guy isn't in the rhythm of the team, the team can't exist. I can be back at home and still be mad about someone not passing during the game."
By the time two rounds remained, United had overtaken Arsenal and sealed the title. The last prize up for grabs was the Golden Boot. A Van Nistelrooy hat-trick at home to Charlton put him up by 24 to 23. Arsenal now faced Southampton at Highbury. "Before the Southampton game I said to myself it would be quite nice to catch Van Nistelrooy," Henry told The Guardian. But then his instincts took control.
Arsenal won 6-1 and Henry didn't score. Instead, he set up Pires and Jermaine Pennant, who both got hat-tricks. "I'm not greedy but I could have been greedy in that game," Henry said. "It's quite important for me to respect the game."
Recommended
BIG INTERVIEW Thierry Henry – "The Invincibles didn't think about going unbeaten until the third-last game" (opens in new tab)
YEAR ZERO The making of Thierry Henry (Arsenal, 1999/2000) (opens in new tab)
On the final day, Henry opened the scoring at Sunderland to draw level with Van Nistelrooy. He then headed a ball down to Freddie Ljungberg for 2-0. With 12 minutes to go, Henry broke free again and looked set to try his luck. But in the corner of his eye appeared Ljungberg, who got the pass and scored. Up north at Everton, Van Nistelrooy struck a penalty: 25-24.
There'd be no more goals at Goodison Park. At the Stadium of Light, Henry ran towards the box with two minutes left. Once more Ljungberg made an inviting run; once more, Henry gave him the ball. As Van Nistelrooy won the Golden Boot, Ljungberg celebrated his first hat-trick for Arsenal.
"To me, the most beautiful thing is making the pass when you are in a position to score yourself," Henry told The Blizzard. "You know you're good enough to score, but you give the ball. You share. And you see that joy in the eyes of the other guy. You know, he knows. Everyone knows."
While you're here, why not take advantage of our brilliant subscribers' offer? Get the game's greatest stories and best journalism direct to your door for only £9.50 every quarter (opens in new tab). Cheers!
NOW READ...
ARSEBLOG Talented Nicolas Pepe needs time to shine at Arsenal – like Bergkamp, Henry and Pires before him
QUIZ! Can you name the line-ups from Everton vs Arsenal, October 2002 – when Wayne Rooney scored his wondergoal?
WATCH Premier League live stream 2019/20: how to watch every game from anywhere in the world
Thank you for reading 5 articles this month* Join now for unlimited access
Enjoy your first month for just £1 / $1 / €1
*Read 5 free articles per month without a subscription
Join now for unlimited access
Try first month for just £1 / $1 / €1
Quizzes, features and footballing fun
Get daily World Cup 2022 news, updates and other football frolics to your inbox
Quizzes, features and footballing fun
Get daily World Cup 2022 news, updates and other football frolics to your inbox
Thank you for signing up to Four Four Two. You will receive a verification email shortly.
There was a problem. Please refresh the page and try again.