Zlatan unable to name single Swedish team-mate in leaving speech
The Manchester United target's international retirement ended in awkwardness, Back of the Net can reveal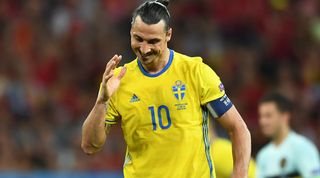 Zlatan Ibrahimovic's emotional farewell speech after playing his last game for Sweden was marred by the striker being unable to name any team-mate or coach past or present, sources have revealed.
Internally, the gifted striker made the brave decision to retire from the international game before the start of Euro 2016, leaving him to prowl around the pitch sulkily for the duration of Sweden's three games, occasionally shaking his head or giving a wry, knowing smile – a send-off that exactly fitted his wishes.
But when Ibrahimovic was called upon to speak in the Sweden dressing room after their group stage exit, the mood quickly became tense.
"Zlatan spoke in long, languid sentences that occasionally oozed class – at times they were just beautiful," Albin Ekdal told FFT.
"But when it came to putting simple linking sentences in he generally seemed uninterested almost to the point of petulance. He'd leave out words like 'and' and 'but' almost as if to say he shouldn't need to be using them.
"In the end a few of us started putting in the conjunctions and adverbs for him."
Icing on the cake
When Ibrahimovic was asked which of his team-mates he would miss most, he looked confused by the question and named himself before starting to list a series of plausible-sounding yet fictional players.
MORE BACK OF THE NET
"It soon became clear that during his 15 years in a Sweden shirt he'd never once learned the name of a single team-mate," Ekdal revealed.
"When pressed he just kept muttering unintelligibly and then adding '-son' at the end. He got a few right but that was pure luck, none of us felt very special after that."
Matters were made even worse when Kim Kallstrom attempted to present Zlatan with a lopsided cake he'd spent hours preparing, only for John Guidetti to accidentally get in the way and dash it to the ground.
"After that we all just sort of looked at Zlatan and hoped he'd be able to sort it out," Ekdal admitted.
"He scooped it up with his bare hands, caressed it into an elegant shape and then added some icing sugar he must've had in his pocket the whole time. Then he left, pitching it into the bin as he walked."
Note: This didn't actually happen. But you didn't need to be told that, did you? Did you?
Quizzes, features and footballing fun
Get the best features, fun and footballing frolics straight to your inbox every week.