Zubizarreta out, Messi unhappy and Barça in disarray: is history repeating itself?
This isn't the first time Andoni Zubizarreta has been shoved at Barcelona, writes Lee Roden - nor at the same time a key player's future is uncertain...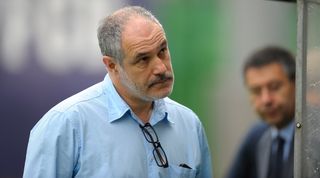 History has a habit of repeating itself at FC Barcelona, and Andoni Zubizarreta has just discovered that first hand. President Josep Maria Bartomeu dismissed the Catalan club's sporting director on the evening of January 5 – the night before the Epiphany; somewhat akin to losing your job on Christmas Eve. But instead of bringing Zubi gifts, the three magic kings brought him coal. It wasn't exactly the most dignified way to go.
Zubizarreta's first departure from the Camp Nou as a player was equally humiliating. In 1994 he was Barcelona's captain and their regular No.1, but the damning 4-0 loss the club suffered to AC Milan in the European Cup final created a desperate search for a scapegoat.
Booted on the bus
Like today, power struggles behind the scenes were gradually eating away at the club's success, and Zubizarreta offered an opportunity for the real culprits to deflect attention elsewhere. On the bus to the airport in Athens, then-vice president Joan Gaspart informed the Basque that his Barcelona contract would not be renewed.
Having previously spotted Johan Cruyff, Gaspart and president Josep Lluis Nuñez entering a hotel room together early in the day, Zubizarreta already suspected something was wrong. Yet when he asked Gaspart if there was a problem later that morning, the Catalan denied it, only for the deed to finally be done on the way to the airport. The flight home must have been full of laughs.
Cruelly, it was Zubizarreta who had acted as a leader and tried to lift spirits in the dressing room after the Milan hammering, raising his voice above the deathly silence. A similar decision to speak out last weekend is said to have hastened his sacking by Bartomeu. Having usually toed the party line with great care, the few home truths dealt out by the former sporting director last Saturday suggested something big was afoot.
Speaking with Canal+ journalist Mónica Marchante after Barcelona's 1-0 loss to Real Sociedad, Zubizarreta noted that he had nothing to do with the issues behind Barcelona's FIFA sanction, and reminded viewers that as vice president of sport at the time, Bartomeu would better know the details.
If longevity is on your mind, calling out the boss isn't the best strategy. Zubizarreta knew his days were numbered, and having been fingered as the fall guy once by Barça before, evidently he wasn't prepared to go down without a fight this time. The decision to sack him has ultimately done little to shift the spotlight off the Barcelona board. The ruse hasn't worked – just as it didn't in 1994.
That year, instead of swallowing the idea of Zubi being chief culprit for the Milan loss, Barcelona fans were more concerned with Cruyff's decision to leave Michael Laudrup out of the team. One of the best players at the Blaugrana's disposal, the Dane's last two seasons at the club saw a marked deterioration in relations with his manager.
Not being picked for a European Cup final was the straw that broke the camel's back, and he left Catalonia the following summer (for Real Madrid, to make matters worse), claiming that he "couldn't bear Cruyff any longer". Barcelona would probably have lost to Milan regardless of whether Laudrup played, but try telling that to supporters.
Messi moments
Present-day Barça fans have proved equally difficult to deceive. Zubizarreta was universally unpopular as a sporting director, but dismissing him after the Real Sociedad loss has done little to distract supporters from more pressing issues, one of which is the manager.
Luis Enrique's constant changing of line-ups has created doubts about his capacity to lead the team effectively, and his decision to leave Lionel Messi on the bench for the first half in San Sebastian went down like a lead balloon.
The emergence of stories that Messi and Enrique are at each other's throats from papers typically close to the Barcelona board certainly hasn't helped matters. Just as in 1994, the relationship between a key player and the coach has well overshadowed Zubizarreta's execution.
The scurry for further details on the Messi/Enrique fall-out bordered on farce when the Argentine's Instagram account became front-page news on Monday. Messi's account (which may or may not be run by the player himself depending on who you ask) followed Chelsea, Thibaut Courtois and Filipe Luis on the same day that the tales of a bust-up with Enrique were blowing up and Zubizarreta's dismissal was announced (plus former favourite Carles Puyol, who left his post as assistant sports director).
Perhaps mischief, perhaps just poor timing, but what is true is that Messi has a terrible relationship with several important figures behind the scenes at Barcelona. When it comes to his actions in public, meanwhile, you only have to consider the player's increasingly ambiguous declarations about the chances of leaving the Camp Nou one day to see that something is not quite right.
Barcelona are in disarray, Zubizarreta is gone and their key player is evidently unhappy with his own situation. It could well be 1994 all over again. Supporters will hope that history doesn't repeat itself further: losing Laudrup was a blow, but losing Messi would be something else entirely.
Quizzes, features and footballing fun
Get the best features, fun and footballing frolics straight to your inbox every week.
Thank you for signing up to Four Four Two. You will receive a verification email shortly.
There was a problem. Please refresh the page and try again.