Arsenal will make crucial tactical change in Champions League this season
Arsenal have spent six years away from the Champions League, but Mikel Arteta is readying his squad with a different plan to what they normally do domestically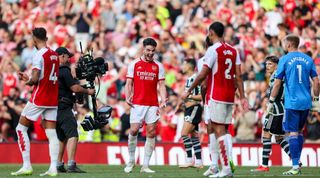 (Image credit: Getty Images)
Arsenal will employ a different mentality to their Champions League campaign compared to their Premier League mindset, as they prepare for their first game in Europe's elite competition since 2016/17.
Drawn in Group B, which includes PSV, Sevilla and Lens, Arsenal are expected to comfortably qualify for the knockout stages of the Champions League.
Mikel Areta has urged caution to his squad, however, highlighting that there are major differences between playing Premier League opposition and sides from the continent.
"Europe is different," Arteta said during his pre-match press conference for the game against PSV on Wednesday. "The pace of the game is different, the quality of the opposition, culturally you find a game that requires different things.
"The way the law applies from referees is different. In this league you find you need a certain number of points in the group stage makes the game different as sometimes it is enough to hold for a draw, whereas in the Premier League, we would never do it.
"The away goals counted so much then which domestically is not important. So there are a lot of little rules that change the context of the game in a big way."
Of course, the away goals rule has since been scrapped, but Arteta's assertion remains largely focussed on the fact he will ensure his side don't lose games in the Champions League, rather than going all out to win.
That shift in mentality on the pitch will also be seen in the dugout, as Arteta takes charge of Arsenal - or any team, for that matter - in the Champions League for the first time.
"We've been fighting for it," he added. "I've played in a few for the club and I have beautiful memories about them."
More Arsenal stories
Mikel Arteta has revealed the strange marriage metaphor he's used to motivate Kai Havertz. The Basque boss used another bizarre analogy recently to explain his tactics against Manchester City.
The Arsenal manager has had to defend Havertz already this season, notably after the 2-2 draw against Fulham.
Meanwhile, Brentford striker Ivan Toney has revealed he would be interested in a move to Arsenal in future.
Thank you for reading 5 articles this month* Join now for unlimited access
Enjoy your first month for just £1 / $1 / €1
*Read 5 free articles per month without a subscription
Join now for unlimited access
Try first month for just £1 / $1 / €1