Buffon plans to retire at 40
Gianluigi Buffon has stated his desire to take a scouting role when he hangs up his gloves at the age of 40.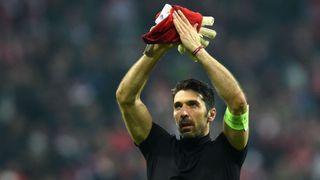 Legendary goalkeeper Gianluigi Buffon intends to retire from football in two years' time, when he will be 40-years-old.
The Italy and Juventus captain, who has won six Serie A titles and a World Cup during a glittering 22-year career, remains first choice for club and country at the age of 38, but does not want to continue playing for much longer.
Buffon told So Foot he was committed to seeing out the remainder of his playing career at Juve, and expressed an interest in becoming a scout thereafter.
He said: "After this year, I will play for two more seasons before quitting. I do not want to play after 40 years, but I want to get to 40 years.
"Even if I were to be offered twice the salary elsewhere, I would stay at Juve for life. Being part of it makes me proud, because it has a value. And now certain values seem out of fashion.
"I have a wealth of experience, but I do not want to coach. I rather like the role of recruiter. They are ambitious. I would go to nations like the United States or China, which have great potential for a large population."
He added: "If I do something, I do it with the idea to get to the top - without that I would stop living."
Thank you for reading 5 articles this month* Join now for unlimited access
Enjoy your first month for just £1 / $1 / €1
*Read 5 free articles per month without a subscription
Join now for unlimited access
Try first month for just £1 / $1 / €1