Carragher: No place for half-hearters
By Nick Moore published
Liverpool defender Jamie Carragher has warned that no player in the Anfield dressing room is irreplaceable, following rumours that a host of stars could be leaving this summer.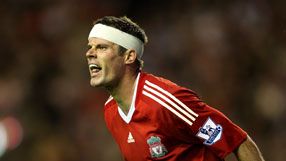 Speculation has linked several players, including Steven Gerrard, Fernando Torres and Javier Mascherano, with moves away from the club after a disappointing season under Rafael Benitez, and Carragher has stressed that no player is bigger than the club.
"I want the people to come back who want to be there. If anyone doesn't want to be here, no problem. No one is bigger than Liverpool Football Club," he said.
"People always talk about players leaving and saying 'this is the end of Liverpool'. No chance.
"Better players than the ones we have now have left and we have replaced them."
Carragher is currently training with the England squad in the Austrian Alps after accepting Fabio Capello's call to return from the international wilderness after announcing his retirement in 2007.
And the long-serving Liverpool defender has confessed he has no time for those who do not wish to demonstrate their full commitment to the Anfield cause.
Stars such as Mascherano have made no secrets of their desires to leave the club, with the Argentine midfielder admitting that it was a "shame" that his proposed move to Barcelona fell through last season.
But Carragher is determined to redeem matters at Anfield after a poor campaign, and is eager to begin as soon as the World Cup ends.
"I know what it is like after a poor season. There is a lot of negativity. We have had it all season and I am sure we will have it again throughout the summer.
"Obviously I want to enjoy the World Cup and do well. But I can't wait to get back to Liverpool and try to put it right."
By Joe Brewin
Follow FFT.com on Twitter (opens in new tab)
Join FFT.com on Facebook (opens in new tab)
Thank you for reading 5 articles this month* Join now for unlimited access
Enjoy your first month for just £1 / $1 / €1
*Read 5 free articles per month without a subscription
Join now for unlimited access
Try first month for just £1 / $1 / €1
Nick Moore is a freelance journalist based on the Isle of Skye, Scotland. He wrote his first FourFourTwo feature in 2001 about Gerard Houllier's cup-treble-winning Liverpool side, and has continued to ink his witty words for the mag ever since. Nick has produced FFT's 'Ask A Silly Question' interview for 16 years, once getting Peter Crouch to confess that he dreams about being a dwarf.
Quizzes, features and footballing fun
Get the best features, fun and footballing frolics straight to your inbox every week.
Thank you for signing up to Four Four Two. You will receive a verification email shortly.
There was a problem. Please refresh the page and try again.