Chelsea legend once beat professional snooker player Neil Robertson in a frame of nine-ball pool
The Australian turned up to Chelsea's Cobham training ground expecting an easy game, but got anything but from one Chelsea legend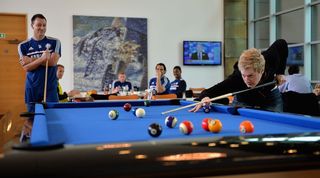 (Image credit: Getty Images)
Australian professional snooker player and former world number one Neil Robertson is an avid Chelsea fan, regularly attending matches at Stamford Bridge and even getting the opportunity to visit the club's Cobham training base on a number of occasions.
During one visit, the snooker player got the opportunity to play with some of the stars of the team. When asked who was the best, Robertson revealed a staggering piece of information.
"[John] Terry, without a doubt," Robertson told FourFourTwo. "He took a frame of nine-ball pool off me at Cobham. I was invited down for the day and we had a game – I broke and he cleaned up without missing a shot!
"Apparently he'd always win the pool competitions at the club. We've stayed good friends since. Before the 'Battle of the Bridge' game between Chelsea and Spurs in 2016, he even texted me and asked me to go, as he knew I was on this lucky streak of home matches and couldn't bear the thought of Spurs winning the title!
"He's superstitious. Sadly I couldn't go, though it turned out that I wasn't needed in the end."
Indeed, Chelsea ended up drawing 2-2 with Tottenham on that occasion, coming from two goals behind to level the scores through Gary Cahill and Eden Hazard.
The result meant that Leicester City were confirmed as Premier League champions, while Spurs actually ended up finishing third, behind Arsenal and 11 points off of that season's champions.
Sadly, Terry has never tried his hand at snooker since retiring from professional football. He has instead moved into coaching, where he currently works as Dean Smith's assistant manager at Leicester.
Other footballers have moved into different sports upon retiring from the game, though, to a mixed bag of results.
Paolo Maldini made his professional tennis debut in 2018 in a Milan doubles match alongside Stefano Landonio, losing 6-1, 6-1 in 42 minutes, while Gary Lineker was caught for a solitary run while playing for the MCC against old foe Germany in 1992 at Lord's.
Meanwhile, Tottenham's Ivan Perisic, playing for Inter Milan at the time, turned out for Croatia's beach volleyball team. His team were duly thumped by Brazil and then failed to get out of the pool when they lost to the United States.
Thank you for reading 5 articles this month* Join now for unlimited access
Enjoy your first month for just £1 / $1 / €1
*Read 5 free articles per month without a subscription
Join now for unlimited access
Try first month for just £1 / $1 / €1